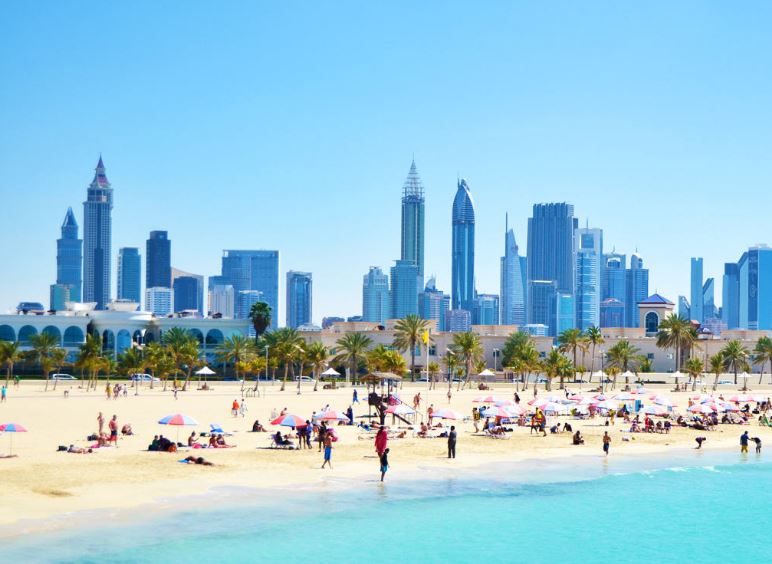 Dubai once a modest fishing village back in the 18th century, has undergone a tremendous metamorphosis by the 20th century as a most-sought after destination to visit. It has emerged as the ultimate place for shopping, business ventures, entertainment and financial dealings. People come to Dubai with varied purposes, many a time mixing business with a pleasure trip. The term luxury and entertainment have become synonymous with this favourite tourist destination among travellers. According to surveys, Dubai is a place where tourists prefer to spend most of their time as compared to other holiday destinations.  It is an all-time beloved choice for a family to spend their holidays with plenty of family-friendly things to do. Dubai is the place that can make a well-deserved vacation a memorable one.
Read further to know about some of the prevalent activities to engage in with your family on your dream vacation.
Hot Air Balloon Dubai- This is a must-do popular activity to take up when vacationing with your family. The feeling of gliding and floating in the air with the vast Arabian desert beneath is surely unforgettable. Imagine viewing this expanse of dunes all over from well above the ground about 4000 ft. You might chance to spot some wildlife such as gazelles and Arabian Onyx from that far.  Thrilling, right?  Witness the desert change colours at dawn, through the day to dusk in all its glory. Hot Air Balloon Dubai rides are offered by most tour operators with free pick up and drop off from hotels. There are several packages that guests can choose from. There are standard, deluxe and adventure packages besides the charter flight that makes your ballooning adventure exclusive. Most operators adhere to the utmost strict safety standards to make your experience a fun time to remember forever.
Helicopter Tour Dubai- Soar high and fly unfazed! This is what you will experience on this exotic city go-around on a helicopter. As you zoom and fly over the skyscrapers for which Dubai has a reputation, catch some amazing panoramic views of the entire city. It is an activity that tops the popularity chart among aviation enthusiasts and is a must-do. Get to fly over the most well-known landmarks of Dubai such as the Palm Jumeriah, the Atlantis hotel, the Burj al Arab and of course the Burj Khalifa with the most-stunning views unfolding right in front. Helicopter Tour Dubai can be shared rides with other visitors, together with the family and exclusive tours for couples and tailor-made to suit your choice. Tourists may choose between a 12 to 40 minutes tour as per their convenience. What's more, the well-trained pilots double up as tour guides and pinpoint the iconic landmarks as you hover over them. Take your seats, relax and view Dubai from an all-new ariel perspective.
Jet Ski Dubai- A place where you enjoy the thrill over land, air as well as water is none other than Dubai. The joy and adventurous feel are at their peak when you do Jet Ski in Dubai at 100 km/h with a trained instructor to guide you all along. Sail on the blue waters of the Persian Gulf with an unmatched view of the Dubai shoreline dotted with iconic structures. Ride the easy-to-operate Jet Ski and splash around. The most noted structures that you pass by are the sail-shaped Burj al Arab on the sea.  Could visit to get some souvenirs. Other showcases such as the tallest building the Burj Khalifa near the Dubai mall, then venture further into the Jumeriah Beach Residence or JBR, the Palm Jumeriah the Dubai Marina to enjoy the Dubai view from the glistening waters.
The Jet Ski tours are perfect water sports to do in Dubai as a tourist. You could opt for these tours with a family on 4 separate jet skis, couples or even solo of varied duration ranging from a 30-minute ride to up to 2 hours and 30 minutes.

Ziplining- At 170 meters above ground, just hanging by a strong and secure harness! Imagine the thrill it will give when you try something adventurous as ziplining. Do try this extreme adrenalin rush activity at 80 km/h. As you zip past the picturesque Dubai Marina Mall and all the iconic skyscrapers of this magnificent city get an awesome view of the waterway beneath with dot-like yachts spread around. You might spot one of two such luxury yachts as well. The safety gear you wear has helmets fitted with cameras to click you in action. The surroundings are nevertheless a bonus.  A fun activity like this is a must-do when you step in to visit Dubai.
Dubai Fountain Lake Ride- A dazzling ride awaits the tourist in Dubai for fun and joy. The ride on Burj Lake is covered by about 900 feet in length in lights. As dusk falls, these lights transform into the dancing divas in an orchestrated choreography. Behold this spectacle of 6600 lights in 25 colours as you ride on the traditional Abra boat, swan, flamingo or duck boat. If you are on a water taxi or a bike taxi, get soaked when 22,000 gallons of water gush out into the air as high as a 45-storey building.  It is nothing short of a wonder. Additionally, while relaxing on the boat ride, you get a mesmerizing view of the reflection of the lights playing all over the Burj Khalifa! What a sight!! Truly addressed as the dancing fountain, the Fountain Lake ride is a must to witness with family and make the most of this fun moment as part of your Dubai tour.
Dubai never ceases to amaze. As a visitor, there are numerous fun and frolic activities to enjoy with family. Make a thorough list of the types of activities that you would like to do in this wonderful and most-modern tourist hub. Planning on a holiday opens up several options. It will go a long way in making your vacation memorable.