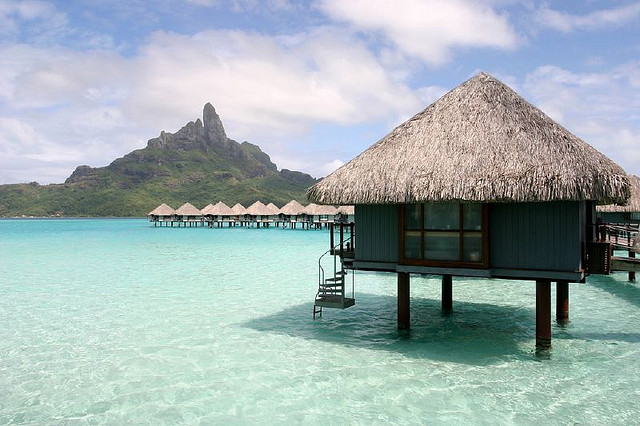 What is an Overwater Bungalow?
What is that one vacation that you wish you could kick off your bucket list – from wishing and dreaming into living and experiencing? For some it's an overwater bungalow. If you're not familiar with what an over-water bungalow is, have perhaps never heard of it – picture this: a wooden hut with a thatched roof on stilts (which Grand Rapids roofing contractors describes as a roof with straw, water reed, and.sedge) near the beach with turquoise ocean waters flowing beneath, harboring gorgeous tropical fish in picturesque lagoons. You can try it out here. It's enough to take your breath away!
Where the Overwater Bungalow Idea All Started
The concept of an overwater bungalow purportedly originated with Club Bali Hai back in the 1960's. Club Bali Hai is located on the Tahitian Island of Moorea. Club Bali Hai's overwater bungalows are of the classical style, and still one of the least expensive of their kind.
The Impressive features and Amenities of an Overwater Bungalow Resort
Many of the overwater bungalows worldwide are located on resort properties, and generally have numerous amenities. Most of the modern day overwater bungalows have a glass panel floor for a beautiful glimpse of the blue-green water below, and many feature teak wood furnishings, private plunge pools, private decks, rain showers, Jacuzzis, internet and television, and room service. Generally accessible are nearby restaurants, gyms, spa services, and activities such as luaus, snorkeling and scuba diving, kayaking or paddle boats, shark and stingray tours, local shopping, and more. Of course, not every overwater bungalow has each and every one of these amenities available, and some of them are more traditional and classical with a theme of getting away from society and being more eco-focused, but the 4- and 5-star ones generally include "all of the above".
Overwater Bungalow Vacation Reviews
Most who have visited an overwater bungalow are enamored with it and many leave good, constructive reviews of their stay. The feeling of being in your own little world and the beautiful scenery is mentioned over and over again. There is the occasional dissatisfaction as a result of not meeting expectations, but by and large the reviews of the various overwater bungalows are positive, and when criticism is offered it is usually constructive, with the overall experience being very upbeat. Many a time you'll find that the resorts are keeping careful track of the reviews, and at times responding to the reviewers critique and suggestions with actionable results. Lots of money and reputation are on the line in this niche area of the hospitality industry, and word of mouth and good reviews are significant to business.
Are You the Least Bit Tempted?
If you have a honeymoon coming up, an anniversary, or simply need to put a check mark by an item on your bucket list, consider one of the many beautiful overwater bungalow resorts as prime real estate for your vacationing needs!
httpv://www.youtube.com/watch?v=a18mQTEbGAo
Amber Merton is a travel aficionado, and enjoys meeting new people and cultures in her comings and goings. She also writes for the mattress manufacturer, Plushbeds, and when it comes to being hospitable to your own travelling guests she recommends a good sofa bed mattress.