Basically I am from Gujrat. The city is known for its handicrafts, high quality furniture and clay products. It is also home to two of the largest shoe factories of Pakistan. Besides that, it also has agricultural importance for the country since it is a major producer of rice. One of my earliest memories is of my family leaving the city and settling inLahore. Now, we hardly ever visit Gujrat since the only relatives we have in the city are abroad.
Recently though, our relatives from abroad visited us inLahoreand we all planned to arrange a family trip to our ancestral city and the nearby recreational spots. It all came at time when summer heat was at its peak with scorching sun ablaze on our heads all day long but luckily, it was expected to partially cloudy with a chance of rainfall during our visit.
We leftLahoreon Thursday morning with full preparation and decided to travel through Grand Trunk road to enjoy the old traditional sites ofPunjabwhile checking the mud road villages and towns. The weather was cloudy as forecasted. We reached Gujrat in a little over four hours since we made several stops along the way, enjoying ourselves and having fun.
Visit to Gujrat
As all of us know that Gujrat is one ofPunjab's famous agricultural cities and is situated in the middle of the province. It also is a huge producer of many ofPakistan's export goods such as fans, cotton goods, pottery, furniture, ceramics, carpets and foot wears. Although we rarely visited Gujrat before, as there are very few of our relatives left there but still when I entered the city I all felt as though I had come home. After a bit of rest, I enjoyed lunch in one of the famous restaurants of Gujrat. Then we visited Gujrat Fort which was built in 1596. It was a worth seeing place and I got to learn a lot.
After that, we turned towards Gujrat's pot market, which is known all around the world for its stunning handicrafts. We checked many shops and bought some souvenirs such as clay toys, eating tackles, mugs, clay water coolers for our friends and other relatives. Shrine of Hazrat Daula Shah was also a worth seeing place. It is quite a gigantic shrine always full of devotees and followers. We also stopped by and prayed for the departed soul and spent much of our time there dwelling on the reality of life.
After visiting all of these places, we were quite tired and it was getting dark, so we decided to stay at the place of one of my father's friend. We all were astonished to see the development in Gujrat when we made our way into one of the local residential areas. From what I saw, I can say that Gujrat has to have some of the best properties in Pakistan. However, when we saw the Euro City Housing Society, all of us found ourselves questioning if we were really in Gujrat. The whole society is built according to European standards with wide roads, underground electricity wirings and parks for each block.
We were amazed because in our last visit, which was couple of years back, there was no development like that and we consider Gujrat a small undeveloped city. At night, the whole society was glowing with lights and we really enjoyed staying there. My father's friend was very nice and his sons instantly become friends with us. At night, all of us boys planned to visit a popular ice-cream parlour and enjoyed a lot until late night.
Visit to Mangla Cantt and Mangla Dam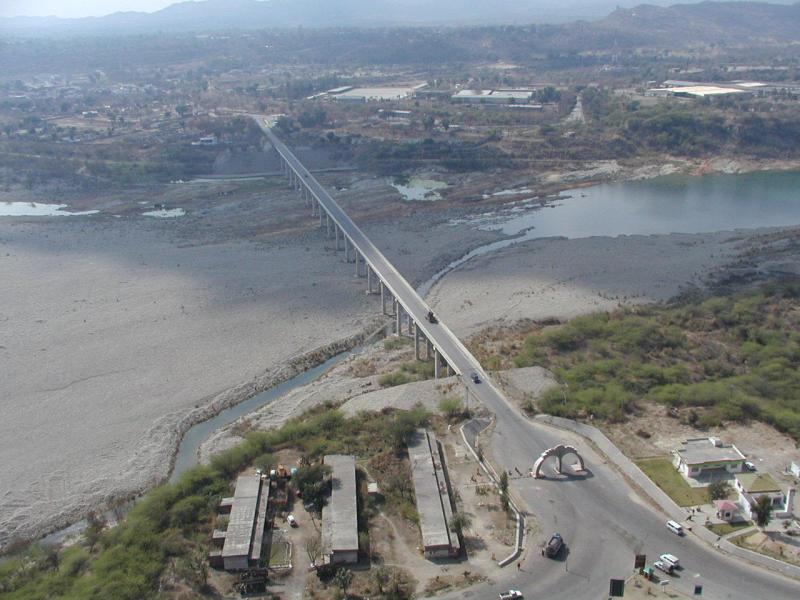 On Wednesday morning, we left Gujrat city after having a traditional breakfast and journeyed towards Mangla Cantt. On our way, we made a quick stop at Rohtas Fort and checked out the old building which once stood as splendour of a king's might. My elder brother is in Pakistan Army and luckily posted in Mangla Cantt, the idea of visiting Mangla was due to him. My brother has links at the highest posts of dam because he is in charge of Mangla Cantt and all the army correspondences. With this advantage, we get a lifetime opportunity to see the dam from the inside, electricity producing turbines and other mechanism.
We reached Mangla Cantt in the evening where my brother warmly received us. We spent two, three hours roaming around the local markets, parks and other places in Mangla Cantt. Our table was reserved in Garrison mess (one of the most beautiful garrison messes inPakistan) for dinner. The whole of the mess was spectacular. It had a bowling alley, snooker clubs, a spectacular gym, covered and temperature controlled swimming pool, sauna and steam bath facilities and much more. We enjoyed a whole night there by checking each and every facility.
Next morning, we left for Mangla Golf Club – the club has facilities such as an archery club, a horse riding club and a firing range club. When we were done playing golf, archery competitions, horse riding and firing more than 5 rounds, it was pitch black. Totally exhausted, everybody went home and slept except – everybody except me and my cousin. We played Play Station 3 the whole night by taking turns and challenging each other. On our second last day, my brother arranged for a military helicopter, which was ready to give us a perfect aerial view of Mangla city and dam.
Mangla dam has dedicated helipad where we landed and rushed towards water. Then we explored the dam from the inside and witnessed the production of electricity. The view of water falling on turbines is worth seeing. It gave me the opportunity to recognize the power and fury of water. All of us took a long ride on motorboats, and then elders retired on the shore while I, along with the boys, went to have some fun riding motorboat and Jet Skiing.
As stated earlier, due to my brother's influence in the area, we were allotted 3 Jet Ski boats. The feel of going on water is totally sublime. It was just like trespassing every threshold and enjoying every second of your life. On our return, Bar BQ was almost ready along the shore of dam. So tired with exertion, we ate to our heart's content and resumed our fun. We stayed at dam's rest house and enjoyed the whole night by chit chatting and playing cards.
In the morning, we left for our home – packed our stuff and got in both of our cars. We left forLahorein the afternoon and by nightfall, we reached the city. I still remember each and every moment of the trip as it was my first ever trip to my native city with the whole of my family and relatives. As if that was not enough, we also had oodles of fun too.
Author Biography:
William King is the director of Pakistanreal estate and mainly deals in Karachi, Islamabadand Lahore real estate. Being an entrepreneur and passionate blogger he likes to share his knowledge and expertise with the industry people by writing for various related blogs.