Connemara is an area of Ireland famous for the rugged beauty of its countryside. Connemara has hills, valleys, castles, rivers and lakes. It is wild and picturesque, making it a part of the Republic of Ireland that many visitors to the country want to see, and fortunately for these people it is possible to take an organised tour of Connemara departing from the city of Dublin. Dublin is a great place to use as a base if you come to Ireland and it is easy to find accommodation there.
Of course, you might want to make your own way into Connemara instead of going on a guided tour. Buses and trains can be caught from Dublin that would enable you to do so.
Cong
Cong, Ireland (Photo: Doug Kerr)
After leaving Dublin, tours that take you to see Connemara are likely to stop off at the village of Cong, which is home to Ashford Castle, and which is a part of Ireland made famous by the 1952 Oscar-winning film The Quiet Man starring John Wayne and Maureen O'Hara.  Much of this movie was filmed at Ashford Castle.
The ruined Cong Abbey is another of the attractions of this picture postcard village.
Lough Corrib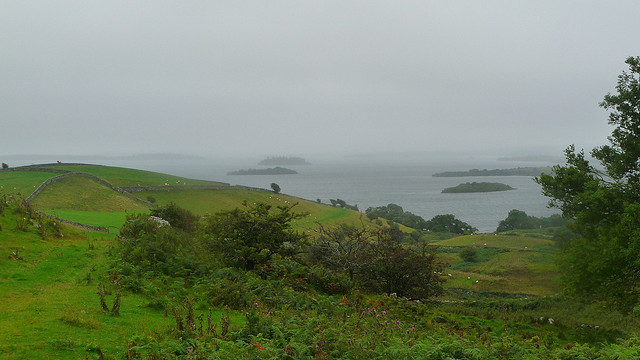 View over Lough Corrib (Photo: Cary Bass-Deschenes)
Visitors to the stunning countryside of Connemara will want to see its lakes and one of the most beautiful of these is Lough Corrib. It is the second largest lake in Ireland and the River Corrib connects it to the sea at Galway. It is possible to take cruises on Lough Corrib and to view its many islands.
Lough Corrib is home to many types of wildlife too, including otters and hawks.
The Wilderness of Connemara
After viewing Lough Corrib, our tour takes us into the wilderness of Connemara which is one of the most remote and sparsely populated areas of Ireland. This area was once ravaged by the Great Famine of 1845 but today the people of Connemara strive to maintain a rural culture and farming suited to this type of countryside.
Sheep in Connemara (Photo: Simon)
Maam Valley
Tours of Connemara continue onwards to Galway by travelling through the Maam Valley.  Maam is derived from the Gaelic word "Mam," meaning "mountain pass" and this is an apt description for this very scenic valley.
Twelve Bens Mountains in Connemara (Photo: Julien Mattei)
The Twelve Bens, or Twelve Pins, are some of the main mountains in this part of Ireland.
Galway
Tours arrive in the coastal city of Galway before making the return journey to Dublin later on in the evening. Galway is famous for its traditional Irish music and musicians, as well as its delicious Galway Bay oysters. The cobble-stoned streets of this Irish city will give you the feeling you are stepping back in time.
Galway (Photo: Phalinn Ooi)
Galway is a wonderful part of Ireland to spend some time in on a memorable day out touring Connemara.