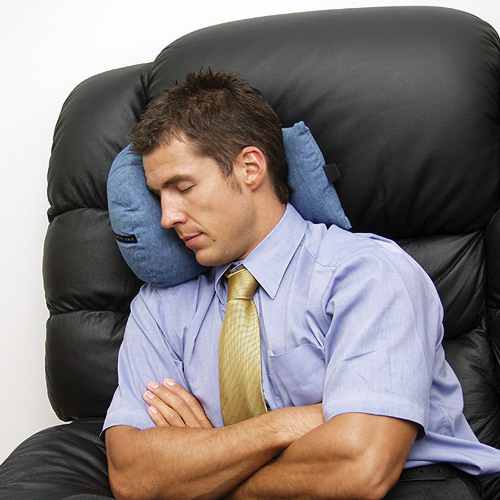 Reach for a great quality travel pillow, and even if you're traveling in economy class, you should still be able to get some rest. The best travel pillows keep your head from swaying around when falling asleep in an upright position, and they do this without over-extending your neck muscles (see article).  But with the sheer numbers of different styles available, it can be hard to identify the best options.  Here's a quick guide to help you cut through the clutter.
If you can, decide upfront the kind of material you're looking for in a travel pillow. Are you after a pillow that's very supportive, or is the weight of the pillow a more important consideration?  Are you looking for an ergonomic shape? Do you want an adjustable model where you can add or remove the pillow filling to your requirements? Is shape and size more important than the quality of the pillow stuffing?
These days you're no longer limited to crescent shaped pillows (often referred to as U shaped). Walk into any good sized travel outlet at the flight terminal and you'll discover a wide range of different designs presented for sale.
Here are two that we think are worth a closer look, and neither has a crescent shape.
We anticipate seeing more travelers with TravelRest pillows in the coming years. It's an ground breaking new design shaped like an elongated J.  It's worn across the upper torso much like you would wear a sash and tethered to the back rest.  Once hooked over your shoulder and tethered,. the pillow is very stable and very comfortable for sideways sleeping.
The tiny Miracle Neck Rest demonstrates the point that, contrary to the opinion of many travelers, memory foam pillows can be portable and lightweight.  And the Miracle Neck Rest does this without sacrificing a high quality of support for extreme portability.
So don't just rush out and purchase a conventional crescent shape pillow.  Take the time to review all the options on the market before taking the plunge. Some people find body pillow can help improve their sleep quality by increasing comfort and reducing pressure on the joints.
Search, compare and book cheap holidays online.
Select from
budget holidays, cheap flights, late deals
and all
inclusive holidays
for the entire
family.