Anyone who grows up in California learns all about the Spanish missions in school, but many out-of-state visitors haven't even heard of them. That's surprising, because the mission system gave birth to modern California!
The 21 missions were built between 1769 and 1823, and they stretch from San Diego to Sonoma. Many of California's most important cities and highways grew out of the mission system. In addition, the missions influenced California's architecture, agriculture, cooking, and even the language.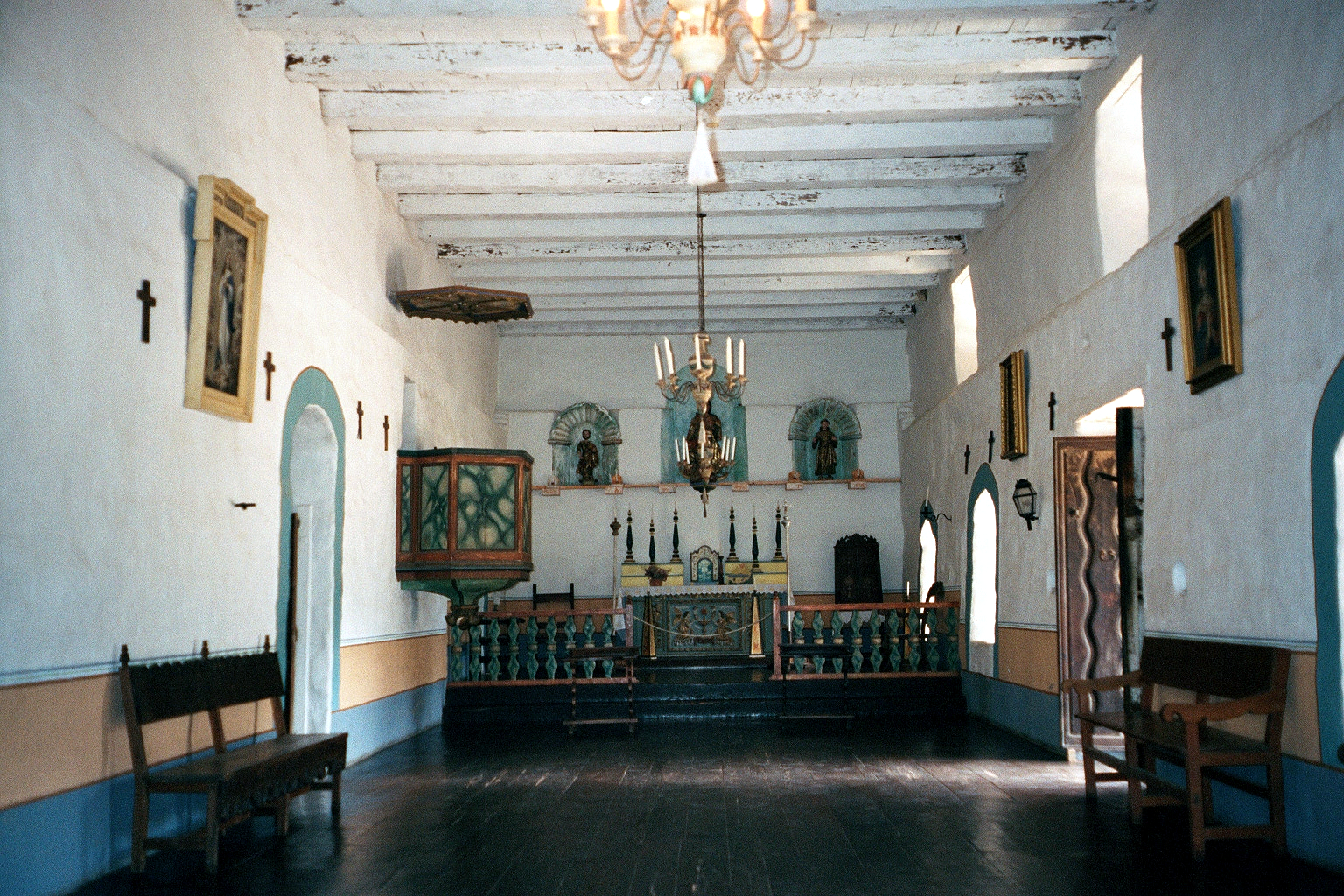 Chapel Interior at La Purísima Concepción
A visit to one of the missions can give a fascinating glimpse into California history, but equally important, the missions can be beautiful, peaceful and fun!
Visiting the Missions
It's quite easy to visit a California mission. They stretch in a line near the California coast, spanning a distance of over 600 miles, so there is at least one mission near most of California's famous travel destinations. All 21 missions are open to the public (note that most are still active Catholic churches, so access may be limited on Sundays and Holy Days).
Once you visit one mission, you'll want to see more! Many people try to see all of the missions, and plan their vacation trips around missions they haven't yet seen.
There is a lot of variety among the missions. Some grew wealthy from farming and cattle ranching, and brought architects and artists all the way from Spain to create beautiful churches. Others were simple adobe structures built on arid land.   Some of the missions today are very well preserved, some have been reconstructed, and a few are archeological sites with extensive ruins.
Whatever your interests, you'll probably find a personal favorite among the missions. Some of the best-know missions are listed below. You can find details of all 21 missions on the California Mission Guide website.
The Beautiful Missions
San Carlos Borromeo de Carmelo (Carmel) is often called the most beautiful of the missions.   The main chapel is the burial site of Father Junipero Serra, founder of the California Mission system. There is an elaborate memorial tomb, sculpted from travertine marble in 1924, depicting Father Serra and three other mission pioneers.
Santa Barbara was known as the Queen of the Missions. There is a great deal to see at Mission Santa Barbara, including the restored church with its unique façade, an extensive museum and art collection, beautiful gardens, tile fountain, and out-buildings including a mill, tannery, and parts of the original water system.
Santa Bárbara
San Luis Rey de Francia (San Luis Rey) was called the King of the Missions. In addition to the beautiful cruciform (cross-shaped) church and octagonal chapel, visitors will see a sunken garden area with original tiles, a water system, kilns, archeological excavations, and a museum.
San Juan Capistrano is known as the Jewel of the Missions. Today, visitors to the beautiful and extensive grounds can see the ruins of a stone church (built in 1806), the original adobe church, living quarters, workshops, beautiful gardens, and a museum. The adobe church is believed to be the oldest standing building in California.
The Living History Missions
La Purísima Concepción de María Santísima (Lompoc) was reconstructed by the National Park Service and the Civilian Conservation Corps in 1934. The restored buildings and artifacts provide a fascinating glimpse into the day-to-day life of a working mission. There are kilns for making pottery, looms for weaving, wells and irrigation system, stock pens, living quarters, and more.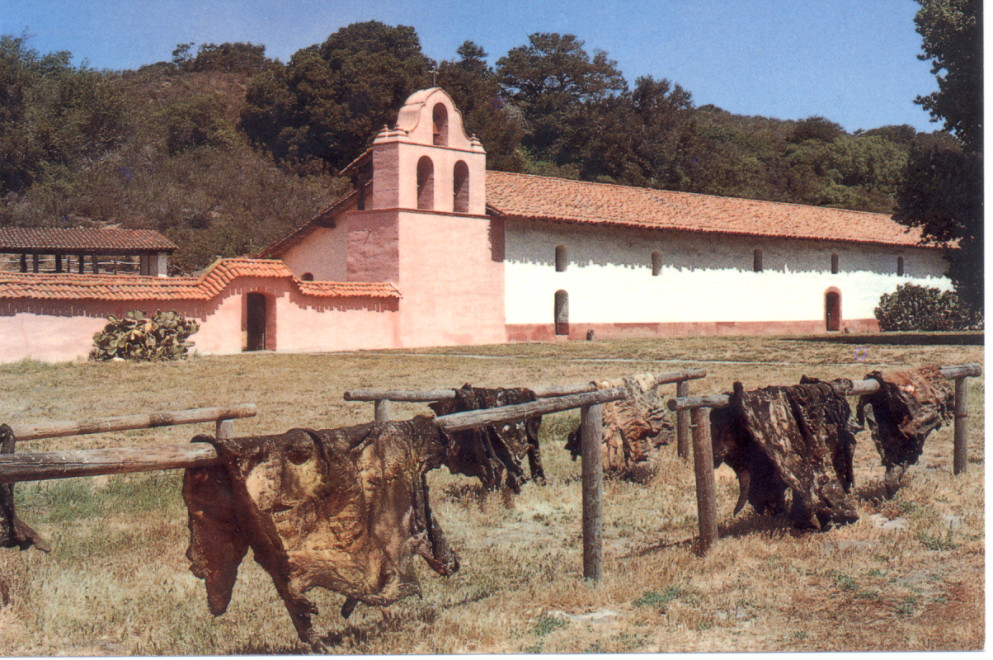 La Purísima Concepción
In addition, there is a visitor center, interpretive exhibits, museum, and extensive grounds featuring a network of hiking trails. The park hosts regular historic re-enactments.
San Juan Bautista features a well-preserved church, dormitory building, cemetery and gardens.   The mission faces a historic town square that is the last remaining Spanish Plaza. There are a number of surviving buildings from Spanish colonial and early American times, including:
Castro-Breen Adobe – A large adobe house, built in 1838 for Mexican General Jose Antonio Castro. Patrick and Margaret Breen, survivors of the ill-fated Donner Party, purchased it in 1848.
Plaza Hotel – Built in 1858 by Angelo Zanetta, it was a thriving hotel during the 1800's.
Settler's Cabin and Gardens – A typical cabin housing early California settlers.
Plaza Hall – Acquired by Angelo Zanetta in 1868 for use as his private residence.
Plaza Stable – Circa 1870. The stable was built to handle the extensive stage and wagon traffic flowing thru San Juan Bautista. It features a collection of antique carriages and wagons.
Town Jail – Circa 1880.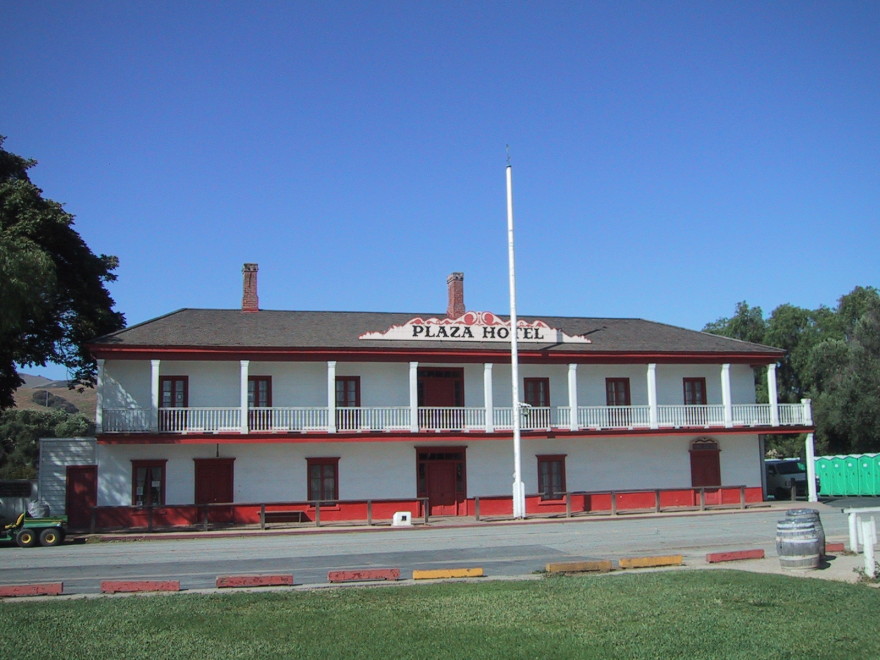 Historic Plaza Hotel at San Juan Bautista
San Francisco de Solano (Sonoma) features a 1913 reconstruction of the mission's adobe chapel, as well as the nearby presidio, or military barracks. The mission is adjacent to a Mexican-style town square, the largest in California, which is still the heart of downtown Sonoma. The square is the site of the Bear Flag Revolt of 1848, in which California declared independence from Mexico.
The "Digs"
San Antonio de Padua (Jolon) is very isolated, and therefore its surrounding outbuildings are well preserved.   The church building has been reconstructed. There are also several historical out-buildings, a small museum with artifacts, and even a remains of the original water control and irrigation system.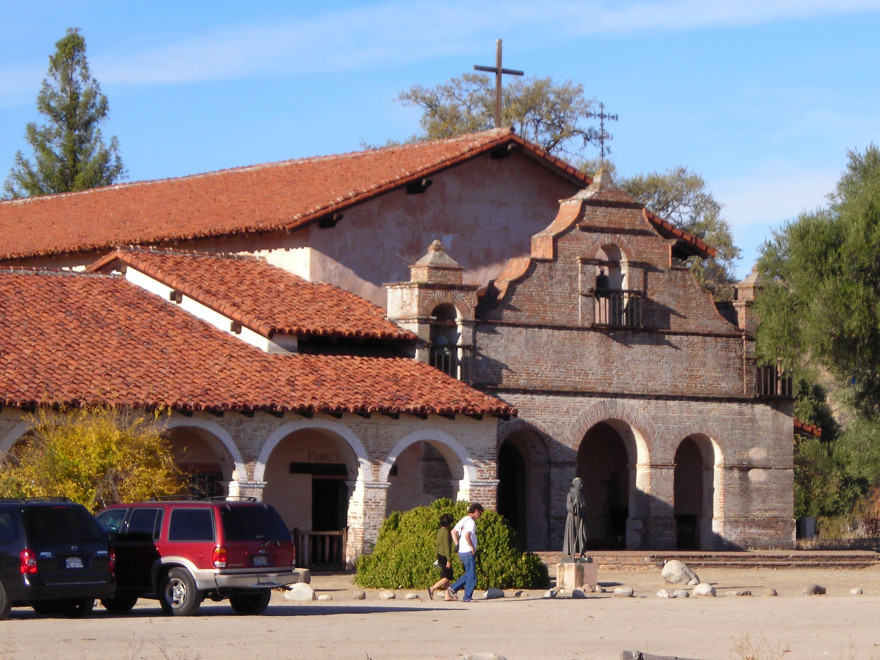 San Antonio de Padua
The interior walls feature painted decorations done by the mission Indians. The "music room" shows musical notation and hand symbols used for teaching music.
Nuestra Señora de la Soledad (Soledad) features archeological excavations, the remains of a few mission buildings, and a small museum.
San Miguel Arcángel (San Miguel) lets visitors see archeological remains of several adobe buildings, a small museum, and the 1818 adobe church.
Archeological site at Nuestra Señora de la Soledad
The Royal Road
The 21 missions were connected by a well-developed trail known as El Camino Real (the royal road, or the King's highway). Today a number of roads and highways follow the original route.   In 2006, hundreds of bells mounted on poles were installed along the roadway to commemorate the historic Spanish highway.
When you visit the missions, you're almost certain to travel along El Camino Real, the same path taken by padres, soldiers and settlers hundreds of years ago!
---
Article courtesy of CaliforniaMissionGuide.com
Photos by Robert Nicholson.