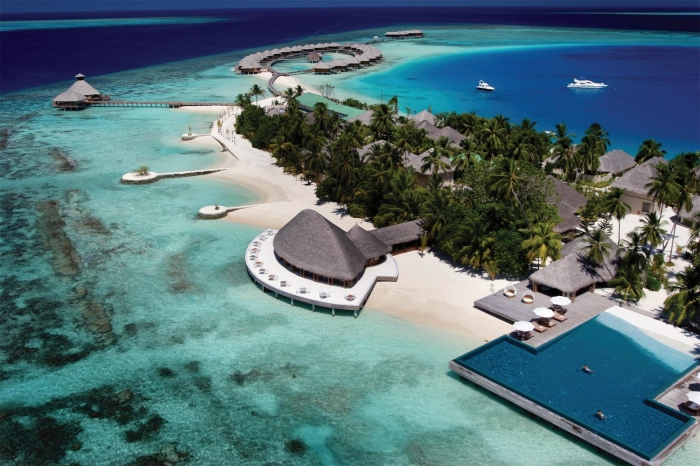 Many tourists call the Maldives a tropical haven. Located at the Indian Ocean, the Maldives composes of over a thousand coral islands 1,192, to be precise according to the data provided by a leading airline company with regular flights to the small nation). One out of six islands is inhabited by the locals although the government in partnership with private enterprises had developed these atolls primarily for tourism purposes.
Flying to the South Asian Paradise From Around The World
Plan thoroughly to enjoy your once in a lifetime vacation in any premium luxury resort of this South Asian island country. Search for the convenient and cost efficient  flights to Maldives preferably at the Male International Airport. Cost may not be a problem for many, but  one can easily get discounted rates on flights to Maldives without compromising comfort.
More and more companies are now offering discounted rates for Maldives flights because of the ever-increasing competition. Vacationers flying from the United States, the United Kingdom, and Australia can look at different schedules and prices as per convenience too. Travel time from these continents can take between 10 and 18 hours or more after including waiting at the airport, transfers, and stopovers. But the long flight hours will be very much worth it once you arrive at the Maldives.
Passengers coming from Asian cities like Malaysia and Sri Lanka can expect from two to four hours of flying time for a very low airfare. Meanwhile, international points of departure from the USA include Boston, Chicago, Las Vegas, Los Angeles, New York, San Francisco, and Washington (DC).
Other than UK's two major international airports at London and Manchester, smaller hubs of Newcastle, Glasgow, and Edinburgh also schedule flights to Male in Hulhule Island. From Australia, travelers can take off from Melbourne, Sydney, and the Gold Coast.
Search and compare airfares at  leading travel fare aggregators and Meta search engines on the web before booking
As a precaution, airline companies and travel agents urge  their passengers to review the latest health advice as well as vaccination requirements, if any before traveling to Maldives.
Option of Chartered Flights
Those who wish to travel in more private atmosphere can avail the luxury of chartered flights to Maldives. Though it is to be noted that these scheduled services usually originate from cities like Doha in Qatar, Dubai in the UAE, Colombo in Sri Lanka, and Singapore. So if you are travelling one of these countries, it may be easier for you to get a Chartered Flight. It was in 2009, one airline firm from the UK opened direct scheduled services from London Gatwick International Airport in Southeastern England thrice weekly.
Passengers can choose from boat or seaplane transfers as well as domestic carriers from the Male International Airport depending on the resort's distance. Seaplanes usually land next to floating platforms. Motorboats pick up passengers and ferry them to shore.
Some useful pointers for the first-time traveller :  
Seaplanes fly only during the day. Guests arriving after sunset must stay in Male for the night before transferring to their beach resorts.

Tourists leaving the island in the afternoon must coordinate with their tour operators for overnight accommodations in the city while awaiting their international flights.

Make bookings in advance for summer vacations since you can expect a lot of travelers during peak months.
Vacationing in Maldives
Vacationing in the Maldives becomes a cherished memory for life, all thanks to its sun-kissed beaches, its colorful coral reefs, and its crystal-clear emerald coloured sea waters. Make sure to plan on time and evaluate carefully to avoid overspending. Foresee the possible expenses and avoid being caught in a difficult situation. A maximum stay of five days instead of a more extended period is what is generally recommended and should give you an experience of a lifetime.