Lake Buchanan cabins rental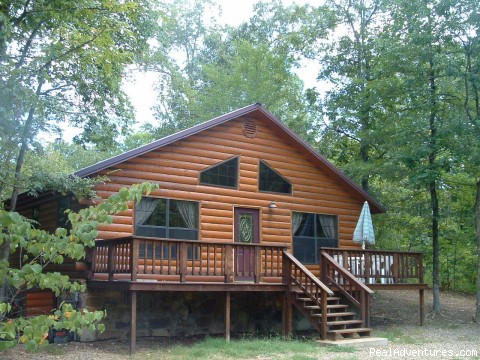 Lake Buchanan is the second largest of the Highland Lakes in Central Texas with a length of 30 miles and a width at the widest point of just under 5 miles and a shoreline of 124 miles. When it was built, Buchanan Dam was considered to be the longest multiple-arch dam in the U.S. with a length of just over two miles.
The lake is very popular with boaters, fishermen, campers and swimmers. The lake is so large that you will never feel crowded on the lake. There is always plenty of "elbow room" on each of the Highland Lakes. In 1995 over 1 1/2 million Striper Bass were stocked in Lake Buchanan.
RV Parks, cabins for rent, campgrounds, cabin vacation rentals and log cabins for sale are available along the lake. There are a few cafes near the lake: one specializes in catfish, another in good old Texas B-B-Q and some with Texas home style cooking.
There is a nice granite gravel shore around some of the lake providing an ideal beach for swimming, wading and sun bathing.
You can take a cruise up Lake Buchanan on a 200 passenger vessel complete with an enclosed all-weather deck plus two observation decks. Operating year round with the 2 1/2 hour scenic wilderness tour through the historic Colorado River Canyon. Perfect for spotting the nesting Bald Eagles and looking at the waterfalls.
Fall Creek Vineyards is a popular winery on the west side of the lake where you can stop in for a little wine tasting and buy a bottle or two of Texas wine. They also offers tours of the winery.
Striped Bass caught in Lake Buchanan
Lake Buchanan is located 60 miles northwest of Austin and 95 miles north of San Antonio. It is about 200 miles south of Dallas and Fort Worth and 200 miles west of Houston.
.Cabin Rentals and RV Spaces
Cedar Lodge
on the west side of Lake Buchanan
15 log cabins for rent and RV spaces, an extra large fishing pier, a nice sandy beach, large meeting hall, fishing guide service, rental boats and more.
Driftwood Shores Resort
on the west side of Lake Buchanan
Driftwood Shores has over 900 feet of waterfront, cottages for rent, and a lighted fishing pier for you to enjoy yur fishing and boating on the lake.Thunderbird Lakefront Resort
on the east side of Lake Buchanan
Lake cottages, boat rentals, floating fishing house, swimming pool, children's play area, fishing guide and charters are available.Texas Hills RV Haven
on the northwest side of Lake Buchanan in Tow, TX
Waterfront resort with 2 rental cabins and 15 RV spaces on beautiful Lake Buchanan . A boat ramp for launching your boat is on the property. Family owned and operated..
The Edgewater
southwest side of Lake Buchanan
8 waterfront cabins w/full kitchens, 2 manufactured homes, 2 mobile homes, 37 RV Spaces at this great waterfront location. Recreation/Meeting Room, swimming pool, lighted/covered fishing pier, boat ramp & loading/unloading dock, TVs w/cable, washateria, restrooms w/showers, onsite store.
Beachcomber Park
on the west side of Lake Buchanan
Cottages for rent and RV Park at this waterfront resort. They also have 2 boat launces and boat docking and storage.
Poppy's Pointe Lakefront Resort
on the west side of Lake Buchanan
9 cabins for rent and 58 RV spaces, swimming pool, recreation/meeting hall, boat launching ramp, laundry room, and lots of waterfront to fish from.
Hi-Line Lake Resort
on the east side of Lake Buchanan
16 waterfront cabins for rent, 50 RV spaces, waterfront restaurant, boat rentals, swimming pool, 1800 feet of waterfront, and enclosed fishing marina.
Cottonwood Cove
on the west side of Lake Buchanan
Lakefront cabins, RV spaces, boat launch, lighted fishing dock, covered boat docks, and boat storage. This resort is close to Fall Creek Vineyards.
Rainbow Hearth Bed and Breakfast
on the east side of Lake Buchanan
Nine lakeside acres of lush tree-covered hills and panoramic views. Featuring: beautifully and deliciously prepared organic and natural food, intimate, candle-lit dining, "Sleep Number" (TM) beds, spa and hiking trails, and the finest massages available…anywhere!
Willow Point Resort
New waterfront log cabins on the shores of Lake Buchanan. Each cabin sleeps six, has a full kitchen, AC/Heat, and covered front porch with fantastic open water views of the lake. The log cabins for sale have access to a Club House, Meeting Room, free canoes, hot tub and campfire areas.
. Big Chief RV Resort and Cabin Rentals
on the east side of Lake Buchanan
Beautiful waterfront location on Lake Buchanan with full hookups for RVs, cabin rentals, a general store, fitness room, TV/Game room, clubhouse, covered pavilion, planned activities, a boat ramp and more.
.
. Canyon of the Eagles
Experience rustic lodging and stunning scenery at Canyon of the Eagles, nestled in the heart of Texas hill country. Whether you want to trek along miles of nature trails or gaze at a sky full of stars, this resort is your ticket to a natural paradise.
.
. Painted Sky Inn
on the east side of Lake Buchanan
Million dollar lake views from this location with water on 3 sides of the property. Choose from 9 Lake View single and double units, the Lake View Deck or the Lake View House. Boat ramp, 115-ft. waterfront deck.