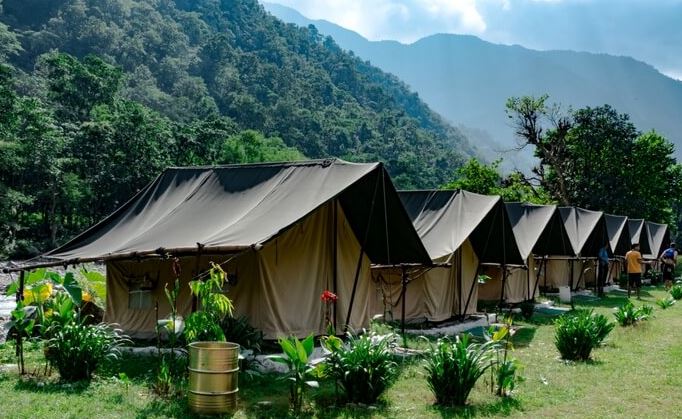 Rishikesh Camping is a thrilling experience one can have at a very affordable price. Rishikesh is a gateway to the Garhwal Himalayas. This adventurous rafting and camping trip attracts loads of travelers from across the world.
Camping in Rishikesh is meant for those people who are adventurous and not interested in a luxury trip. When one says 'rafting', it sounds similar to Rishikesh! Before your next camping trip, it's wise to learn the best ways to pack water in your camping water container.
There are two types of camping – river camping and jungle camping.
River Camping
River Camping is best for those who just want to relax and admire nature by sitting on the rocks in the river.
Jungle Camping
Jungle Camping is best for a group of people to do something adventurous. You can explore nature with your friends or family and get away from the noise of a city. You can find yourself in the midst of a quiet forest where only trees whisper to you.
Before going for Rishikesh Camping, you need to prepare yourself for the same. You cannot take it for granted. Follow these tips to make your Camping in Rishikesh the most wonderful experience.
The below mentioned precautionary tips will make your Rishikesh Camping experience more safe and pleasant.
Tips for Rishikesh Camping
Always carry a geographical map of the particular region where you are planning to go.
Carry enough water to keep yourself hydrated throughout the camping.
Avoid buying new clothes if you are going camping. Wear the most comfortable clothes to keep your body flexible and keep your body covered to avoid insect bites. Try to dress up in layers if you need to remove clothes at any time according to the weather conditions.
Keep your bug repellant handy.
Avoid using perfumes or scents as fragrances attract bugs.
You can save your food from bugs by keeping it at a height.
Wear lots of water-resistant sunblock to get relief from severe sunburn. If you also value personal hygiene, prior to the trip, you should already learn important things like shaving while camping.
Make sure you don't litter the campsite with trash. Carry a bag to collect all the litter to leave the place clean for other travelers like you.
Never feed or harass wildlife.
Keep a check on your personal belongings.
Carry a flashlight, waterproof matches, extra batteries, and a survival knife for all contingencies.
If you are feeling tired, you can soak your feet in the nearby stream to relax.
You can also carry a sleeping bag to enhance your camping experience. A night of good sleep will rejuvenate your mind and body for the next day adventure.
Carry a small first-aid kit with yourself all the time.
Inform your camping agency about your meal preferences beforehand.
Try to stay in groups to avoid getting mislead.
While rafting, wear a life jacket for safety.
You are advised to wear a helmet as a protective gear.
Do not get panic.
Always follow the instructions safely which are told by your raft masters.
Learn basic swimming techniques.
Carry everything that is waterproof.
Try to wear water-friendly shoes.
Do not carry valuable items during camping in Rishikesh.
If you are an inexperienced or a fearful rafter, stick to lower levels.
These safety tips for Rishikesh Camping will give you a deep sense of accomplishment by making your rafting and camping adventure the most thrilling experience.
Have more tips to add to the list of safety tips for Camping in Rishikesh? Please do share with us your most valuable tips for camping and rafting in the comments section below.
---
Wish you a very Happy Camping in Rishikesh!