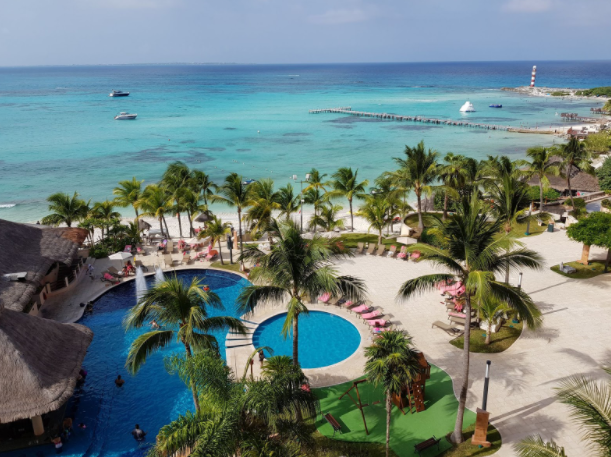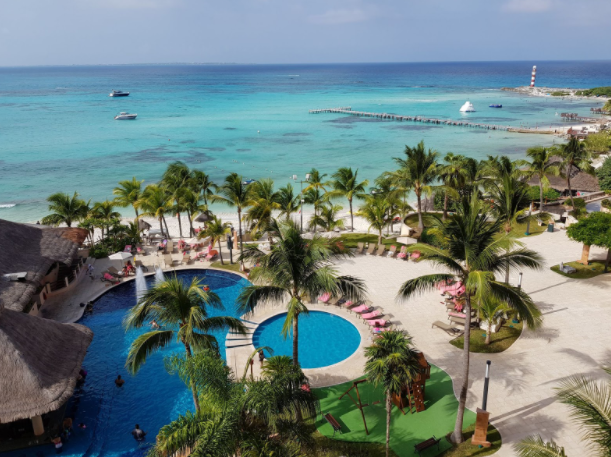 After everyone and our whole family went to the Riviera Maya and when they came back they told us "you have to go, we loved it" we started to suspect that this destination could be the best. If everyone speaks so highly of it for a reason. And once we got to know it, we confirmed it. The Riviera Maya is great. We toured it freely and in this post we tell you the tips for traveling to the Riviera Maya that you have to take into account. Whether you go on your own, or if you go to an all-inclusive luxury mega hotel. Make sure to gather the best Ways to Make a Trip Memorable on this article and have fun with your loved ones.
Is it safe to travel to the Riviera Maya?
This is a common question. Our travel experience in the Riviera Maya was really positive. At no time did we feel unsafe or notice anything unusual.
We have a friend who has been living in Playa del Carmen for years and he has never had any problems. What's more, what we found was a very touristy area where everyone goes about their business and there is no feeling of insecurity in the atmosphere.
Obviously, things happen in Mexico. Just watch the news. But Mexico is very big and that doesn't mean that something is going to happen to you, especially not in this area. Besides, the State of Quintana Roo is one of the safest states in the country and the government is in charge of protecting tourism to the maximum.
In short, we moved around the Riviera Maya freely and without any problems.
Not everything is all-inclusive hotels in Riviera Maya
We must admit that travel agencies have done a great job in promoting tourism in this area. They offer you the all-inclusive flight+hotel package at really competitive prices. To such an extent that, if you decide to go to this area on your own, avoiding all-inclusive hotels, people think you are weird and that there is nothing else to do in this area.
What's more, we thought that everything was armored beyond the all-inclusive hotels. And what we found was the opposite. The party is on and the fun knows no bounds. 
If you find a good deal on a hotel + flight we think it's great. But if you don't find it, don't worry because there are also normal hotels all over the Riviera Maya where you can go on your own. The range of possibilities is very wide. From super luxury hotels to simple hotels.
Where is the best place to stay in Tulum or Playa del Carmen?
This was one of the doubts we had while we were organizing the trip. Most of the all-inclusive hotels are on the road between Tulum and Playa del Carmen. From here you can enjoy the best excursions in the Riviera Maya.
If you decide to go it alone, it is best to stay in the town of Tulum or Playa del Carmen. These are the two most important cities in the Riviera Maya area. There you will find a wide range of hotels and many restaurants where you will be able to fill up on tacos every night. Well, I don't know about you, but we do that too.
Tulum is a very special and magical place. We recommend that you stay at least one night in a cabana on the beach. The experience is unforgettable. Getting up in the morning, watching the sunrise while having chilaquiles for breakfast and looking at the sea will be one of the best plans of the trip.
Playa del Carmen, on the other hand, has much less charm and is more of a city, but there you will find hotels at a cheaper price than in Tulum.
We chose to stay a few days in Tulum and other days, to save some money, in Playa del Carmen. Besides, for example, Chichen Itza is practically the same distance from Tulum as from Playa del Carmen.
How to get around the Riviera Maya? 
By bus or vans: it is the cheapest way to get around the Riviera Maya, but you will lose a lot of time on the way. If you decide to travel by bus, we recommend you to check the timetables on the ADO website. It is the largest bus company in Mexico.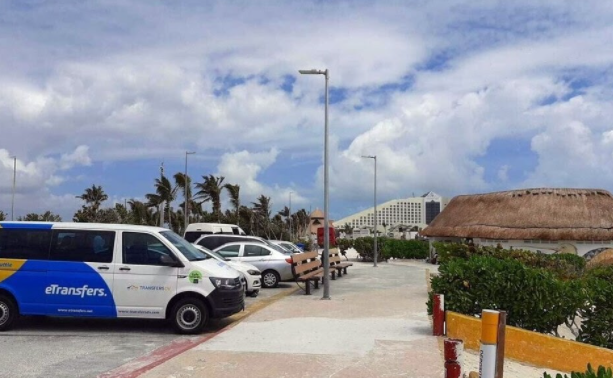 By cab: obviously this is the most expensive option. To request a cab, it is best to ask the hotel directly to call one for you. If you want a cab to be waiting for you at the airport you can hire a private and 100% safe Cancun airport shuttle service.
Some tips for driving a rental car in Riviera Maya
One of the best tips for traveling to Riviera Maya that you need to know is how to drive on the roads. Here are a few tips:
You don't need an international permit to rent a car in the Riviera Maya. We took it with us just in case, but they didn't even ask for it. The license from your country is enough.

The roads in the Riviera Maya are in perfect condition. Most of them are completely straight roads. They have raised speed bumps on the shoulders so you won't fall asleep.

Speed limits are between 100 and 80 km/h. We recommend you to be careful not to exceed them because the police impose very high fines in this area.

There are no tolls on the highways, except on the "toll highway" in the direction of Mérida that you will have to take to visit Chichén Itzá. To pay this toll they do not accept credit cards. The price is 238 pesos which you will have to pay in cash.

Try not to relax with the gas tank and make it emptier than a traveler's fridge. There are not so many gas stations.

Now if what you want is to save yourself some worry and travel in the easiest way, is to book a private transportation service, such as the one offered by

Cancun Airport Transportation

, which will take you to your favorite destinations without any problems.
When is the best time to travel to the Riviera Maya?
Any season is a good time to travel to the Riviera Maya. It has a semi-tropical climate and the average temperature throughout the year is between 25º and 30º. It rains rather little and when it rains, even if it is intense, it is brief. The summer heat of June, July and August can be sweltering and the hurricane season takes place from July to November. September and October are the busiest months.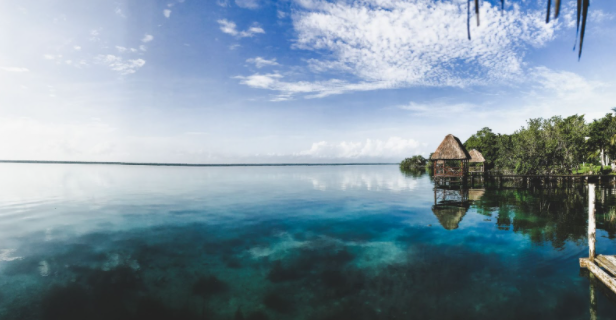 We traveled in late November, which coincides with winter there, and it was a perfect average temperature. About 24 º every day. If you want to be the envy of the office, go during the winter. Of course, your friends will envy you a lot when they see your pictures on instagram. 
The best excursions in Riviera Maya
If you visit the Riviera Maya as a trip organized by an all-inclusive travel agency your only headache will be selecting which excursions you want to do. This is where the companies make a real profit margin because the excursions are expensive as hell.
The hotel will tell you that it is unsafe to do it on your own. You don't pay any attention. Obviously they tell you that so that you buy the excursion from them. If you decide to do it as an organized excursion it is best to book it from private agencies and not from the hotel. They have much more competitive prices:
Tulum excursion to see the ruins of the city on the edge of the Caribbean. But, we repeat, the safest option if you want to visit Tulum is to book a Cancun to Tulum Shuttle, so you can freely enjoy sipping mojitos on the beach.
Documents required to travel to the Riviera Maya
Only a valid passport with an expiration date of more than 6 months is enough. No visa is required. During the flight you will be given a small piece of paper that you will have to fill in to pass the customs control and that you will have to keep during your stay in the country.
Where can I change pesos and can I pay by credit card?
The currency in Mexico is the Mexican peso. The exchange rate is approximately 1 euro = 23 Mexican pesos. At the airport you can withdraw money at ATMs and/or exchange any currency into Mexican pesos, you can check the current exchange rate at the Cancun airport currency exchange page.
It is also easy to find ATMs all over the region and credit cards are accepted in almost all restaurants and hotels.