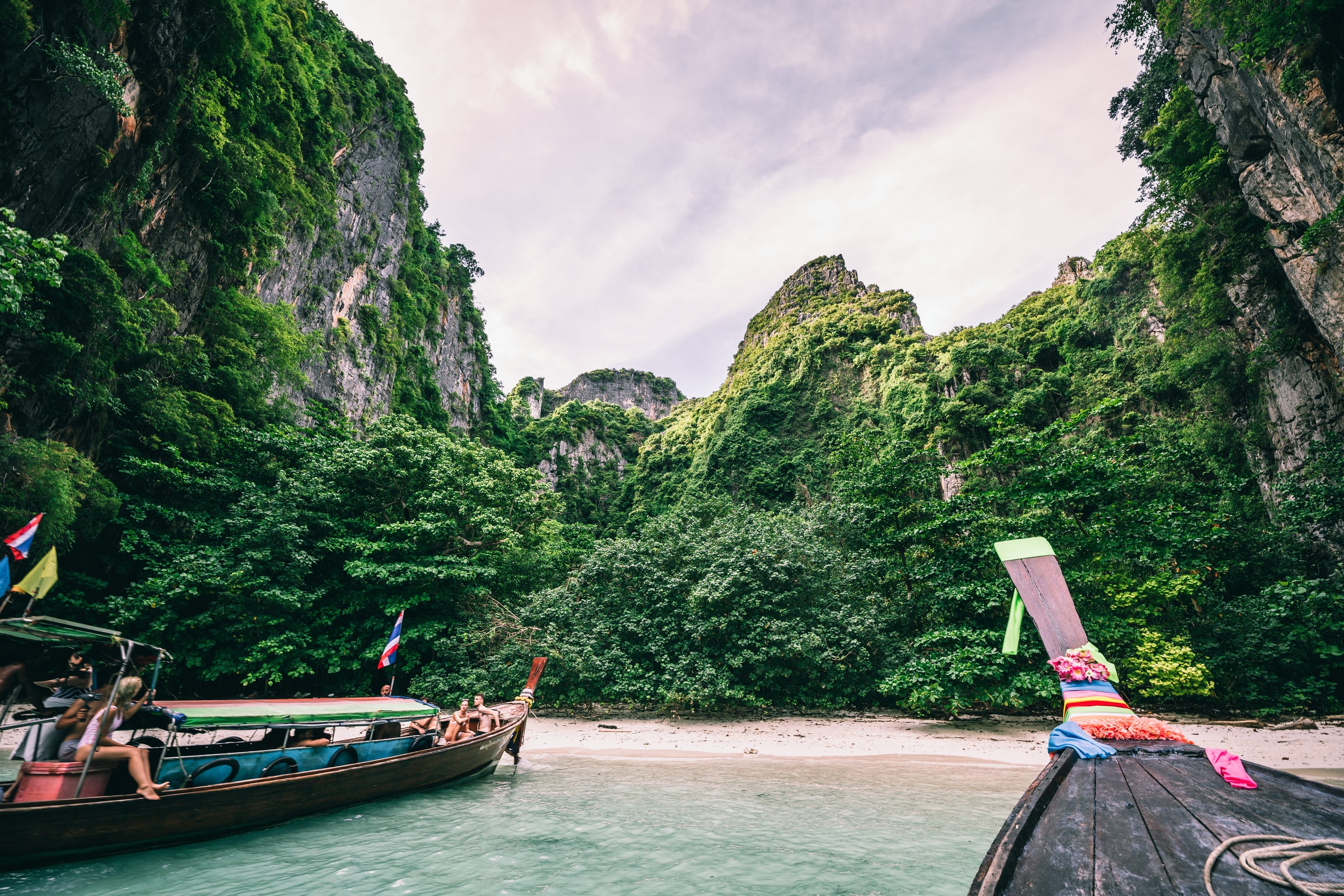 When you're traveling to a destination that is culturally and geographically very different from your home country, it is thrilling to experience everything and take it all in. Thailand is one of those bucket list destinations that many people spend a lifetime dreaming of visiting in particular. However as you prepare to visit a new country and culture, it's important to remember some tips to help have the most enjoyable, safe, and fun experience. Here are the 10 tips for visiting Thailand for the first time.
1. Wear sunscreen
You may not realize it walking around the cities, but the sun can be brutal. Thailand's tropical climate and hot seasons can be especially toasty, so make sure to protect yourself by bringing a sunscreen, If you want our recommendation, check out the zero waste vegan sunscreen.
2. Drink bottled water
It's encouraged when traveling to an unfamiliar country to drink only bottled water versus water out of the sink. This helps reduce the risk of being exposed to contaminated water that your body may not be prepared to fight. No one wants to miss out on their vacation by being sick!
3. Bring mosquito spray
Like most tropical climate destinations, there are plenty of pesky flying critters to be a nuisance. Help keep the sand flies, mosquitos and other flying insects away by bringing your own. Go for the repellent which is at least 50% deep.
4. You can't buy alcohol all day
Thailand has strict laws in place on what hours you can purchase alcohol. As a general rule of thumb, you can't purchase alcohol between 2:00 p.m. and 5:00 p.m. or on Buddhist holidays. There are some exceptions such at the international airports and some locally run corner market stores who may be less stringent on the rules.
5. Don't flush the toilet paper in the toilet
The plumbing system designed by Thailand commercial plumbers may not be what you're used to at home. After using the bathroom, place the toilet paper in the trash can or bin next to the toilet instead of flushing it.
6. Dress appropriately at temples
When visiting a temple or religious site it is customary for modest clothing. For the ladies this means pants, skirts or dresses that aren't too short or clingy and not having cleavage-baring tops. Men, this means no sleeveless shirts, hats, and anything that is vulgar and offensive.
7. Don't play your luck
All forms of gambling are illegal in Thailand. Save yourself time in jail or a hefty fine and avoid any sort of tourist attraction that has a connection with cards, chips or gambling.
8. Skip the Buddha souvenir
The image of Buddha is sacred in Thailand and it is strictly enforced that you will not be allowed to take it out of the country. So save your money and buy a souvenir that is non-Buddha related!
9. Don't drive in Thailand
Thailand is one of the busiest and traffic-laden countries in the world and is very difficult to navigate on a moped or motorbike. Don't risk your life and try to rent one and drive around, as there is plenty of fast and reliable public Thailand transport to get around.
10. Don't ride the elephants
Some time back, riding an elephant was on everyone's bucket list while visiting Thailand. However, there have been numerous reports about the cruelty which these beautiful creatures are subjected to. If you wish to meet some elephants, visit one of the sanctuaries instead. Animals saved from the tourist camps have a chance to live a full life. There are many of them in the north of Thailand. The easiest (and cheapest) way to get there is to take a train or a bus from Bangkok to Chiang Mai, and then book a tour directly via the sanctuary with a pickup from the hotel.
11. Try the local street food
Thai food is vibrant, colorful and delicious. It boasts of one of the world's tastiest cuisines in the world. Moreover, the food is so cheap that a meal costs only $1-3, for a massive portion. Make sure you step out of your comfort zone and try some of the flavorful dishes. There are many reputable food markets, carts and restaurants to explore. Use your judgement, be safe, and if you're questioning whether to eat it, then pass and save yourself the tummy ache later. Food in Thailand is very spicy, ask for the mild dishes if you wish to play it safe.
We hope this guide helps you as you plan your first trip to Thailand. There are so many incredible things to experience while in this gorgeous country, so take advantage of your time, be safe and smart, and you'll have a trip of a lifetime.