Sun, sand, and sea; if you are a fan of these three stated alliterations, then Goa is the right pick for you. One of the most popular tourist destinations in India, this small Indian state has much more to offer. If you are a solo traveler who wants to just not travel to Goa but wishes to explore its hidden beauty and elegance, there is no better way to do so than by connecting with the locals. But before we venture into the topic of how to connect with the locals travel buddy while visiting Goa and having a memorable trip, let's discuss the best places to visit in Goa.
Top Places to Visit in Goa:
Agonda Beach – This beach is 39.2 kilometers from Margao and lies in South Goa making it a must-visit. It's an isolated stretch of sand lined by palm groves. It usually has only a few tourists which makes it a quiet and peaceful place. Turtle center and rocky outcrops at this beach are what make this beach one of the most picturesque places in Goa. It has a developed tourist infrastructure in the form of attractions and/or activities like shops, cafes, shacks, bars, restaurants, yoga centers, and massage parlors.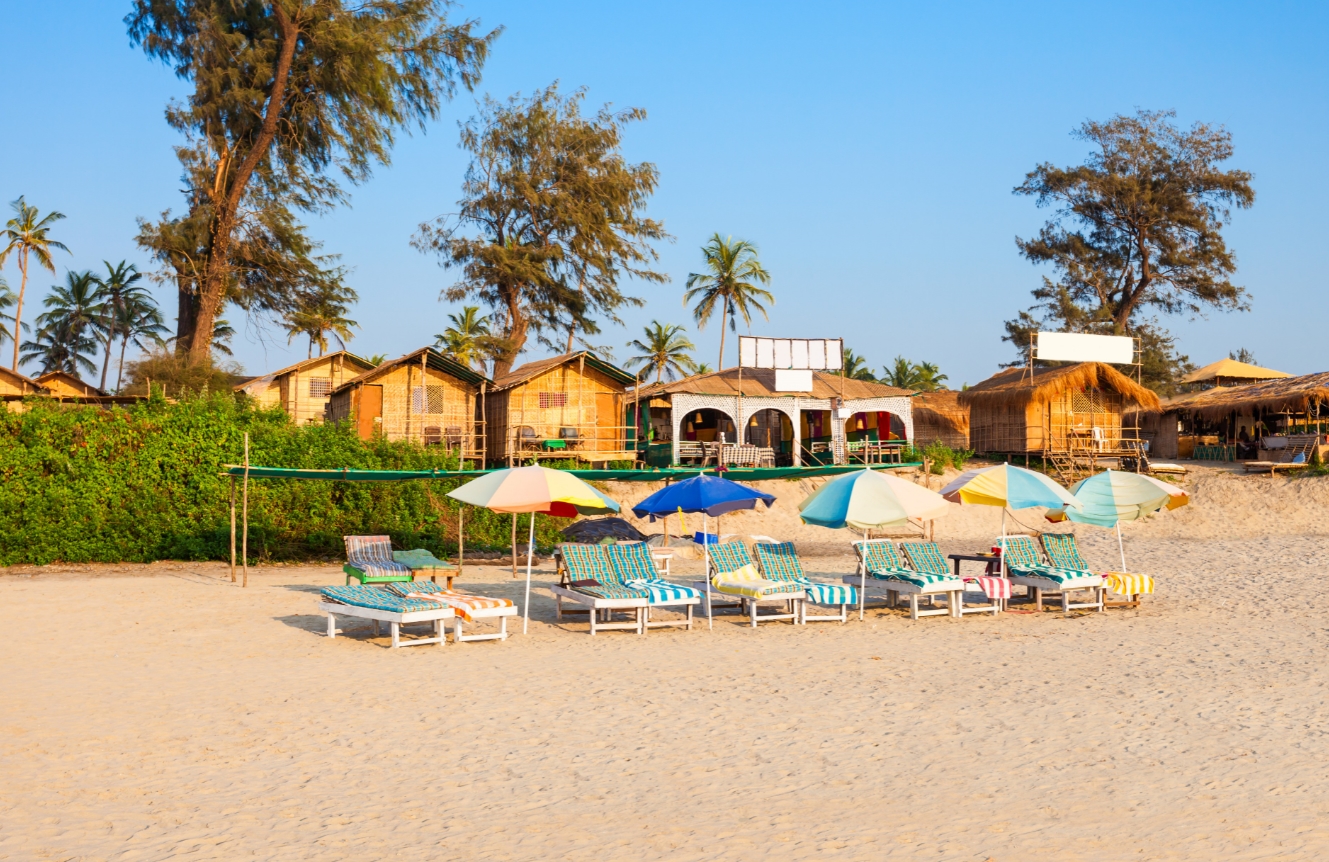 Aguada Fort – This is an old 17th century Portuguese Fort in North Goa on top of a hill just at the confluence of the Mandovi River and the Arabian Sea. In 1864, to defend against the Marathas and the Dutch, The Portuguese constructed this fort with a deep dry moat and a 13-meter high lighthouse. If you visit this place today, you may find that most of the constructions within the fort are in good condition. It provides you with the best views of the shoreline, Arabian Sea, Mandovi River, along with the city of Panaji.
Baga Beach and Calangute Beach – Baga Beach & Baga River in North Goa and Calangute Beach in South Goa are the most popular places in Goa. One of the longest sandy shores in Goa is the Baga-Calangute stretch. Travelers will find many attractions here such as beach shacks, pubs, restaurants, shops, nightclubs along with water sports activities which include banana riding, speed boats, paddle boarding, paragliding, surfboarding, and more. Baga Beach has the most famous shack of Goa i.e. Britto's along with two most famous nightclubs i.e. Club Tito's and Cafe Mambo.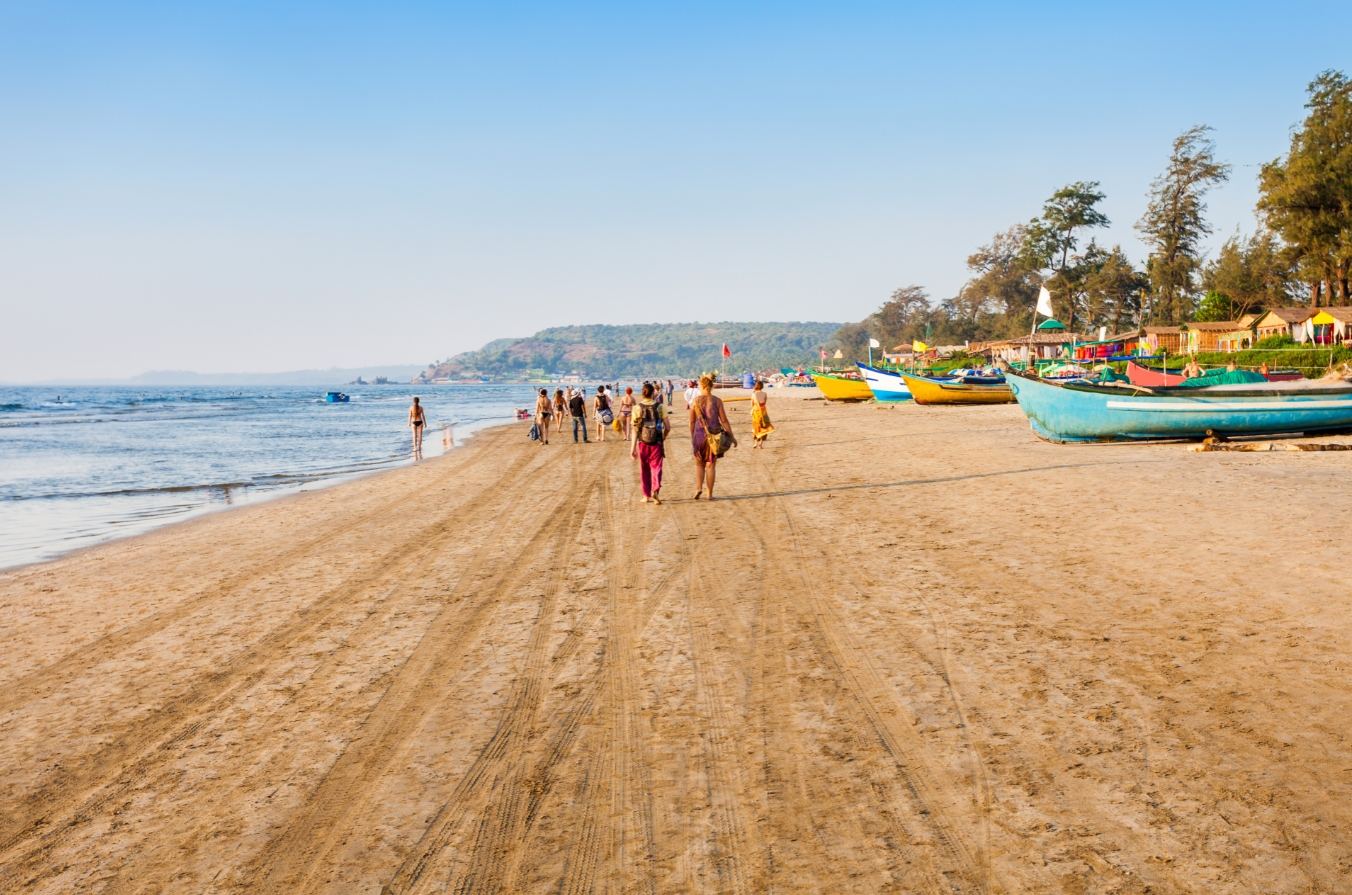 Pandava Caves and Arvalem Waterfalls – Pandava Caves of the 6th century and Arvalem Waterfalls are located about 9 km to the south of Bicholim town in North Goa. Pandava Caves has 5 compartments and the middle compartment is the one which has the 'linga' enshrined. Arvalem Waterfalls is close to the caves where travelers can visit to view the water cascading down from a height of 50 meters. The best view is from the nearby park from where you can view the waterfalls from top to the bottom.
Dudhsagar Falls – The word 'Dudhsagar' means 'a sea of milk'. Dudhsagar Falls is a 4 tiers waterfalls located 46km from Madgaon, also the 4th tallest waterfalls of India. The best time to visit and view the waterfalls is during the monsoons. Passenger trains, passing via the railway bridge located nearby, tend to slow down for the passengers to view the waterfalls. However, there is no platform or site to get the full view of the waterfalls, as it is in the case of Arvalem Waterfalls. Though it is not recommended, some people use the Dudhsagar station and walk backward on railway tracks to view the beauty of the waterfalls.
Mollem National Park – The Mollem National Park is located on the Goa-Karnataka border in the Western Ghats in East Goa. It is a 240 sq km spread national park which serves home to several species of wild cats, birds, snakes, and butterflies. Besides wildlife, it is also home to people who are known as 'the Dhangar'. It is a community of nomadic buffalo herders. Travelers can enjoy awesome trekking trails here or visit the 12th-century Tambdi Surla Mahadev Temple from the Kadamba Dynasty.
Fontainhas – Fontainhas is a place in Goa which belongs to Europe. The beauty of this place is its narrow winding streets, bright colored houses along with red-tiled roofs. The whole place is a work of art and gives a Mediterranean feel including the nameplates outside the houses. It is located at the foothills, along with the Altinho hills and the Ourem creek. Its name is derived from the phrase from 'Fonte Phoenix', which was a water reservoir constructed by the Portuguese. The Fountain of Phoenix is located in the Mala area and can be seen on the way to the Maruti Temple. Travelers may opt for a Heritage walk here to know more about the place.
The Casinos in Panjim – Casinos are a big thing in Goa. Travelers can find both land-based and off-shore casinos on ships here. Several casinos are located just off Panjim on the Mandovi River. Some of the most famous casinos in Goa are Deltin Royale, Casino Paradise, Deltin Jack, Casino Carnival, Casino Pearl, Casino Pride, and Casino Paradise. Aside from these, you can also test out your luck on a live casino since it's far more convenient than the physical one. The best activities to enjoy in these casinos are live music, dancing, and entertainment shows; apart from the usual games such as Indian flush, poker, blackjack, and baccarat.
Once you decide to go to Goa, your next step is to connect with the Goan locals so that you can have fun and explore this gem in the best feasible manner. And how do we do that? We do that with the help of social travel websites or travel dating apps which can help you to connect with Goan locals.
12 Websites to Connect With Locals in Goa:
Xoxo Tours – It is one of the best social travel websites to connect with Goan locals and find a travel buddy for your Goa trip. The registration process is simple, all you have to do is create a profile by providing some basic info and you are good to go. The site is 100% free for the users for the first 60 days with no hidden charges involved. You can so use this platform to find people before going on your Goa trip as well as while tripping on the go.
Facebook Travel Groups – While Facebook is essentially a social networking site aiming to connect you with your friends and family, it can also help you to find a travel buddy for your Goa trip. And it is quite easy to do so. There are hundreds and thousands of travel groups on Facebook which you can use for this purpose. Get yourself added in a few of these groups, post your trip details in the group, and invite the other members to comment on your post. Chat with them to know more about them before selecting your travel companion.
Showaround – Showaround is a great website to meet locals all over the world. This website will help you experience the true beauty of a place and explore hidden gems via an insider's or local's perspective. Usually when you travel to an unknown place, all the information you get is through the internet or other resources. And more often than not, maybe the best part of the city generally gets skipped. Unless you have someone who knows the place well, your trip would remain incomplete. The Showaround website is a great way to see places and do things that you wouldn't while traveling solo. The website also connects you with travel guides whom you can hire if you want a more planned trip to the city you are visiting.
Backpackr – When one is traveling alone, there comes a point where a solo traveler craves for a human company. You want to talk to people and share your experiences. Walking up to someone and just talking to them seems like a bad idea though. Solo travelers who want to find locals or other solo travelers in the area who want to explore places together and do the same thing as you, this platform is the ideal choice for you.
BeWelcome – BeWelcome is a social travel site that can help you to connect with Goan locals who may provide you with relevant travel recommendations and help you find a place to stay. You can create a detailed profile here as compared to other social travel platforms as here you need to answer many questions. The purpose is to know your preferences to provide you with the best possible matches who can host you. You may check out the reviews posted by other travelers here to judge a host. This will help you in the process of short listing your travel partner or host.
Ask a Stranger – When it comes to finding out about the best restaurants, clubs, hotels or cafes in any city, no one knows better than the locals living there. But it's not easy to just walk up to them on the street randomly and ask their suggestions. Ask a Stranger app helps to answer all your travel queries by connecting you with the locals. Every time a person answers the question posted on the app, they are rewarded with points that can be redeemed later for real money.
Travel Pal: Meet the World – This app is available in 150 countries with more than 1.5 million hosts registration. It is similar to the Couchsurfing app and helps you find a place to crash in the city you are visiting. This is great as you can meet locals, interact with them, share your stories, food, and have a lovely time without paying a dime.
Worldpackers – Worldpackers is an amazing app that connects you with different hosts in the city you are traveling to and in exchange for accommodation, you provide them with some sort of work. You can use your skills for providing volunteer services in permaculture institutes, schools, NGOs, social projects, organic farms, and so on.
Couchsurfing – When you are traveling on a shoestring budget, you want to save as much money as possible. 'Couchsurfing' means 'meeting people who would let you crash in their homes for free'. And that's what this platform or website is about. Not only that, but you may also use this website for finding a travel friend, recommendations for the best places in a city, information regarding any events, and other travel tips.
Flip The Trip – Flip The Trip is a platform which is active in more than 4500 cities all over the world and has about 19000 active members currently. This website will connect you with other travelers and locals who are at the same place as you are. You can get in touch with them over dinner or a cup of coffee and have a great time. There is also an option for you to connect with future travel buddies when you are planning a trip.
Localeur – One of the best parts of millennials is that they do proper research, whether it's before purchasing a thing or taking a vacation. This is because we want to know whether it's worth investing our time and money or not. The main portion of the research is done by reading other people's reviews or blogs online. That's why the reviews or articles available online need to be correct and trustworthy. Localeur app has a group of experienced and trusted locals who provide reviews and recommendations to travelers about everything from cafes to bookstores to hotels and even restaurants.
WAYN – 'WAYN' is an acronym for 'Where are you now?'. The platform, WAYN, has been a frontrunner in the travel industry since its launch in the year 2005. This app provides you with the option to meet other fellow travelers on the way or when you reach the travel destination. You may use this website to learn about Goa by interacting with Goan locals registered and active on the platform. You may take tips from them about sightseeing, restaurants or lodging recommendations, detailed maps, and other important tips.
To make your Goa trip a fun and memorable experience that you will remember fondly for years to come, give these above social travel websites a try.