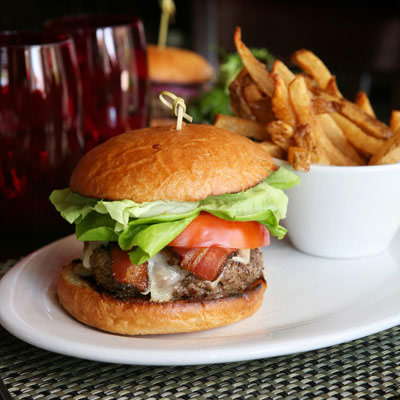 While you're out and about in Miami you might want to sample some of the local cuisine. Miami is well-known for its wide variety of restaurants, but if you're not looking for something fancy, you might want to think about checking out some of the burger joints in the area. There are many burger joints in Miami, but I've listed below what I think are the best 5 in the city.
 1 Five Guys
Possibly one of the best places to buy a burger is Five Guys which can be found at 3401 North Miami Ave. Suite 124. With eight burgers on the menu and a wide variety of toppings and other dishes available, Five Guys is possibly the best burger joint in Miami. You are sure to be able to find some tasty burgers right here, and with a bright and clean restaurant that's open until the early evening, you can be sure you will enjoy your burger experience in a unique and classic eatery.
 2 Yard House
While this restaurant may not look like it serves a mean burger, you'll be missing out if you don't dine here.  With 15 different burgers on the menu, there's sure to be something for everyone. This isn't your classic burger restaurant, but don't let that put you off. The upmarket restaurant feel coupled with a homely touch and great service makes Yard House a must-visit place on your quest to find a great burger.
 3 Big Pink
Located at 157 Collins Avenue, Miami Beach, Big Pink is one of those classic American restaurants we all love to visit. Open from 8am thro' 12am on Sundays – Wednesdays, 8am thro' 2am on Thursdays and 8am thro' 5am Saturdays and Sundays, you can enjoy a unique and classic experience just about any time. The menu here is terrific and the Pink Daddy Mack Burger is a must for anyone who visits this diner/restaurant.
 4 The Burger Joint
If you would like to try an award-winning burger then you can't go far wrong with The Burger Joint. This place cooks some truly exquisite burgers that don't cost the earth.  With a good range of burgers and other dishes on the menu, dining here is a real treat. You can expect fresh burgers that taste great and don't come with all those nasty additives some burger joints add; they also use the best kaiser buns on their burgers. With a relaxed dining area and a good friendly atmosphere, you can eat your delicious burger and watch the world go by.
5 JR's Gourmet Burgers
With 8 different burgers on the menu, JR's Gourmet Burgers certainly deserves a place in this list. There are some very original dishes available, including the types of burgers you can order, and how they are served. You have to order the Acosta burger as it's incredibly delicious. There's not a huge selection of sides for you to choose from, but the food is delicious and great value for money. Visit this well-known restaurant for a tasty burger and a great atmosphere.
Rachel is an avid traveler who loves experiencing new traditions and different cultures. When she travels to Miami, Rachel always stays in a vacation villa in South Beach and highly recommends you do the same. For more information, check out Miami Vacation Rentals.