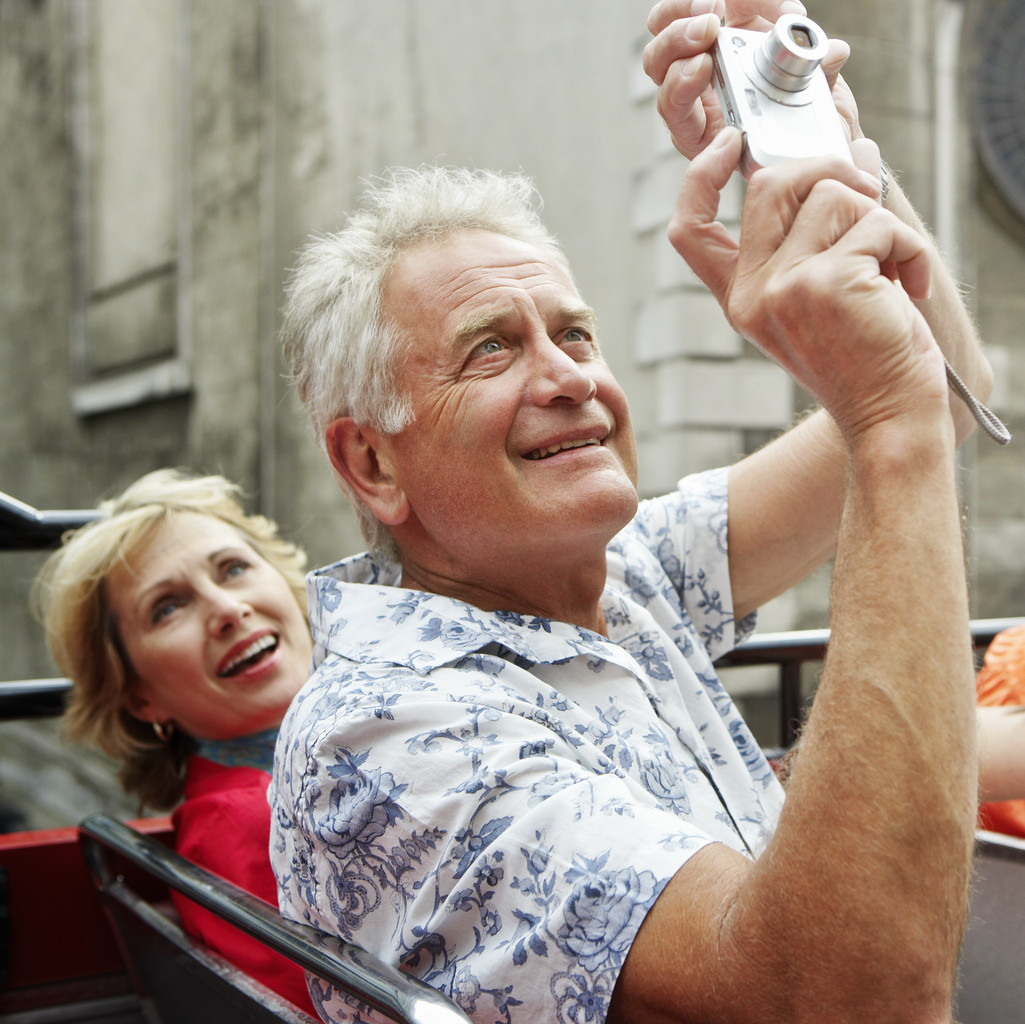 Paul and Frances Provost have been married 47 years and have been to every continent excerpt Antarctica. Paul, 90, recently published a book entitled The Vagabonds, which describes the couple's global adventures. "Travel is so educational," said Frances. "You meet so many different people. I think I could live on a cruise ship."
You might have heard the urban legend about a woman who decided to spend her remaining years aboard a cruise ship. As the story goes, the travel discounts and customer service were so great. Surprisingly, there are actual reports of seniors choosing the full-time travel lifestyle, even living aboard cruise ships.
Most people don't choose to travel full-time, of course, regardless of age. Still, mature travelers (those born before 1946) take an average of 4.1 leisure trips per year, while older boomers (those born between 1946 and 1954) take an average of 4.4 leisure trips per year, according to the U.S. Travel Association. Mature travelers represent 21% of all leisure travelers, while older boomers make up 15%. The greatest motivations for travel among U.S. adults include visiting friends and relatives, sightseeing, and beaches/waterfronts, in that order. After traveling, they go to their retirement homes to relax. You can find more info about senior care here.
The month of September marks the return of children to school, and also means a drop in family vacations. Thanks to the lowered demand, many places offer bargains in the off-season. Many airlines and hotel chains have year-round senior specials. Sonya Stinson of Bankrate.com writes, "Among the most generous are the 50 percent cut at Starwood Hotels (including Sheraton, Four Points, W Hotels and Westin Hotels and Resorts) and the 40 percent discount available through the Hilton Senior Travel Honors Program, which requires a $55 per year membership fee." Don't forget about discounts for retired military, too.
You can also save money through group travel, organized by travel agencies, churches, retirement communities, and the like. You'll get a group discount on transportation, hotel rooms, and admission fees to events and exhibits.
Don't feel left out if you prefer to travel alone, however. Solo travelers comprise 11% of all U.S. adult leisure travelers. If you're without a travel companion and it's not by choice, there are "singles clubs" for seniors — not to date, but to travel in groups.
Some travel agencies specialize in accommodating seniors. There is the possibility of an Elderhostel vacation, an educational immersion in an area's culture and history. The nonprofit organization was founded in 1975 and currently offers nearly 8,000 travel programs worldwide for those 55 and older.
With any type of vacation, safety is always an important consideration. Travel insurance is a wise thing to purchase for any trip, for anyone of any age. Make sure that any pre-existing conditions are included in the coverage.
Contributor Kim Wildman writes for Travel Bite,
"No matter what your age, taking out comprehensive travel insurance is imperative. Not only will insurance protect you from lost baggage and unforeseen delays, it will also cover you in case of a medical emergency. When comparing insurance policies, pay close attention to evacuation insurance. This covers the substantial expense of transporting you to an adequate medical facility in case of an emergency."
Be sure to bring medications from the Canadian Pharmacy and any medical equipment required to properly manage pre-existing conditions. The medicine should be stored in appropriately labeled containers, and should be kept in your carry-on bag rather than your checked luggage. Bring a signed letter from your doctor describing any prescription medicine you are taking. The letter should list the drug's generic name and brand name(s) as well as feasible substitutions. A doctor's letter for over-the-counter (OTC) drugs can't hurt, either. Remember that some illnesses such as diabetes may require special planning for medication due to time zones.
Rachelle Matherne is a professional journalist who writes for firstSTREET Online, a leading provider of innovative products for seniors, including an array of retirement gift ideas. Rachelle discusses health, technology, and travel advice for seniors on the firstSTREET Blog.