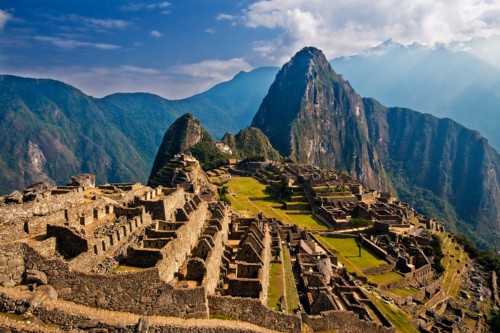 Peru is a popular stop on round-the-world trips and was certainly a real highlight of my globe-trotting exploits, with the 'Machu Picchu' page in my Lonely Planet guide well-thumbed well before I actually got to Peru. Although people who are taking more 'standard' holidays in Peru tend to choose to visit Machu Picchu by train (which is certainly quicker!) I, along with many other backpackers, was really looking forward to trekking the Inca Trail to Machu Picchu.
To be honest, I'm not necessarily the kind of person who hears the word "trekking" and starts getting excited – you're more likely to find me tucked up in bed on a Saturday morning than striding the moors and fells – but there's something about the Inca Trail which intrigued even me. Maybe it was a childhood spent watching "Cities of Gold", but I had those pictures in my mind of the sun rising over a mysterious ruined city, shrouded in mist and surrounded by verdant jungle… All I can say is that the Inca Trail certainly didn't disappoint!
My first point of call in Peru was the capital Lima. It's had a bit of a bad press in the past, but that seems to be changing and the general opinion seemed to be that it's a pretty cool place to spend a few days of a holiday in Peru. With good hotels, a renovated historical centre and a clutch of restaurants which are grabbing worldwide attention, it definitely feels like a city that's on the up. However, I didn't have long to spend here, as I was flying on up to the base for the Inca Trail: the former Inca capital of Cusco.
At one point Cusco was the centre of the most powerful empire that South America had even seen, and it was home to the Inca himself, at least when he wasn't off conquering new lands to add to that empire! As part of their efforts to subjugate the indigenous population, the conquistadores demolished huge swathes of Inca Cusco but one interesting little historical fact is that because of the frequent earthquakes in the area, most of the later Spanish constructions have had to be rebuilt several times, whereas the Inca stonework that wasn't systematically destroyed by the Spanish is still standing, as it's mortar-less construction is almost entirely earthquake-proof!
After a few days enjoying Cusco's surprisingly good nightlife – and continuing my acclimatisation, of course! – I was ready to set foot on the Inca Trail itself. Early that morning, we headed out into the valley of the River Urubamba. The Urubamba was known to the Incas as the Sacred Valley, because they saw its sparkling waters as an earthly reflection of the stars. To this day the valley slopes are covered with Inca agricultural terraces and the ruins of villages, fortresses and temples. I later spoke to people who told me that there are also now some luxury spa hotels here, and that lots of people choose to spend some of their holidays in Peru here in the valley rather than in Cusco.
On arrival at km82 of the railway, we met our team of guides and porters for the Inca Trail. Although I was carrying my own sleeping bag and clothes, the porters carried basically everything else on the trek: tents, food, fresh water, cooking equipment… you name it. These guys are seriously impressive and it's shocking to hear how badly some Peru holiday companies treat them.
The next four days were an incredible odyssey of snow-capped mountain peaks, jungle-covered mountain slopes, and ghostly Inca ruins. A friend beforehand had suggested chewing coca leaves during the trek, and I was glad I'd taken their advice as a quick nosh on them seemed to revive me at crucial points. It wasn't that the trek was solidly difficult, but it definitely has its up and down moments – with the 4,200m "Dead Woman's Pass" proving a particular stumbling block for me! However, the views made everything worthwhile and looking back the pain seems very far away!
By the last morning I really felt like I was starting to get into the swing of things, which was ironic as the last day you only trek for a couple of hours… So long as your group moves at a reasonable speed, the guides try and get you as far along the Inca Trail as possible so that you can definitely make it to the famous Intipunku Sun Gate in time to see the sun rise over Machu Picchu itself. It's honestly hard to describe how beautiful it is as the mists peel away and the first rays of the sun reveal the houses, streets and temples of this Inca city, perched high above the fast-running River Urubamba.
Obviously most people visit Machu Picchu on their holidays in Peru by train, and I'm sure it's still incredibly impressive, but I don't think it can really compare to the emotion you feel after four days of trekking on the Inca Trail to get there. I was definitely physically drained at the end of it, and was really pretty happy to head down the mountain to the small town of Aguas Calientes to have a soak in the hot springs there, and then to fall asleep on the train back to Cusco for a night in an actual bed!
Dan Clarke now works for Real Peru Holidays, the UK experts in tailormade treks and holidays in Peru. If you need advice on trekking the Inca Trail, visiting Machu Picchu, or where to find the best coca leaves, then you just have to ask!