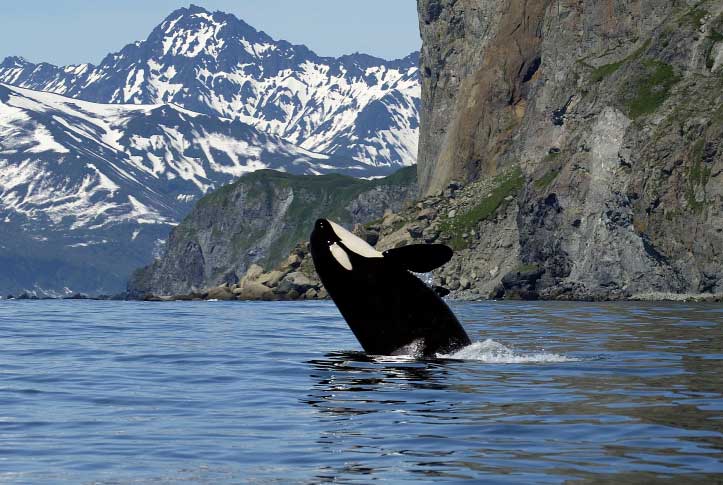 Why Alaska?
Until space tourism takes off, Alaska truly is The Last Frontier. By far the largest state in the US, Alaska is home to eight national parks (that's more than the entire East Coast). The people are friendly and the natural beauty is astounding. Whales, glaciers, wide open spaces…what more could you ask?
Climate
Alaska has something for everyone when it comes to weather. Anchorage is warm and dry in summer with plenty of snow in winter. For a cooler summer, try Arctic locales like Barrow. Rain lovers will appreciate southeast Alaska where it's possible to get 275 inches of rain per year. And if you are truly addicted to cold, try Fairbanks in winter, though the summers offer hot days and cool nights.
The People of Alaska
Alaska has fewer than 750,000 residents, and half of them live in or near Anchorage. There are eleven indigenous cultures in Alaska, and Alaskan Natives make up nearly 20% of the population. Alaska was purchased from Russia in 1867 and in many places Russian heritage is still evident. Alaska is politically conservative and one of the least religious states in the US.
Animals of Alaska
Wild animals abound in Alaska. It wouldn't be a stretch to expect to see whales, moose, bison, bears and eagles on your trip. The animals are wild, though, so don't get too close. Visit the Arctic National Wildlife Refuge to see many species in their natural habitat or the Alaska Wildlife Conservation Center for a more contained experience.
Interesting Sights
Alaska is home to the highest mountain in the US (Mt. McKinley). If you like being overwhelmed by the enormity of nature, glacier tours are a must in any season. Winter activities include viewing the Northern Lights and the Iditarod sled dog race.
Getting There
By Land
The road trip to Alaska is a long, rewarding one if you enjoy wide open roads and beautiful scenery. Many travelers opt to drive the Alaska Highway which is paved and open all year. But many services along its 1,387-mile stretch are only open seasonally, so plan ahead.
By Air
Alaska's most frequently used commercial airports are in Anchorage (ANC), Fairbanks (FAI), and Juneau (JNU). If you're headed off the beaten path, regional airlines connect you to many smaller airports.
By Sea
Parts of Alaska, including Juneau, are best accessed by sea. The Alaska Marine Highway System operates ferries from Bellingham, WA to several Alaskan ports. If you're looking for something more luxurious, several cruise lines travel to Alaska from Seattle, San Francisco, Los Angeles, and Vancouver, BC.
Getting Around
 
Planes
Alaska is home to a variety of truly remote destinations, and the easiest way to access many is by plane. Whether your floatplane glides into the harbor at Angoon or your bush pilot drops you at Bear Camp, count on a packing light and forming a close relationship with your pilot.
Trains
For some travelers, there is nothing like the romance of train travel. Leave the driving to someone else as you travel from Fairbanks to Anchorage with Denali rail tours.
Automobiles
You don't have to drive all the way to Alaska to have the Alaskan road trip experience. Rent a car or RV in state and check out destinations like Valdez, Copper River Valley, and Kenny Lake.
Make Sure You Pack…
Your packing list will vary widely by season. In summer you must have bug spray and a jacket for cool nights. In winter, bring warm clothes. Pack good walking shoes for the season. The landscape is so beautiful you'll find yourself drawn out into it. You'll also want your camera and an extra memory card. Don't count on uploading pics mid-trip (see below).
Cell and Internet Accessibility
Alaska is a great place to unplug and relax. In some places it's a requirement. In remoter locations, cell coverage is nonexistent, so unless you have a satellite phone, you may be out of luck. Likewise, Wi-Fi is not the norm in hotels. You may have some luck in the major cities, but even hotels at major tourist destinations (Denali is one) don't guarantee connectivity.
You're Ready!
Now that you have all the information you need at your fingertips, book some alaska tours and cruises. Here are a couple of resources to keep you excited until your vacation starts:
Where will your Alaskan adventures take you?
Isla McKetta is on a quest to find the perfect lodging in Anchorage, Alaska. In the meantime, she'll stay anywhere that offers Strawberries Romanoff.