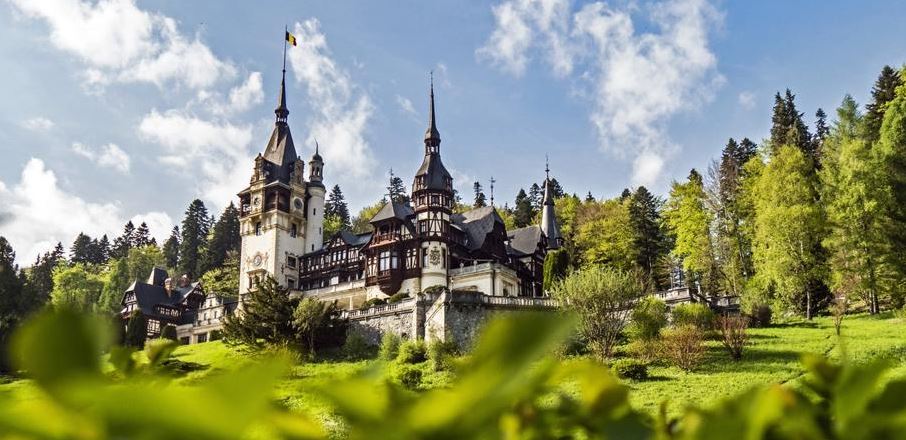 You may not know much about Romania other than 'land of Dracula' or similar stories. But in fact, this lesser-known Eastern European destination actually has much more to offer: beautiful and diverse nature, a fascinating history with medieval heritage, welcoming people and delicious organic food!
What better way to discover Romania's spirit and culture than to explore its most famous cities? No matter where you choose to start your trip or set up base to explore the country, if you're planning your trip independently or looking for tours in Romania, check out below a list with the most beautiful cities to visit in Romania to get some inspiration!
Cluj – located right in the middle of Romania, it's a city with a long history that goes way back into antiquity, but with a very youthful vibe due to the tens of thousands of students that go to its many universities. Downtown Cluj is basically a trip into the history of European architecture: from early Gothic to Renaissance, neo-Gothic and Baroque buildings and churches, you'll be able to admire a great variety of styles. Even some Roman ruins, still visible in the city's main square. But Cluj is not stuck in its past as it also emerged in the last few years as a European hotspot for music festivals like Untold and Electric Castle, or for contemporary art and design with unconventional projects like The Paintbrush Factory.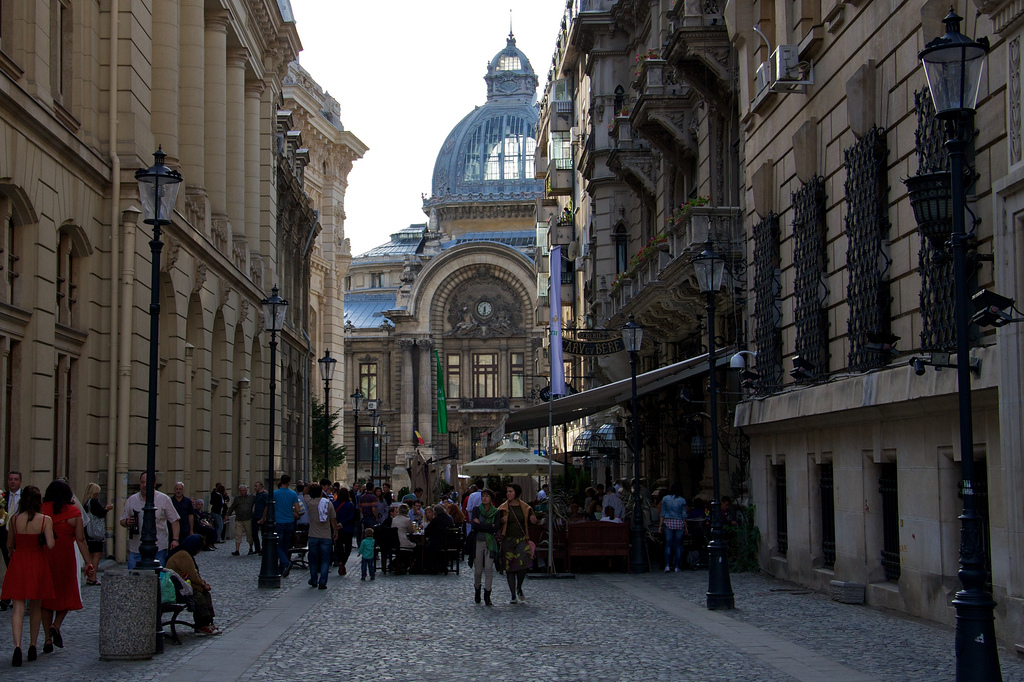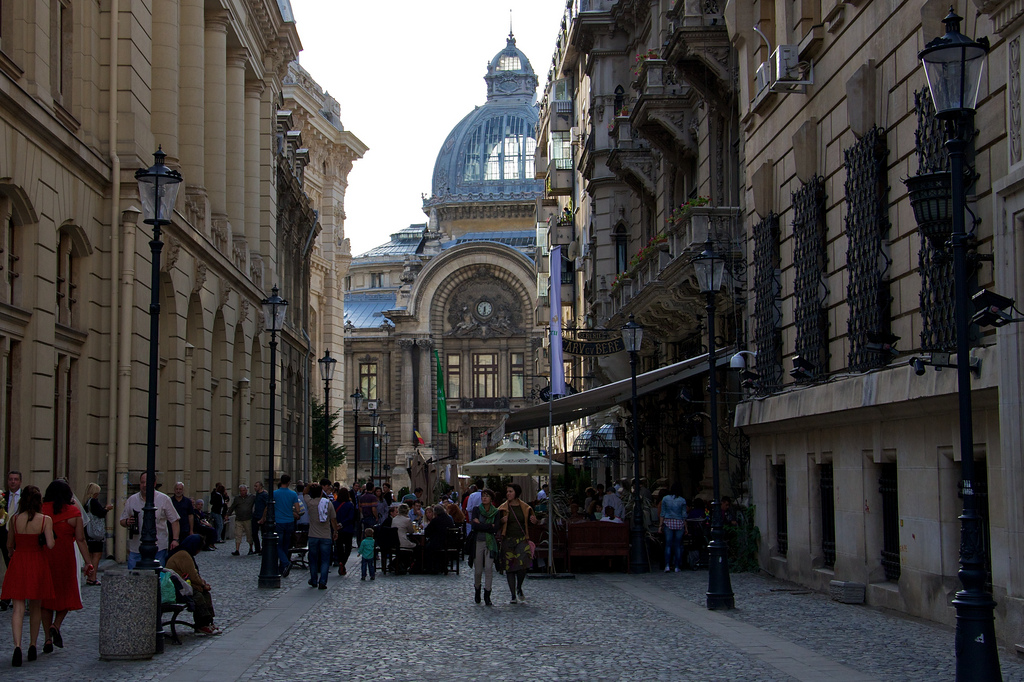 Bucharest – the capital city of Romania might not be known for its beauty, but it definitely is the kind of city that gets under your skin thanks to its contrasting aesthetics and relentless energy. Whether you're into beautiful and romantic 19th century Art-Deco and Modernist architecture or you're more interested in Pharaonic realist-socialist buildings like the infamous Palace of Parliament, Bucharest has it all. It's also famous for the buzzing night life in the Old Town area, with dozens upon dozens of clubs, restaurants and coffee shops. Interestingly enough, Bucharest also offers large pockets of nature and wildlife so Herestrau Park or Vacaresti Natural Park, a veritable delta in the middle of the city, should be on your list!
Alba-Iulia is a great destination for cultural tourism. Its most distinct characteristic is the star-shaped, perfectly-preserved Vauban-style citadel, with walls still intact, spectacular sculpted gates and a huge moat surrounding the entire fortification. You'll have the opportunity to witness the guard change, complete with horses, 17th century period costumes, flintlock rifles and even cannons. But you can also admire Roman ruins (Alba-Iulia was known as Apulum in Roman times) and early Middle Ages buildings. The city is located in the middle of one of Romania's most famous wine regions, Târnave-Jidvei, which means you'll be able to take day-trips to several vineyards.
Iasi – if you would have to describe Iasi in just one word, it would be "tranquil". There's something unique about the rhythms of this city built on seven hills like Rome, a "dolce far niente" atmosphere that will make you sit back, relax and enjoy a nice glass of Cotnari, the local wine. Architecturally speaking, Iasi impresses with its charming neo-Gothic administrative buildings and spectacular churches, including the romantic-looking Palace of Culture and the Trei Ierarhi Church featuring rather unique stone embroideries. A huge Botanical Garden and the exquisite Copou Park will let you enjoy nature while in Iasi.
Constanta – located on the shores of the Black Sea, Constanta and its satellite resort town Mamaia are Romanians' favorite summer holiday destination, but they actually have quite a lot to offer in all seasons. The Black Sea is pretty spectacular in the winter, with its dark hues, heavy winds and, if you're lucky enough, frozen waves. That view inspired the famous Roman poet Ovid, exiled here by Emperor Augustus, to write its "Sorrows" and "Letters from the Black Sea" poems. Beside the beaches and the nightlife that you can enjoy all summer long, Constanta has a quaint, cosmopolite look, with mosques, synagogues, and churches, a mix of oriental buildings and French-inspired edifices. Its famous casino, which is now in conservation and will hopefully be restored in the near future, is an absolutely exquisite piece or Art Nouveau architecture.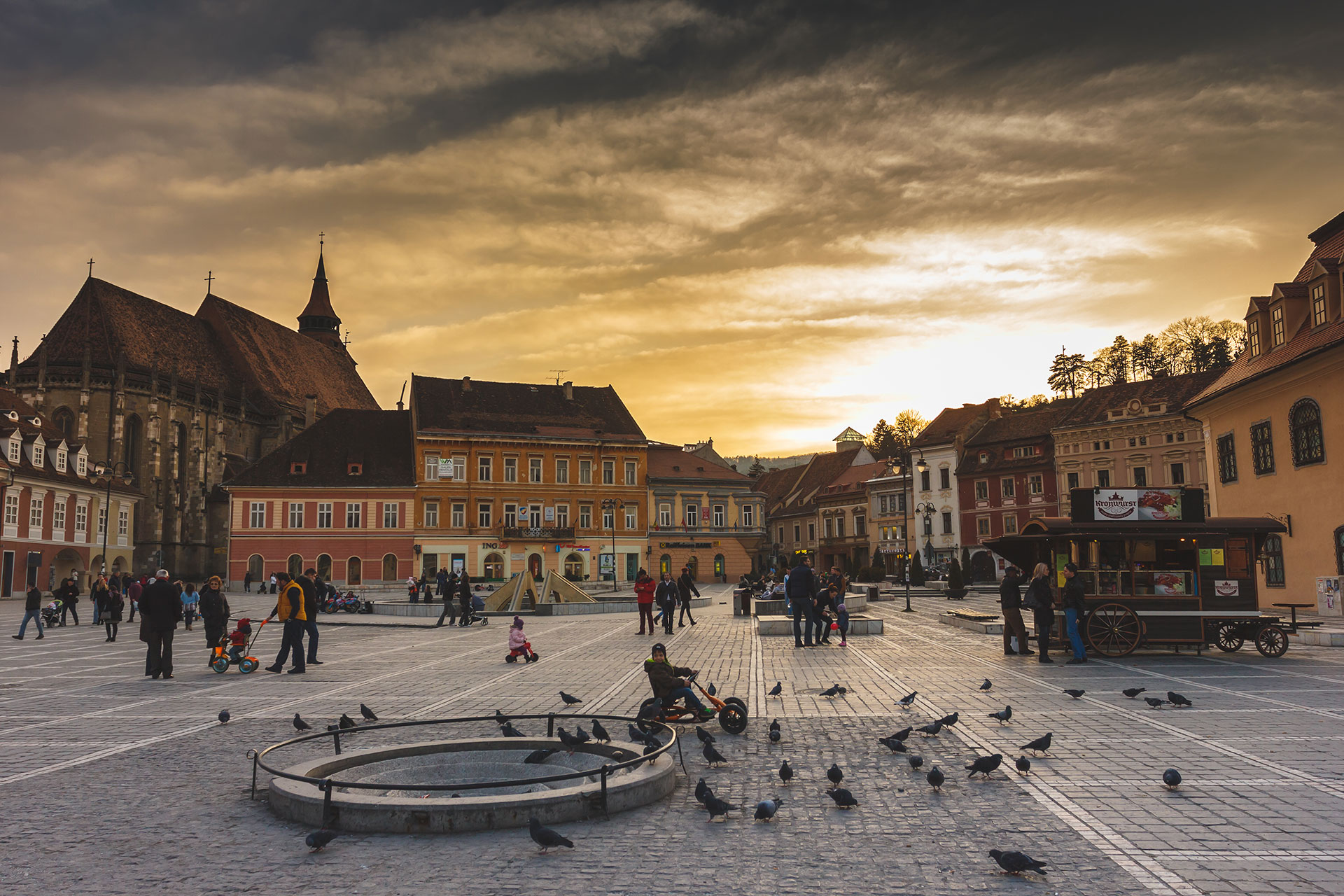 Brasov is "probably the best city in the world", as locals like to describe it. And they might be right: the city is always picture-perfect, with its colorful Old Town featuring a mix of architectural styles going from Romanic and Gothic to Renaissance, neo-Gothic, Baroque, Rococo, Art Nouveau and Classicism. Don't miss the Black Church and its collection of ancient Persian rugs, testimony of Brasov's past as a city of merchants. If you want to know more of Persian rugs history, you can easily access that information online.

There's also Tampa Mountain dominating the city, and you can climb it or ride the cable car to the top for a breathtaking panorama and some very Instagram-worthy pictures. Brasov is also one stone throw away from the famous Bran Castle, Peles Castle and one of the most spectacular mountain ranges in Romania, Piatra Craiului.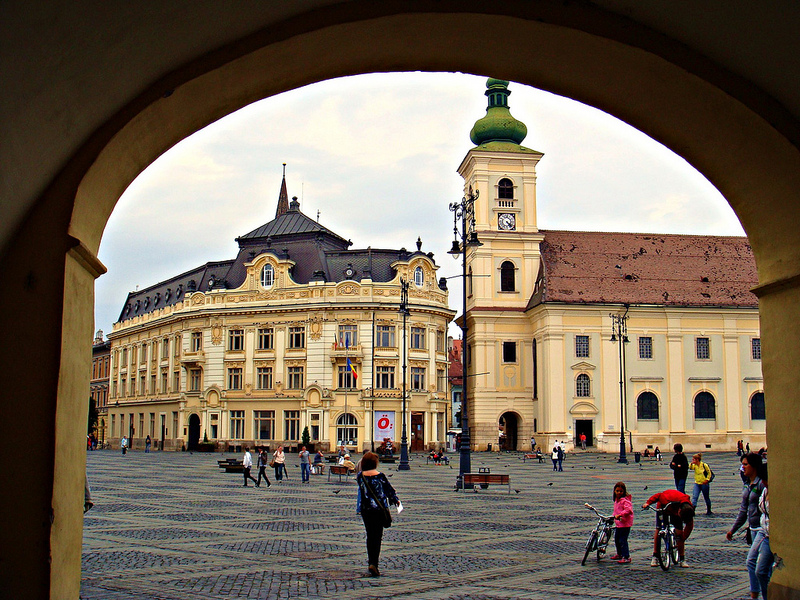 Sibiu peeks back at you while you admire it. No joke: the buildings in the Old Town area have steep roofs built to withstand hard winters and heavy snows. All have small windows that look like eyes so basically, every building in Sibiu is spying on you! While in Sibiu, don't miss the Brukenthal National Art Museum and the open air Ethnographic Museum Astra, which features life-size traditional houses from all regions of Romania. Around Sibiu, there are plenty of opportunities for day trips to the fortified Saxon villages or to see the best road in the world: Transfagarasan Highway.
Sighisoara – this citadel-turned-city was built in the 12th century by Saxon settlers in Transylvania, and remained pretty much unchanged until today. It's one of the few citadels in Europe where people still live. It's quite fascinating to experience how little things changed for the past 800 years. The city's towers bear the names of the guilds that made a living here over the centuries, so you'll find the Butchers' Tower, the Ironsmiths' Tower, the Tailors' Tower and so on. The most famous is the master tower, or the Clock Tower, featuring a beautiful Baroque clock with figures for each day of the week. While in Sighisoara, roam the streets, take in the atmosphere, and don't forget to visit the city's cemeteries, incredible mementos of the centuries that went by and of the people that lived here.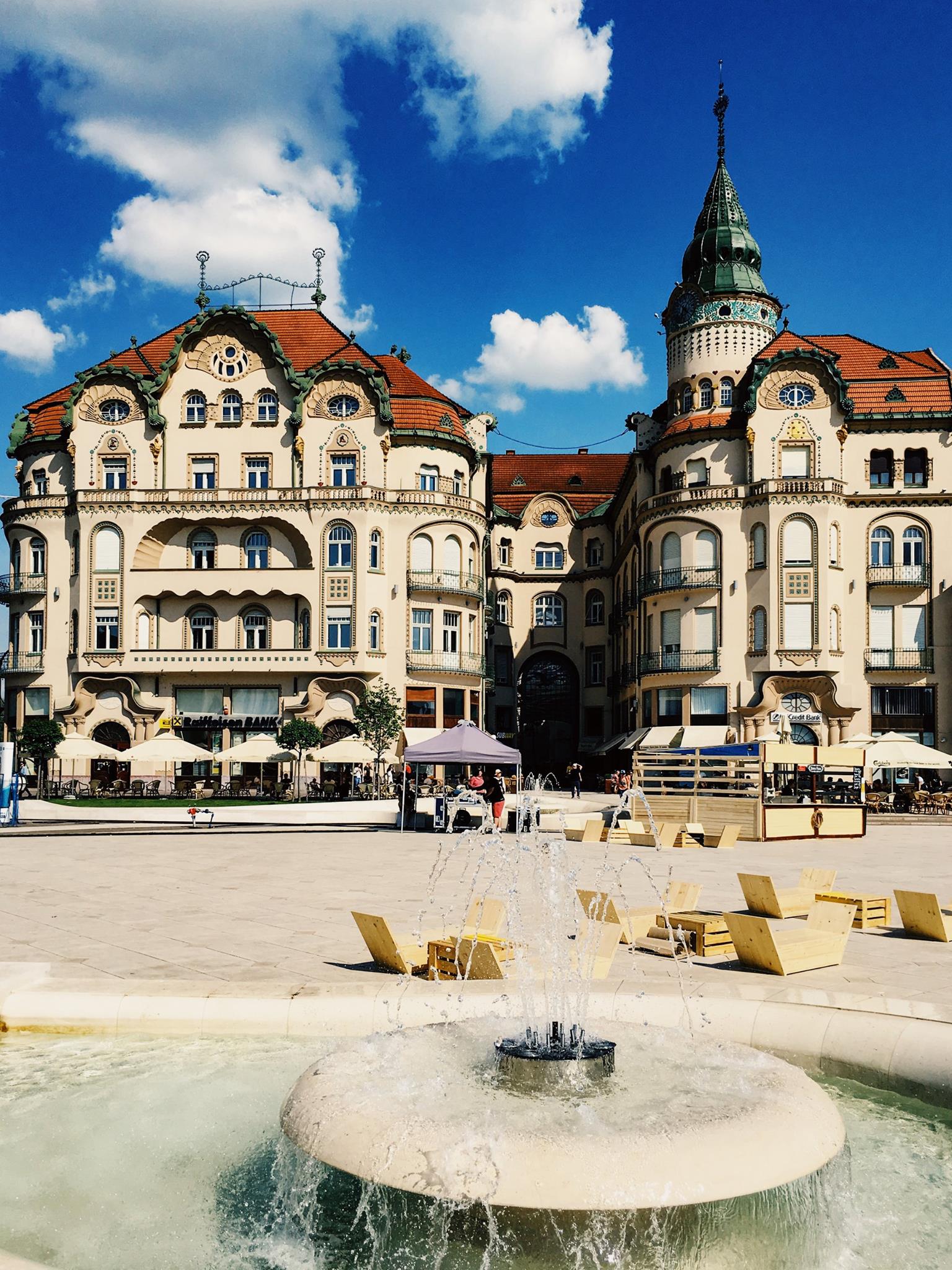 Oradea recently underwent extensive restoration works which brought back to life buildings with an amazing architectural heritage. The city is now dubbed the Art Nouveau Capital of Eastern Europe – and for good reason: as you casually walk on its streets you'll come across buildings you just can't help but stop and admire every detail. And with large open squares and trendy cafes, there's no reason why you shouldn't! The city also has a citadel dating from the 13th century where many open-air events and fairs take place. And just 5 km away the Baile Felix resort will welcome you with thermal baths, pools and spas where you can relax.
Timisoara is the quintessential European city with cosmopolite roots and many influences: Hungarian, German, Ottoman, Serbian, and Austrian. No wonder Timisoara won the competition to become the 2021 European Capital of Culture. Many shows, street performances and events are planned so why not plan your trip already? Often compared to Vienna, Timisoara impresses with its large avenues lined with Baroque and Art-Nouveau/Secession buildings and its sprawling parks and public gardens. An experience you shouldn't miss while in the city is to savor a pint of the eponymous local beer Timisoreana, preferably at the beer garden located next to the 18th century beer factory where it's made.
---
Marius Iliescu is the founder of Romanian Friend – a local initiative promoting handpicked tours with the best local guides so travellers can discover the authentic beauty of Romania while supporting responsible tourism. Plan your trip with help from a Romanian Friend and follow us on Facebook or Instagram to see what you can visit!