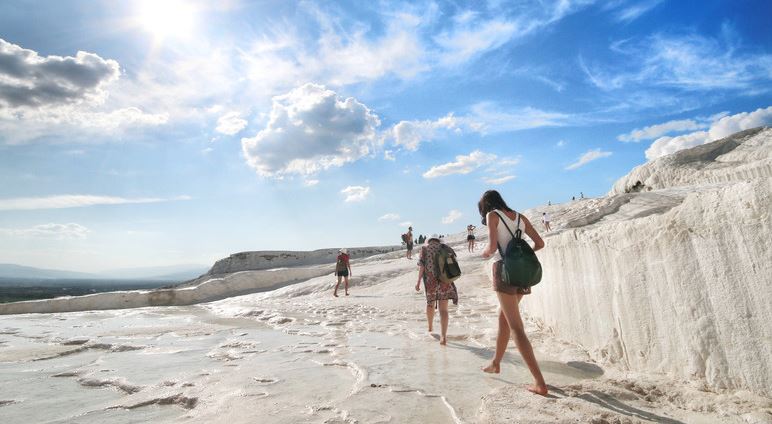 As a woman, you've got to be aware that traveling is a little different than it is for a man. This is undoubtedly true no matter where you travel. However, some customs are a bit different in Turkey. Hopefully, after reading this, you will have a better understanding of those customs and how to prepare yourself when certain situations arise.
First thing to note is that what you should wear and how you should behave are highly depends on which part of Turkey you are visiting. Summer tourist locations such as Antalya, Bodrum and Marmaris are pretty relax. However, if you are visiting Ankara or Bursa kind of sightseeing spots, you better pay attention to the information below.
 Dress modestly while in cities!
It's always a good idea to dress modestly regardless of where you're traveling to. Turkey, however, is a somewhat conservative country. You'll want to make sure that your attire doesn't bring unwanted attention to you. Knee-level dresses or pants should be worn while you're in urban parts of Turkey. Istanbul, Cappadocia and Ankara are one of those spots. Leave the short shorts and mini-skirts for summer vacation destinations.
Always dress properly while inside a mosque!
It's not uncommon for people who aren't Muslim to visit a mosque while traveling. It's important that you abide by the customs to make sure your visit to the mosque is respectful. You'll want to wear a dress that comes down to your ankles, have sleeves and your hair must be covered. At the entrance of the mosques, they sometimes provide covers to borrow. Locals and tourists alike both have to follow the same rules when entering a mosque.
Don't do anything to make yourself stick out!
It's always good advice to say that you should never do anything to make you stick out from a crowd. Bringing unwanted attention to yourself is never a good idea. The unwanted attention will cement the idea to others that you could be an easy target. Someone who is stumbling around drunk is an easy mark for a thief. Due to its location controlling the trade routes, the history of ancient Troy enjoyed its golden ages during the Bronze Age, when it possessed power.
Take your shoes off before entering someone's house.
You may find yourself in a situation where you're invited to someone's house. If so, be prepared to take off your shoes before entering the house. There will probably be a little area right inside the door where you can take your shoes off. It is uncommon in Turkey to wear shoes inside. It will be seen as a sign of disrespect if you don't take your shoes off. Don't worry; they will offer you slippers.
Be aware that Turkish men may think of foreign women as being loose!
Many men in Turkey find it difficult to strike up the kind of relationships they seek with the local women. They see foreign women as easy targets for sexual liaisons. Don't be surprised if the men there think you're coming with the intent on something other than sightseeing. It's not uncommon for women to go to Turkey and hook up with men for a short romantic encounter.
Women should be aware of the reputation that foreigners have. If you're not single or looking to mingle, it's best to be very upfront about it. Don't worry; the guys won't be too pushy. They're just testing the waters since there's a constant influx of travelers. It shouldn't be long after they see your lack of desire that they move onto someone else.
Talk in the simplest forms possible.
You more than likely don't know Turkish. That doesn't mean you can't converse with the locals. When trying to talk to them, break down everything you say in simple words. Don't be shy when it comes to trying to talk to the locals.
Download Google Translate or an alternative translation app before you arrive in Turkey. This will help you on your communication. You can type what you're saying into your phone, and it'll spit out the Turkish. You'll be surprised how much this changes situation where language is a barrier.
Above all else, enjoy yourself!
There are only a handful of places that will make you immediately want to come back as Turkey will. It's the reason why people have lived in this beautiful country for thousands of years, making it a home to many cultures over centuries. The beauty of life in this country is in the people who you'll meet. Those people will teach you the ways of the old world. You'll smell and taste flavors that have been enjoyed by people since the beginning of time. There are a few places where this is possible. If you are planning to discover the past, present, and future; meet the traditional life and explore Turkey, you may book tours with locals at  loacal.com/turkey-tours.