Whilst the excitement of a whirlwind city break is almost addictive, occasionally we all need to take time out to relax and unwind. A long weekend of pampering can do the world of good for not only your body but your mind and outlook. It's a time to regroup your thoughts, let the stresses float away and temporarily forget the worries of everyday life. 
One of the best ways to totally relax, is by going on a luxurious spa weekend.
What could be better than a haven of calm alongside a full body massage, dip in the pool and a sauna session to ease the tension built up by the 9-5?
For a truly indulgent experience, these luxury spa resorts from around the globe offer pure relaxation, pampering and an unforgettably stunning environment for you to enjoy. You'll be booking a spa faster than you can say massage.
Set in Marrakech this breath-taking spa resort has everything you could desire and more. The interior décor is an unusual twist of traditional Moroccan style combined with a neutral colour palette, making for a visually stunning (and very Instagrammable – sorry!) experience.
The spa's signature bathing ritual treatment is a must-do, although the cold plunge pool is perhaps not for the faint hearted. For those who enjoy soaking up a little culture on their travels, there's plenty to see and do in Marrakech. Visit the Souks and haggle yourself a bargain, or take a visit the Majorelle Gardens, a stunning botanic garden bought by Yves Saint Laurent and Pierre Bergé back in 1980!
If you're looking for a peaceful weekend in the UK countryside then this is definitely a good place to start. Set in a truly picturesque white Georgian Building, this spa resort quite literally has it ALL. From the extensive range of treatments, to a stylish spa lounge, adjacent four star hotel and even an award winning restaurant, this country retreat is well equipped to take care of you.
Breathe in the fresh countryside air as you relax back in the roof tub hot tub with a glass of something fizzy in hand. Pure bliss. It's also worth noting that this spa is in close proximity to the famous University town of Cambridge which is well worth a visit!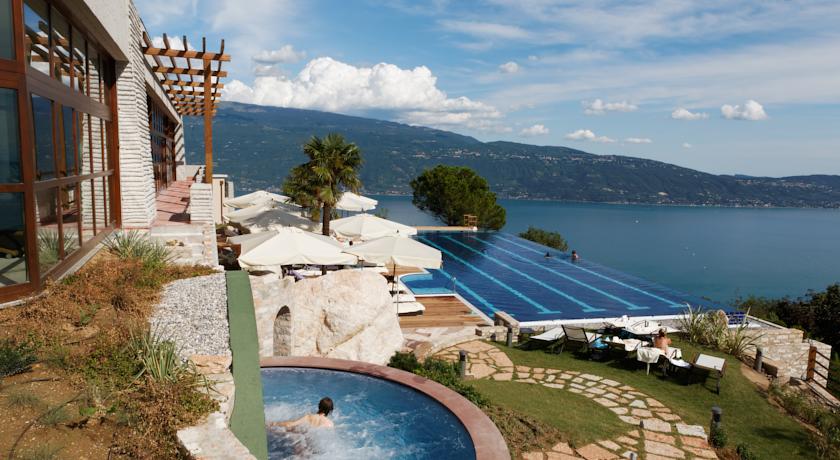 For stunning mountain views and lush greenery, it's hard to beat this spa resort situated in the beautiful Lake Garda. Nestled within 11 hectares of Natural Park, the surroundings are naturally breath-taking, and you'll be surrounded by lovely olive trees, gentle rolling hills and the magnificent lake itself.
A peaceful experience from start to finish, this ideal for those that want to immerse themselves into nature and 'unplug' from the outside world. The treatments all live up to the luxury status this spa has built for itself, and you'll never want to leave!
If Iceland isn't already on your travel bucket list then you need to add it immediately! The Blue Lagoon spa is one of the most stunning natural wonders you may ever lay your eyes upon. Powered by 100% clean geothermal energy, the water has a unique composition like no other water you will have felt before!
Enjoy sauna rooms, relaxation areas and why not stop for a quick mud mask? It gets very busy here though, so advance booking is essential! There's also plenty to discover in Iceland (not to mention the Northern Lights!), so it's worth researching and creating an itinerary before you go, especially with its increasing popularity.
An eco-friendly spa retreat situated in Vietnam's untouched archipelago, a stunning stretch of beautiful white sandy beach. This spa takes sustainability very seriously and are committed to improving the carbon footprint of their spa operation.
You can enjoy massages and other treatments, set against the dramatic backdrop of the Lo Voi Mountains, and surrounded by stunning tropical gardens. There's a range of luxurious treatments on offer, as well as yoga classes and wellness consultations. For ultimate luxury and a tropical background, you can't beat this outstanding spa resort!
---
BIO:
Tilly is a UK style and travel blogger, her favourite city destination is Rome, but for a holiday full of fun she loves Florida! Next up on the travel bucket list are Chicago, LA and Sri Lanka!