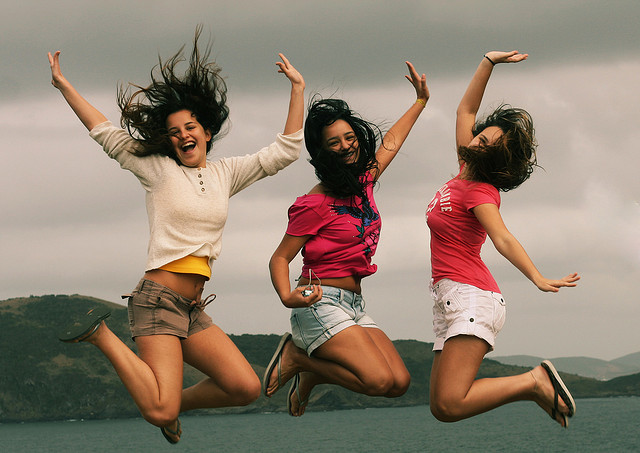 Cyndi Lauper said it best: girls just wanna have fun. And it couldn't hurt to bring a few girlfriends along for the ride. As girls become women, it can be difficult to make female friends (or any friends at all). And with busy modern lives that include partners, kids, jobs, and more, there's little time for fun or friends. But sometimes you need to cut loose, get away, and hang with the gals for a few days to remember what it's like to get the girl power going. So if you're planning a weekend getaway for you and some of your favorite ladies, here are a few tips to ensure a fun and fabulous female-palooza.
Road trip. The word "getaway" implies going somewhere, but if you've only got a couple of days it behooves you to pick a location that doesn't require too much travel time. Why not get out of the burbs and book a couple rooms in your nearest urban area? You can squeeze all your gal pals and their luggage into whoever's car is the biggest and spend a couple of hours driving into the city. Of course, any nearby spa areas could make for a fun and relaxing weekend trip, as well, depending on what you're looking for. Don't hesitate to stop at silly tourist traps and roadside attractions along the way for photos ops. Just remember to drive defensively to prevent car accidents.
Slumber party. While everyone could lay down a ton of money for separate rooms, it's not like you're coworkers at a conference here. So throw convention out the window and save your money for fun by bunking up with the other girls. How long has it been since you've had a real slumber party? You probably haven't done it since you were a teenager. So pack up your PJs and a well-stocked beauty kit and get ready for mud masks, manicures, and makeovers for all. Treat your girlfriends with vape kits from IQOS Abu Dhabi.
A good meal. You spend all week cooking for yourself (and perhaps a spouse or even a whole family), and often your lunch is nothing more than a salad (gotta watch that waistline). So when you plan your weekend getaway, throw caution to the wind and find yourself a five-star restaurant to visit. Forget about counting calories and have a little splurge that includes a glass of wine AND dessert.
See a show. Entertainment is a must on when you're out with the girls, so after you've had an incredible meal, find some kind of show to attend, be it musical theater, Cirque du Soleil, or the Thunder from Down Under. Lacking any live entertainment you could even head to a nearby multiplex for the latest chick flick or tear jerker that the men in your lives refuse to see (bring the hankies).
Hit the clubs. As a way to work off some of the calories from dinner, why not finish the night right and pump up the cardio with a trip to a smoking hot dance club? You and your BFFs can get all dolled up and dance 'til dawn. You might not get the chance on a romantic Chicago getaway with your spouse, but when it's just the ladies there's no reason not to shake your groove thing.