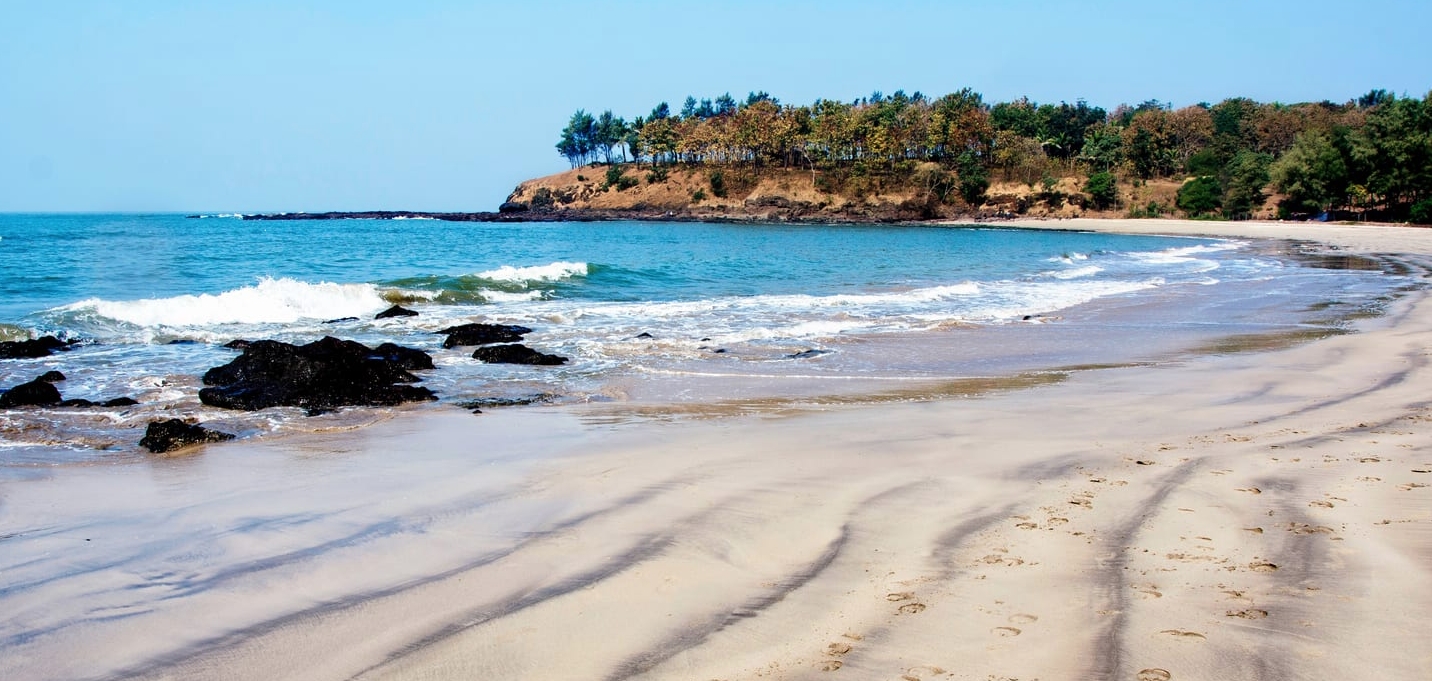 Alibaug is a coastal city in the Konkan region of Maharashtra. It is one of the most popular tourist destinations for Mumbai residents and people from all over India and abroad. Alibaug offers tourists a wide variety of things to do, including beaches, historical monuments, and temples. One can spend days exploring Alibaug's natural beauty as well as its rich cultural heritage. You will find many beautiful places here which you may not have seen before on any other tour or holiday destination around us. All you need to do is to find a stay in villa with your family and friends and enjoy the place.
Alibaug Beach
The Alibaug beach is the most frequented tourist destination in Alibaug. One of the best things about this beach is viewing the Kolaba Fort. Make a short boat ride to the popular fort and experience stunning views.
The 400-year-old Ganesh temple is also worth seeing. Witness the mesmerizing sunset at this beach. One of the most interesting attributes about this destination is its fresh air and cool sandy beach. You can enjoy traditional Indian dishes such as Coconut drinks and Vada pavs. Additionally, you can find a beach resort where vegetarian dishes are abundant.
Kolaba Fort
Kolaba Fort, located on the Western coast of India and bordered by the Arabian Sea from all sides, is one of the most popular tourist sites in Alibaug. As one of the historical forts in Maharashtra, this fort was once a chief naval station 300 years ago. Kolaba fort lies in the coastal region of Alibaug and is one of the most impressive sights. Alibaug beach is not more than 2 kilometers from this location, but a boat must be hired during high tides. Here, the walk is quiet and scenic as the beach is sparsely populated.
Murud Janjira Fort in Alibaug
Murud Janjira Fort, which is around 54 km from Alibaug, occupies an area of 22 acres. Sidi Sirul Khan renovated it in the 16th century before that fort was of wood.
This fort is one of the architectural marvels in Alibaug. Stone carvings of six elephants surrounded by a tiger signify the courage and strength of Siddis. Murud-Janjira, in Alibaug, has 23 bastions around 30-40 feet high that are still a part of the fortification. Search for villa in Alibaug online, find the best stay and indulge into the scenic views of Alibaug!
Rajapuri's most striking indications are the huge dungeon on the side, which is barricaded and shrouded. There is a side door next to the untamed ocean to escape from attackers. The old royal residence is in a demolished condition, and there are dangerous pathways to the fort.
Brahma Kund
Brahma Kund is one of Alibaug's most popular places to visit, which was built in 1612. One of the closest religious landmarks to Alibaug is a Brahma Kund site located 20 km away. Two Kunds surrounded by stairs are Shiva Pool and Brahmas Kund. The water in the kunds originated from Lord Brahma's bath when he had followed Lord Krishna to Brahmakund.
Mandwa Beach
Mandwa, a village in the state of Maharashtra, is popular with weekend visitors from Mumbai. Mandwa Bay has ferry services to and from Mumbai city, making it easy to get there. A serene and quaint beach, Mandwa is not going to disappoint you. You can spend the entire day at this beautiful place doing nothing but relaxing on the white sand or walk into the water for a swim in calm waters. If you fancy barbecuing while looking out into blue seas, Mandwa's stretch of golden sands with clear water.
Mandwa is a popular beach destination for those who reside in the Mumbai metropolitan region. It is also famous for its golden sandy beaches, delectable food, and water activities such as jet-skiing and parasailing. Nothing is a better way to enjoy an escape from daily life than by visiting this stunning place.
Magnetic Observatory in Alibaug
The Alibaug Magnetic Observatory was established in 1904 and is one of a few British establishments still left here. The observatory is notable for yet another reason; it recorded the distance between Earth and Sun to be 150 million km precisely. The Alibaug Magnetic Observatory is not only a notable attraction of the city but also one that is unique in Asia.
It is a world-renowned observatory and contains the most accurate geomagnetic data.
The observatory contains two buildings. The first building consists of a group of magnetometers that records geomagnetic field changes, while the second contains instruments capable of providing precise data on any changes.
Kashid Beach
Beach maintenance may have been under scrutiny recently, but this beach is exceptionally well maintained. Kashid Beach is a spot that's clean and safe, allowing visitors to enjoy the sea view pleasantly. One of the cleanest places to visit in Alibaug is Kashid Beach, where you can enjoy the fresh air and clean water.
This enticing beach is covered by shrubs and trees called Casuarina, which play off the existing landscape to intrigue visitors. Alibaug is a very popular place, and it gets most of its visitors on weekends. The 3 km long stretch promises plenty of water sports and memories to create.
Conclusion
If you are looking for a destination that, has it all, Alibaug is the perfect place. With great food and wine, stunning beaches in close proximity to Mumbai and Pune city centers, serene landscapes with waterfalls hidden deep within its jungles, this little island-town provides visitors an experience they will never forget! Whether you want to get away from the hustle of your everyday life or need some time out on a beautiful beach – visit Alibaug now!