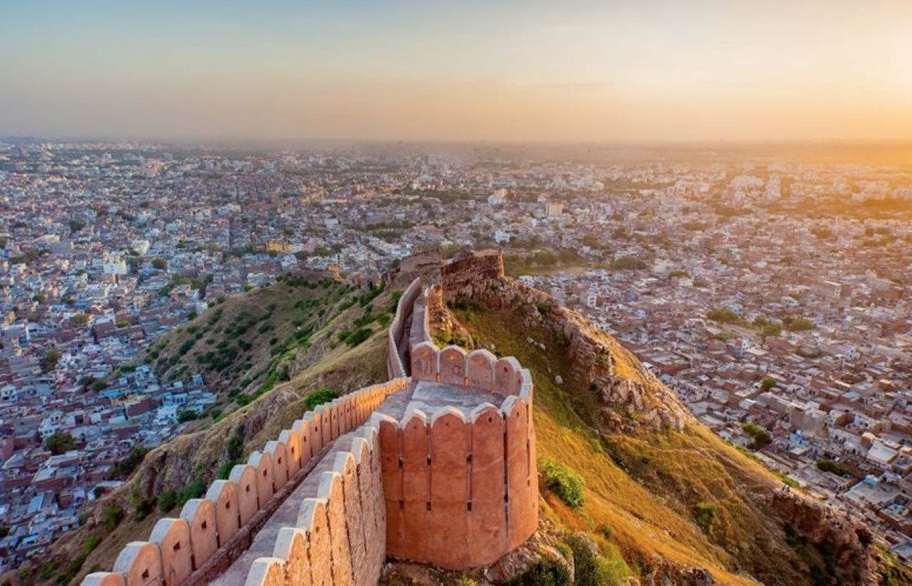 Jaipur is a city in the state of Rajasthan, India. It has been categorized as one of the most beautiful cities in India and is known for its rich culture and heritage. The best way to explore Jaipur is by going on foot or hiring a cycle rickshaw tour from your hotel. You can visit many monuments during your time here; some of these include Nahargarh Fort, Amber Palace, Jal Mahal, Hawa Mahal, Jantar Mantar, and Jaigarh Fort, among others.
Nahargarh Fort
To see the whole of Jaipur from high on, Nahargarh Fort is an excellent place to visit. Built by Jai Singh II, the Nahargarh Fort was initially named Sudarshangarh and then changed to Nahargarh. Maharaja Jawahar Singh built this fort to tighten the security of the region. Nahargarh Fort and other locations have served as a refuge for the British wives seeking safety during the Sepoy Mutiny of 1857.
Nahargarh Fort is a historic fort located on the top of Aravalli Hills with a bird's eye view of Jaipur's scenic landscape. At night, while the entire Jaipur city is illuminated with a glamorous aura, visitors can make their way up to the top of Nahargarh Fort for the most picturesque view.
Delicate wall and ceiling paintings are among the finer features of this fort. The Nahargarh Fort was also a popular excursion spot for the royal families. In addition, former jungle preserves around the Nahargarh Fort served as famous hunting grounds for Jaipur's maharajas.
Location: Krishna Nagar, Brahampuri, Jaipur, Rajasthan 302002
Timing- It's open from 9:30 AM to 5:30 PM.
Price: – For citizens of India: 10Rs (Adults)
– For foreigners – 50 Rs (Adults)
Jantar Mantar
For tourists coming to Jaipur, Jantar Mantar should not be missed. Jantar Mantar in Jaipur is a mathematical observatory consisting of fourteen geometric devices that measure time, predict eclipses, and track the location of stars and the earth's movement around the sun. The most prominent instrument in the observatory is Samrat Yantra. It was used to forecast time, mapping out eclipses and monsoons by holding a plot of its shadow. Samrat Yantra is one of the largest sundials in the world.
It now serves as one of the major attractions for people traveling in Jaipur and is a pioneering attraction for amateur astronomers.
Location: Gangori Bazaar, J.D.A. Market, Pink City, Jaipur
Timing: Visit between 9 AM and 4 PM.
Price:  – For Indians: 50 Rs (Adults)
– Foreign nationals: 200 Rs (Adults)
Amber Palace
Located amid the picturesque Aravalli Hills, Amber Palace is a not-to-be-missed place to see in Jaipur. This palace was built on the orders of Raja Man Singh I and completed by Mirja Raja Jai Singh. The rich textures of the red sandstone and white marble add to the magnificence.
The high walls of the fort provide an impressive defense against would-be invaders. But inside the walled area is a vast city with luxurious accommodations and richly decorated architecture, among so many other attractive features. The Maota Lake and tranquil views of the sunset make this palace a serene escape that appeals to all five senses and never fails to lift one's spirits. Be charmed by these exquisite paintings, which feature intricate details and the use of precious gems and jewel to add an extra bit of beauty.
The Sheeshamahal or Palace of Mirrors can be found within the Amber palace. Adorned with pieces of costly mirror tiles, this hall was designed so that even a single ray entering into it can illuminate the entire hall.
Location: Devisinghpura, Amer, Jaipur, Rajasthan 302001
Timing: 8:00 a.m. to 17:30 pm
Price:  -For Indian residents: INR 25 (Inclusive of Entry & Camera)
-Foreigners: 150 rupees. (Inclusive of Entry & Camera)
Jal Mahal
This palace is also a fusion of Mughal and Rajput styles of architecture, located in the middle of Man Sagar Lake. Built-in red sandstone, Jal Mahal, is one of five original stories that remain submerged when the lake is fully pumped. Jal Mahal is one of the most important tourist destinations in Jaipur and also offers a breath-taking view of the palace itself.
The palace is reached by using traditional boats since it is located in the middle of a lake. The beautiful lakeside view and the Aravalli mountain range in the background provide a perfect photo opportunity of Jal Mahal.
Jal Mahal is home to some colorful migratory birds, several species of fish, and a dense collection of flora and fauna. Some migratory birds can be found around Jal Mahal: Flamingo, Great Crested Grebe, Pintail, Kestrel, Coot, and Grey Wagtail.
Location:  Amer Rd, Jal Mahal, Amer, Jaipur, Rajasthan 302002
Timing: 6 AM – 6 PM
Hawa Mahal
One of the earliest constructions in India's history, this palace reflects Maharaja Sawai Pratap Singh's scientific outlook. Jal Mahal, or the 'Water Palace,' is built on a man-made island in the middle of a lake and features windows that are designed to let cool breezes from outside circulate inside all year. Hawa Mahal is a popular place to visit in Jaipur, especially as it was once the favorite vacation destination of the Rajput clan.
The purpose of laying out the marble paving stones below was to keep outsiders from viewing the women in seclusion. The lattice of windows was designed so that it allowed the insiders a clear view of the outside while restricting outsiders from glancing inside.
Location: Hawa Mahal Road, Badi Choupad, JDA Market, Pink City, Jaipur – Rajasthan 302002
Timing: Open from 9:00am until 4.30pm
Price: – For Indian visitors: 10 Rs.
– For Foreign Visitors: 50 Rs
– Free entry on Monday, closed on Friday
Conclusion
If you're interested in experiencing the best Indian culture, then Jaipur is a great place to visit. The city has an incredible history and stunning architecture that will make for unforgettable memories. But, of course, some people may be wondering what monuments they should see during their time there or even if it would be worth taking a trip there at all.