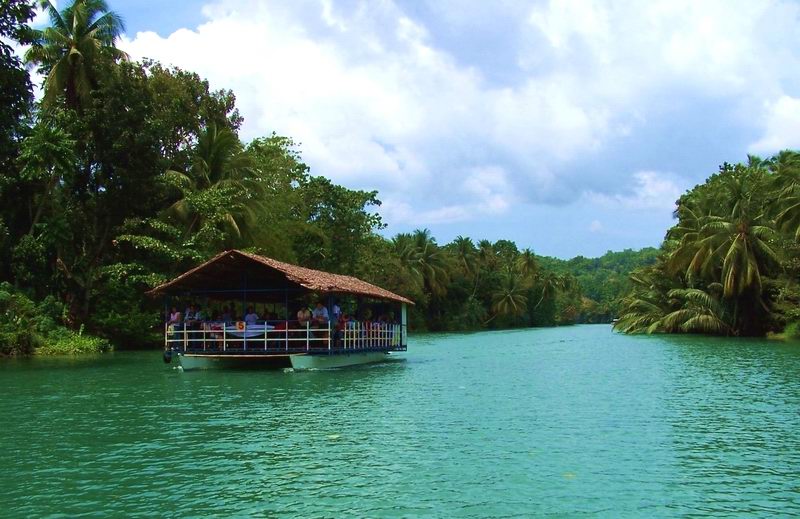 If you haven't read the first part of this travel story, please do so. Otherwise sit back and keep reading!
The resort we were staying at was divine, but I couldn't pass up the opportunity of seeing more of these islands of Bohol province. After negotiating for my temporary freedom from child-minding duties with my brothers (I convinced them that they needed quality time with their own kids, after all), I summoned a Filipino friend who happened to be living nearby to show me around some more. Lamberto was more than willing to oblige, provided that I would supply fuel for his ride and his stomach. Both his fuel tank and gut were kinda capacious, but I agreed nonetheless.
We were off to an early start the next morning, and he told me that he'd take me to a resort with a better beachfront than that of Amarela's. Bohol Beach Club was the first beach resort ever to establish itself within the province, and trust me when I say that they did get the best beach spot on the island.
Bohol Beach Club (photo by flickr.com/people/kodacrome)
We walked around a bit and I chatted up some locals and even some fellow foreigners enjoying the beautiful environment. Some of them were concerned that the Philippine government wasn't doing enough to preserve, protect, and promote what their country had, and I couldn't agree more.
I decided that we should visit other non-beach sights places. My portly tour guide suggested that we should have lunch first. He drove us to another resort that was known for its sumptuous and healthy organically-cultivated food, the Bohol Bee Farm.
Bohol Bee Farm's Pork Spareribs and Wheatgrass Iced Tea (photo by flickr.com/people/cristina317)
They didn't have a beachfront, but their resort was perched on an elevated rocky shore, and the ambiance was positively cool and relaxing. I let myself go for the meantime and wolfed down whatever Lamberto suggested I order. I was on vacation, right?
After the hearty lunch, I wanted to see something old and historic. I read that Bohol was one of the first islands that the Spanish landed on and evangelized in their search for spice and gold. There is a monument that represents the blood pact between Datu Sikatuna and conquistador Miguel Lopez de Legazpi called the Sandugo Shrine (sandugo meaning "one blood"), and I wanted to see it for myself.
Sandugo Shrine (photo by flickr.com/people/bigberto)
After buying some souvenirs from the little stalls along the road next to the monument, we decided to call it a day and head back to my home resort to have dinner with the family. I had a handful of stories to share, and I also wanted to introduce Lamberto to my family. We also decided to venture into the more interior parts of the island on the next day, and this time, my brothers would be coming along.
After a short dip in the pool, I head to bed and doze off. Tomorrow is another day of island adventure…
A third and final installment of this post series will be available soon!

About the Author: Stacey Thompson is a professional writer, marketer, entrepreneur, and a lover of weird little animals. Though she is at times a reluctant traveler, she manages to have a great time exploring new places. She is based in San Diego, California, and is currently working with Oasis Hotels & Resorts and other successful companies. Stacey and her friends are putting up a group blog, Word Baristas, which will contain a good amount of their thoughts, feelings, and adventures.