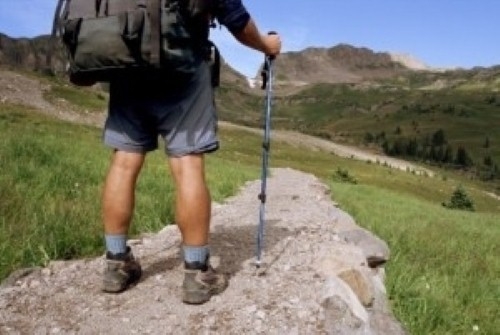 A couple of years ago my wife and I decided to take some time off to go travelling. As well as relaxing in Thailand and cruising in Halong Bay, we wanted to do something a bit more adventurous and so booked a 2 week trek in the Himalayas.
After the excitement from having our places confirmed wore off we soon realised that we were going to have to do some kind of preparation for the trip. Both of us are young, healthy and relatively active, but neither of us had ever trekked for more than one day.
So how exactly do you prepare for a holiday that doesn't involve lying on the beach and sipping Mai Tai's? With only a couple of months to get ourselves ready, we came up with a plan.
First, we went out and purchased the hiking boots that we would be using on the trek. This gave us enough time to break them in and identify any problems whilst we were in a position to still do something about it.
Then we hit the British countryside for some day treks. Living in London means that there aren't too many hills around us, but there are plenty of flatter day hikes within an hours drive.
We were going with a trekking company, so we wouldn't have to carry our own bags – instead the sherpas do a great job of making you feel pathetic as they whizz past you in flip flops carrying 2 or even 3 large holdalls. We would, however, have to carry a day pack that contained all of the water and supplies we would need during the day, so we mimicked this on our day hikes – carrying around 5kg of water, snacks and clothing.
Of course these day hikes only really prepared us for walking 12 hours a day on the flat. And with the absence of any large hills we needed to hit the gym.
The treadmill became our best friend as we cranked up the incline and gave the leg muscles a taste of what they would be in for. We chose to run at gentle jog, increasing the incline a little bit each time we went. In hindsight we both agree that walking instead of jogging, but at a higher incline for a longer time would have been better. But in a gym you cannot always hijack a treadmill for a couple of hours.
Something which you cannot really train for is the altitude. The higher up you get the less oxygen there is, which makes you tire much faster than you normally would. But if you drink plenty of water and take it slowly you should be fine. Just remember to keep an eye out for any signs of altitude sickness.
Finally we stocked up on snacks to help fuel us as we trekked. Variety is the key here – if you take 50 granola bars you're going to be sick of them by day 2. Plus with the amount of calories you are burning each day, you don't necessarily need to stick to the healthier options. Besides, this may be one of the only times in your life where you can eat three candy bars a day without feeling guilty!
About the author:
When he isn't seeking out new thrills in foreign lands, Matt writes for Gymdar.co.uk – the easiest way to find a gym in the uk.