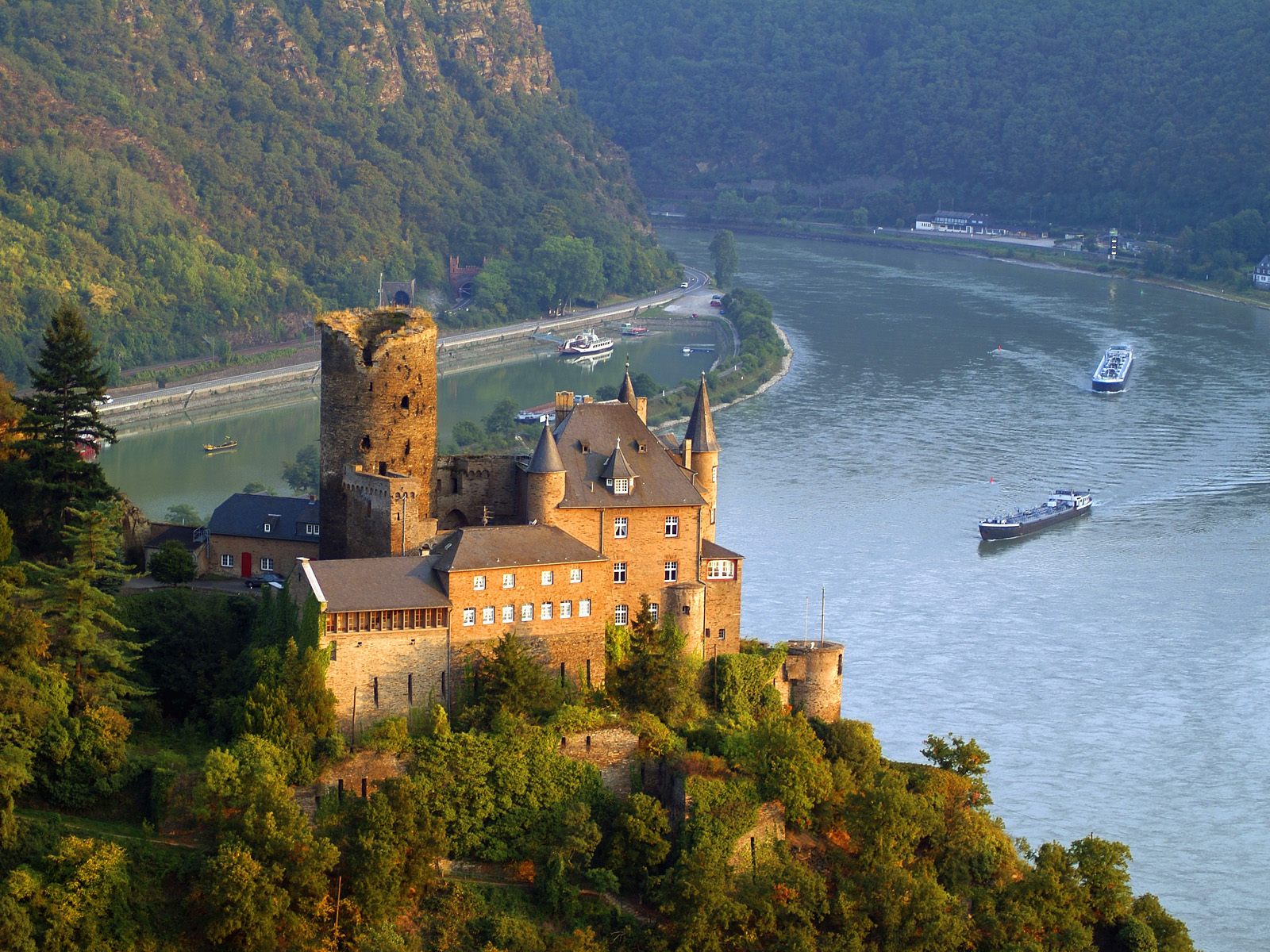 As my husband and I stood on the sundeck of the TUI Allegra watching a beautiful sunset unfold, as a Dutch farm slowly moved by, I decided this really was a romantic way to travel – a Rhine River boat cruise.
We boarded at Dusseldorf, and my husband and I got our first experience of what was described as a luxurious floating hotel. It was an accurate description of our Rhine cruise ship – a 442 foot vessel, with 89 cabins, and with a capacity for only 178 passengers, so we didn't feel at all cramped. The crew of 44 met all our needs and we had a delightful experience on the river Rhine. I had upgraded to a balcony cabin on the upper deck. When we walked in, the floor to ceiling panoramic window delighted my husband and made it all worth it!
As we set out to explore our home for the next 8 days on this romantic river cruise, we were extremely impressed. The dining room had floor to ceiling windows so we could continue to observe scenery while we dined, and there were several long rooms along the side of the ship with small tables for dining or to enjoy a glass of wine – of course with windows all along them.  One of the stewards pointed out the fitness center, hot tub and sauna, which was great news to me, because I felt the need to get in a workout.
We took the circular staircase up to the next level, and from there to the top of the ship, which was one large sundeck, with lounge chairs everywhere. This was where we'd spend a lot of time on this river cruise Europe, I decided. I watched as the Allegra moved away from the dock, and was struck by the quiet and stately manner in which she motored along the river. Because of the slow pace of this Rhine cruise, it was obvious we'd have plenty of time to look at passing scenery, and I could feel myself slowing down to match the pace of this unique adventure.
Over the next several days, we got to know several other couples during our Rhine cruise, and had the dining staff put together a big table so we could all eat together. There were Roz and Jim from Los Angeles, Enrique and Elizabeth from Madrid, and Betty and Roger from Dallas, Texas. Dinners were very relaxed affairs, and we soon found a great way to signal passing scenery we should attend to. Someone would politely raise their hand, and then nod toward one side of the boat or another, and the entire group would stop conversation to admire the view. Dinners were long, but rewarding, and I got to know a lot about where our friends lived. Madrid, in particular, was a place I had wanted to visit, and I talked a long time with Enrique and Elizabeth about their city.
We stopped at some amazing destinations while on the river. We visited the Hague in Rotterdam. We toured the Van Gogh Museum and the Anne Frank House in Amsterdam, and took a romantic cruise along the canals. We explored Cologne, where we visited the grand cathedral, the chocolate museum, and did some shopping. We stopped in Bonn, the home of Beethoven. They were wonderful destinations, and we had plenty of time to explore and learn about the cities on the Rhine.
But I was surprised that I enjoyed the journey – our romantic Rhine cruise – quite as much as the touring we did. When we cruised through the narrow Lorelei Passage, one of the crewmen told us how the passage had been a dangerous place for ships, even as recently as the 19th century, because of reefs and rapids. The legend said that a siren named Lorelei bewitched the sailors and when they looked up at the rock, their boat crashed and they sank.  As we passed the mighty slate rock in complete safety, there was a hushed silence in appreciation of the moment. The entire trip was filled with those types of experiences, and our daily routine became to have an early breakfast and quickly head up to the sundeck so we wouldn't miss a thing. I got tender smiles from my husband numerous times as we floated along – such as when we slowly passed a quaint German town, or one of the seemingly endless famous German castles.
Amazing sights happened so often on that trip that every minute led to another breathtaking scene. But the sunsets – those were the best and most romantic – and sometimes led us to retire early. Yes, it was a wonderful Rhine cruise, and we will definitely go again.
Carol Atkins has been traveling the globe for much of her life.  She currently writes about her travel adventures at YMT Vacations and other travel blogs.  She loves of all types of travel expeditions including island hopping, hiking, cruising and being lazy on the beach :).  One of her favorite (and most romantic) was the Rhine cruise she took last summer.  Follow her on twitter @atkins_carol