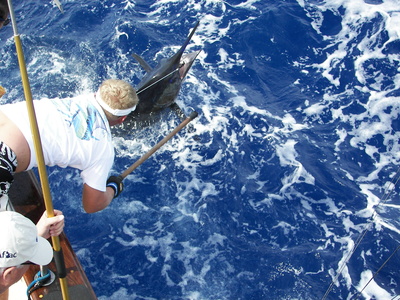 Very similar to Caribbean islands of San Andres and Providencia, the Hawaiian Islands, at the crossroads of game-fish migration routes, offer some of the most accessible, least expensive and best deep-sea fishing in the world. The southwest coasts of Maui, the Waianae Coast of Oahu, and off Kauai's Na Pali cliffs are all an excellent locations. But the best is here, most especially for the game fish, Pacific Blue Merlin.
The largest ever caught on the rod and reel is on display at the International Market Place in Waikiki, all 1,805 pounds of it. June to November is the best period for Blue Marlin, but there is good fishing all year around. Also in these waters are Black and Striped Merlin, yellow fin tuna which can weigh 300 pounds, Mahimahi, a dolphin like fish that is a real fighter, Wahoo which averages 30 pounds, and skipjack.
Early in 1984, a record 1,656 pound, 16 foot 4 inch Blue Merlin was taken on Bart Miller's boat Black Bart by Gary Merriman of Atlanta, Georgia. Miller also holds the record for the most marlin taken in one single day, one month and one year too. The ultimate sport-fishing package is the five days with Miller onboard the Black Bart, nights in the luxurious suite in the posh Royal Seacliff, and a Lincoln Continental to get from one to other.
One of other pleasures of Waikiki is the number of fine restaurants nearby and the wide variety of healthy food dining experiences they offer. Not to try at least some of them during your holiday would be a major blunder. One dining experience is a nuisance to arrange but well worth the effort. At the Nuuanu Onsen, a Japanese tea house in Manoa Valley, one must reserve at least 24 hours in advance, have party of six or more, choose what each person will eat when the reservation is made, and pay ten percent of the tab in advance. For this expect an unforgettable meal, perfect service and post-prandial introduction to Japanese parlor games.