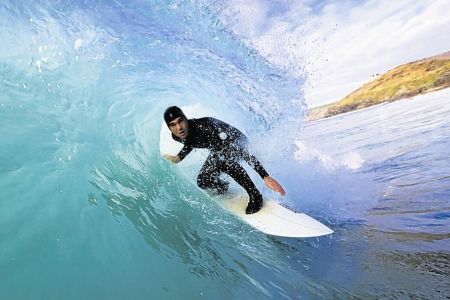 Surfing within the British Isles is generally associated with the warmer shores of Devon and Cornwall. Yet our northern neighbour, Scotland, boasts a whole host of unexplored coastline with absolutely endless surfing potential.
Being so far north, the Scottish waters are a fraction colder than those of the South-West. However, the Gulf Stream ensures that the temperatures don't drop as low as the rest of the North Sea.
The elements and air temperature are a battle for any surfer, but if you are prepared to brave  these, you will be rewarded with surfing perfection. Over the years I have travelled and explored these rugged coastlines on the quest to find excellent waves that I could share with friends, and that is exactly what I have done! I am going to share some tips that will help you bag yourself some Scottish waves too. If you need some help with your surfing skills to enjoy the waves, there are reliable experts who offer Group Surf Lessons.
Thurso East
The North coast of Scotland is most notably famed for offering a superb wave for the small number of local and visiting surfers. If you are in the area, then Thurso East is a must! This legendary wave has earned its reputation due to the superb right-hand barrel that is on offer here.
Breaking over a shallow slab of reef, the wave should only be tackled by experienced surfers. The wave rifles down the reef offering an extremely long, intense ride that can prove challenging even for the best surfers.
Insider's Tips
The O'Neill Cold Water Classic competition sometimes stops off here, so timing a visit during this period will allow you to witness some of the world's best surfers tackling one of the world's best waves. The beach faces north east so a north west swell coupled with a light south easterly wind can see the spot light up. Be cautious of the small, skilled local crew that are friendly, yet demand respect. Limited parking is available in the farmyard or by the harbour, which involves a long paddle to the break. You can check out the surf shop to buy/rent your gear.
Pease Bay
Pease Bay lies on Scotland's east coast and is a perfect beach break to hone in your surfing skills. Breaking over sand and small cobbles, this break is well suited to the intermediate surfer at the correct stage of tide. With a mid to high tide, long right-hand walls of water break into the cove offering fun conditions for all surfers.  As the tide pulls back the wave becomes more challenging, due to the shallowness of the water below.
Insider's Tips
Due to being on the east coast, this break receives less swell than those on the north or west. Best in north east or south east swells, with winds coming south west. The area features a number of other, 'secret spots' which can be found with a little exploration. There is a Camping and Caravan site at Pease Bay; therefore, it can get busy during the summer months with tourists.
Sh** Pipe
Located in West Caithness, this strangely named surf spot has earned a strong reputation amongst local and travelling surfers alike.  Named so due to the sewage pipes that once leaked raw sewage in to the ocean here, this is a destination that can be tackled by intermediate surfers and upwards.
Sh** Pipe is the more mellow neighbour of the famed Thurso East. When Thurso is huge, difficult and far too challenging for the normal surfer, board rider's flock to Sh** Pipe for its fun left and right walls.
Insider's Tip
Offshore in south west winds. If you have never surfed a reef-break wave before then this is a good place to have a go. The water quality is now fine, although in heavy rain it can become slightly dubious.  The rise of visiting surfers to the area has left the local crew slightly more challenging when it comes to wave sharing, but show respect and you will be respected.
Getting to Scotland
Scotland is a long drive from most places. It can be accessed via www.thetrainline.com . Cheap flights can also be found to Aberdeen and Glasgow.
Author Bio
Ben is fanatical about adventure sports and works at Nucleus Online Surf Shop, who specialise in mens skate shoes.