Las Vegas is one of the most vibrant cities in the world, so don't cheat yourself when you come to visit. Sin City is notorious for it's 24/7 action, larger than life casinos & wild tourist attractions. Every year, 40,000,000 tourists come to Las Vegas to get a piece of the action.
From business tycoons to small families, this bustling city is fueled by the cash brought in by every tourist.
Since Sin City would be nothing without tourism, you can expect epic attractions that can't be found anywhere else in the world.
Globally there are thousands of travel destinations, but there's only one Las Vegas. To get the most out of your trip you need a game plan. All the bright lights & luxurious casinos, with the unlimited slots and poker tables, and the pay with mobile phone bill options right from the rooms to stock up on credits – can distract you from the real charm that makes Las Vegas unique. For this reason we have compiled a list of must see attractions that most tourists miss. Prepare to be blown away by the wild options offered by Sin City.
3 Must See Attractions in Las Vegas

Attraction #1: Become a Dolphin Trainer for a Day – Even though many exotic resorts offer swim with dolphin programs, they have nothing on Vegas. The Mirage in Vegas offers an all day Trainer for a Day program for tourists aged 13 & older. This program allows you to strap on a wet suite & take charge of a family of bottlenose dolphins. You are accompanied by experts who show you the inner workings of dolphin behavior along with innovative ways to preserve their habitat.
You get to participate in hands on training exercises, feeding sessions & ultrasounds. The Mirage also offers 30 Minute Painting with the Dolphins where you get to collaborate with your new aquatic friend to paint a unique watercolor masterpiece.
The fun doesn't end there. You can also experience the Mirage's infamous Yoga Among the Dolphins. In this one of a kind program you can practice yoga in an exclusive underwater viewing area where you can practice poses in front of a family of dolphins. The dolphins often mimic the yogis so try not to laugh!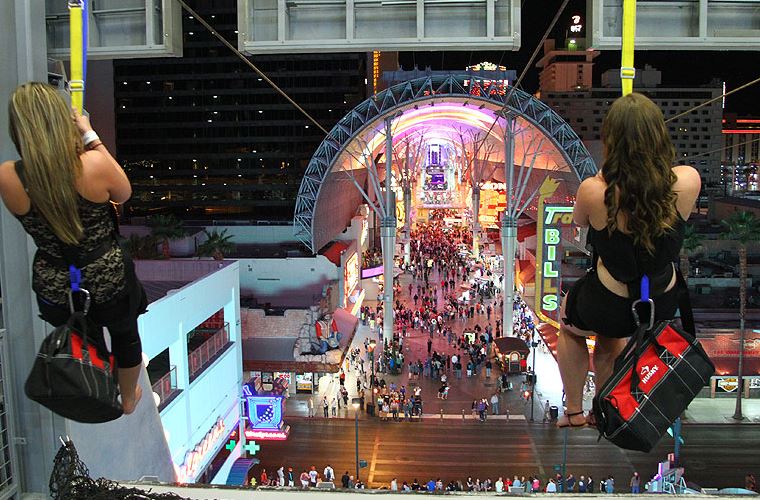 Attraction #2: Slotzilla – This $11 million attraction stole the show when it opened in June. This dazzling attraction features an 11 story, 120 ft high slot machine themed zip line. They use a one of a kind propulsion launch system that shoots you out at 35 mph across Fremont Street.
This event is made even more spectacular by the fact that every time someone gets launched the giant slot tower comes to life. The slot arm goes down, the reels spin & the 37 ft tall showgirls light up along with the Welcome to Vegas sign. Try out this dramatic attraction!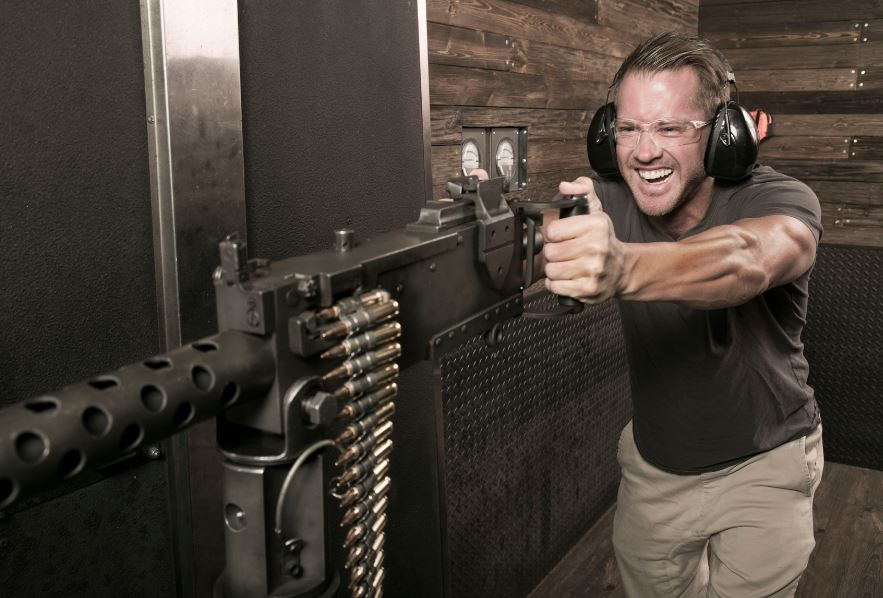 Attraction #3: Shoot Machine Guns – If you are feeling a little stressed out, let loose by shooting some high powered automatic weapons! There are a variety of shooting ranges that let you become Rambo with their stunning selection of weapons. From automatic Glocks to bright pink M16's with rifle scope anti cant devices for better accuracy, they have something for everyone!
Choose between the bachelor party, just married & just divorced shooting range options. Each has its own theme & will let you become Scarface for a day! If you're really into shooting, it's advisable to be well-equipped with the right gun with the aid of services such as the Shotgun Fitting Service.
If you need guns for protection, awesome guns like, Glocks, M16's or AK-47's can be purchased online if you look for tactical equipment for sale.
If you can't make it to Vegas, don't worry there's always next year. In the mean time you can experience all the epic gameplay you can handle with online casinos! Choose between WinMeNot or Pokies Real Money to get exclusive deals on the best online casinos. These are some of the most trusted sites online, so get ready to unlock some of the best bonuses available with these insightful companies. Quit losing money & start playing like a pro!