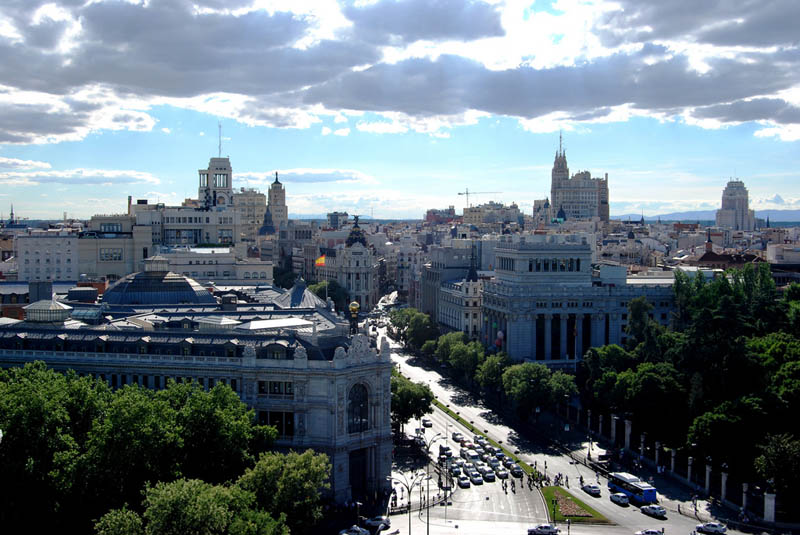 Although Madrid is a wonderful city full of things to do and culture, many tourists (especially in the summer) prefer coastal cities, like Barcelona, which has a more mediterranean climate. However, if you have the opportunity to spend at least few days in Madrid, it's highly recommended! You can stay in apartments in Madrid by the city centre, by doing so you will benefit from the indisputable pleasure of sightseeing in this brilliant city, all the while you live as if you were a local, feeling that much closer to the culture of Madrid.
One of the first things you need to do when you're in Madrid is go out and try some tapas. Even though tapas is a typical style of cuisine that can be found all over Spain, in Madrid there is a huge quantity to choose from and almost everyone goes out to "tapear" (to have tapas), especially on weekends. On the street of Lavapiés, there is a great site where you can taste the best dishes in the city. Once your stomach is full, you'll have enough energy to do a touristic route of the city and visit emblematic locations such as the various art museums across the city (like Museo del Prado, Reina Sofía, and Thyssen).
If you're by Prado, then you'll definitely want to stroll through Retiro park. There's much to see here, like the Crystal Palace, view the various sculptures and statues, and take part in events that are held in the park on a regular basis.
There is also the area of Puerta del Sol, where you can do some sightseeing for landmarks such as Plaza Mayor, the famous square, and Puerta de Alcalá (another gem to discover in the Spanish capital)… Or you can visit Chueca, a district popular amongst the gay scene, it also has a very vibrant and colourful nightlife.
Another hidden gem you may want to consider visiting is the Templo de Debod, an ancient egyptian monument, donated to Madrid by Egypt. It's one of the most amazing places to visit in order to watch the sun set over the city, so if you're travelling with your partner, be sure to plan a romantic night out here. Locals frequently have picnics here, and tourists are just as welcome to as well.
There's plenty to do in Madrid, probably too much to mention here, you can visit the home of Real Madrid Football Club, the Royal Palace, or go shopping along Gran Via. Of course, if after reading all this you still consider yourself a fan of coastal cities, you can always stay in a Barcelona vacation rental. If you have any questions about things to do in Madrid, drop a comment below, and I'll get back to you as soon as I see it.