Nashville is a city that has made a lot of headlines in recent years, from the hit television show that shares its name to the burgeoning food scene, and of course the historical presence of music throughout the downtown streets. Nashville, once overlooked in favor of southern neighbors such as Atlanta and Raleigh, has a place of its own on the cultural map as a must-see tourist location in the U.S.
Not only is Nashville a hot-spot for tourism, but it's moderate cost of living, setting among the rolling hills of the Ohio Valley and generosity of the people have led to floods of newcomers in the way of entrepreneurs and young couples looking for a beautiful, fun and enjoyable place to either start a business or raise a family.
The Music City offers much to do, enough so that one's head could spin with the choices! Luckily, we've broken down for you the top five things you must do in Tennessee's thriving capital city!
Eat and Drink in the Edgefield District
Nashville's East End, once a high-crime, low standard-of-living area, has been flooded by culinary investment capital in the past two decades, leading to a rebranding of what is now a thriving, vibrant center for gastronomy and artisanal beers – the Edgefield District.
Edgefield is now one of the hottest spots to eat, drink and live in Nashville, with the streets packed with craft breweries, inventive takes on American and Southern cuisine and open-late beer joints that stay packed. Head to Edgefield and check out Pepperfire Chicken or Blue Sky Café, two favorites that do everything you want, exactly how you want it.
Visit the Country Music Hall of Fame
You don't have to be a country music lover to enjoy "The Hall", as the locals call it. In fact, so much of early country music that is traced within these walls correspond to the advent of rock-n-roll, blues, and even pop music through country pioneers such as Johnny Cash, Hank Williams and even Elvis!
All of this history is wall-to-wall throughout the museum, which is located downtown among the most popular, historical bars such as Bourbon Street Blues Bar where many of these music legends got their start – including Jimi Hendrix!
The Parthenon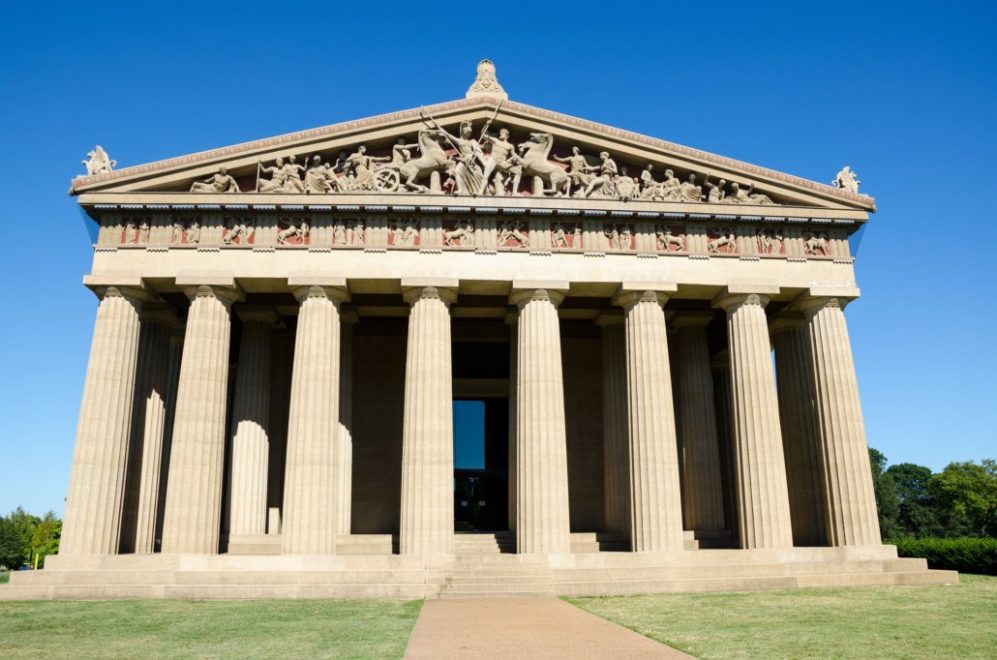 Lovers of classical history can get their fill of culture upon visiting Nashville's full-scale replica of The Parthenon in Athens, Greece, which is listed on the U.S. National Register of Historic Places.
Built in 1897, The Parthenon contains a 41-foot replica of the Athena Parthenos statue, which was in the original Parthenon in Athens. This addition was built in 1990, making it the largest indoor statue in the Western World!
Additionally, The Parthenon rests in Nashville's West End area, just across from Vanderbilt University and within walking distance of many famous casual restaurants that are landmarks in the city. Don't feel like taking a stroll? The Parthenon sits at Centennial Park, one of the city's most scenic and relaxing locations for a picnic.
Eat a REAL Southern Breakfast at Loveless Café
Located just west of downtown in the Bellevue area, Loveless Café is a Nashville cornerstone that must be seen. It all started in 1951 when Lon and Annie Loveless began serving Fried Chicken and Biscuits from the front door of their home to travelers who passed by on US Highway 100, then the primary route between Nashville and Memphis.
For more than 50 years, Loveless offered an all-day breakfast buffet that has since given way to a full, all-day breakfast menu that has retained all the great southern classics, such as Country Ham and Chicken-Fried Steak and Eggs.
Get lost on Broadway and 2nd Avenue
If you go to Nashville and want to hear music, you're likely going to assume you want to go to Music Row. You would be wrong, as Music Row is the location of most of the recording labels and music businesses in the city (including Columbia, ASCAP, BMG and Warner Brothers), while the actual music will be found along Broadway and 2nd Avenue.
Broadway runs from upper West End and cuts through the heart of the city, ending at 2nd Avenue at the bed of the Cumberland River downtown. Through this area is where you'll find what you came for – halogen lights above doors with songs of yester-year billowing from within as fascinated passers-by leer in to see who the next "big thing" is!
There are classics, such as Legends, Tootie's Orchid Lounge and B.B. King's Blues Club, as well as newer bars starring a diverse, eclectic mix not typically thought of alongside Nashville in the vein of Jazz, Rock and even Metal music.
Nashville is an open book, a city that lets you in and keeps you there through its warm, wonderful vibe and heartfelt people. When you go, make sure to hit these five spots to make your trip the best it can be!