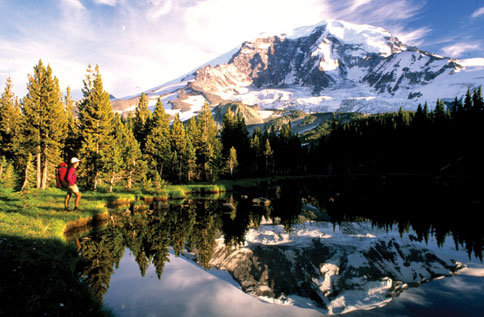 When visiting North America some of the best sightseeing can be done at the numerous national parks. Whether you are visiting the Grand Canyon, Carlsbad Caverns, or the Canadian Rockies, heading out to one of the national parks is a great way to spend a day off. Exercise and enjoying the beautiful outdoors really can't be beat. But if you want to enjoy yourself, you have to make sure that you're prepared and that means bringing a few essentials along with you. If you aren't well packed then your park adventure could take a turn for the worst and leave you miserable and possibly injured.
1. Sunscreen
You should not only bring sunscreen, but you should also reapply it every couple of hours. Slapping some on in the morning is great, but if you are hiking you're probably going to sweat it off even if it's waterproof. And don't forget your lips. Make sure to bring along a lip balm that has sunscreen in it and reapply often.
2. Sunhat
A hat with a wide brim can go a long way to keeping you cool. It blocks the sun from your face and shoulders and can keep you from getting a sun-headache. A baseball cap will do in a pinch, but you're really better off with a hat with a brim.
3. Hiking boots or shoes
If you plan on doing any hiking you want to make sure that you have the right footwear. Regular sneakers probably won't do the trick on the rough terrain. If you buy new hiking shoes or boots before your trip make sure to break them in before you head to the national park. The last thing you want to do is break in a new pair of shoes out on the trails.
4. Lots of water
The amount of water you need will depend on how long you'll be outside and how hot it will be. But it's always better to take too much water than to run out. You can put bottled water in your pack or you can purchase a backpack that actually include a built in water container. The key is to stay hydrated.
5. Small first-aid kit
Accidents can happen. You can trip and skin your knee or you could end up with a blister. You may be hit with a headache partway through the day. A small first-aid kit that contains iodine, bandages, band-aides and headache meds will take up very little room but could be a life saver.
6. Snacks
Along with staying hydrated, you want to make sure that you keep your energy reserves up especially if you'll be doing a lot of hiking. Trail-mix, apples, granola bars and energy bars are the perfect snacks to take with you.
7. Insect repellent
This one is pretty self-explanatory. It's hard to enjoy your day at the park if you're being eaten alive my mosquitoes or black flies.
8. The right clothing
The best thing to wear when hiking is moisture wick shirts. These shirts will draw the moisture away from your body, making you more comfortable. You also want to wear long pants and a light jacket or sweater that you can take off if you get too hot.
9. Maps
Even if the trails at the national park are well laid out, you want to bring a map that shows you where you are and where you're going. That way if you accidentally go off track, you can easily find your way back.
10. Whistle and mirror
If you do happen to get lost, you can't depend on your cell phone, since reception can be dicey. What you can rely on is a whistle and mirror. Blowing your whistle will alert anyone nearby to your presence. If there's no one near enough to hear your whistle then flashing a mirror can help.
Shelly Towns is a self-proclaimed travel fanatic who enjoys hiking, exploring new places, and visiting Parks. Among her favorites is Banff National Park.