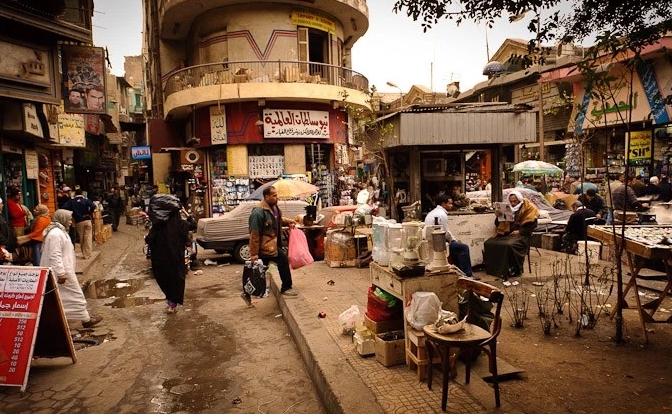 Egypt is one of the most important countries of the Human Civilization. History is in every corner of the country and Cairo is the chaotic capital of this amazing part of the earth. We could talk for hours about the ancient times, about the Pyramids, also about the recent political developments, but we are going to avoid all these. And get straight to the point of this article: 5 markets that one should visit in Cairo. This is the place where one should experience the real spirit of Egypt, negotiate with the locals on prices, watch the crowd and enjoy the atmosphere of the Middle East.
First of all, What does Souq mean? Simply put, Souq is an open-air market.
Here is a list of our suggestions:
Khan El-Khalili bazaar
One of the most colorful markets in the middle east maybe one of the biggest ones also.
This is the most touristic market not only of Egypt but one of the biggest markets in general. We are talking about a typically chaotic environment, that you can find in Middle eastern countries. One can get easily lost there as the market consists of a labyrinth of narrow streets where small shops sell all sort of stuff. bottles or rustic glassware where you can search for hours for treasures in the little shops.
Many people visit El Khalili to buy silver and it is famous for good quality pieces. Of course you have to spend a lot of time searching and bargain for a cheaper price. What is also interesting is the leather goods sold here, but moreover there are a lot of traditional shops that sell souvenirs like water pipes-shisha. If you get dizzy from the noisy environment stop for a break in one of the of the many traditional cafes and experience an oriental taste of the drink of Hibiscus.
Friday's Market (Souq Al Goma'a)
If you like antiques. this is the place to be. Friday's Market is located in the Islamic quarter of Cairo.
It will take some effort to find hidden treasures here, as people sell literally anything(and a lot o junk and useless stuff like broken toys or furniture – at least for people who leave in western Europe or the United States) but it is definitely worth it. The place keeps a lot of secrets and you can find valuable antique pieces for a very low price.
Souq al Goma'a is also one of the largest markets in Cairo. It would be wise not to carry with you a lot of valuables or money and to keep an eye to your wallet and your bag. You can buy mobile phones and other electronics(check them first to see if they work). The place has a nice breeze of traditional Spices and herbs.
Zamalek
Zamalek is one of the most beautiful neighborhoods of Cairo- located west on the northern part of Gezira Island in the Nile River. It is a nice place to visit for many reasons – not only for buying stuff, First of all has a lot of nice restaurants. The locals are very friendly. A friend of mine was offered to buy Cannabis while having dinner in a nice restaurant. In Zamalek you will find crafts and jewelry relatively more expensive compared to the rest of the areas of Cairo. The shops here offer mostly products of good quality. It is a good place to buy beautiful pieces of marbles and granite, ceramics and food (amazing sweets). There are a lot of modern galleries in the area, with very interesting pieces of art.
Gold Bazaar– Egypt has a long tradition with gold. In the ancient times the skin of the gods was considered to be made of gold, and since nowadays Cairo is well known for being one of the cheapest places in the world to purchase gold. Cheaper Labor working hands is the reason why. The gold Bazaar is a part of El Khalili market which as we mentioned previously it is a huge place. If you are a fan of gold you will lose your mind here. Many of the people who work in the handicraft stores are true artisans, Egyptian jewelers are very talented and their products are beautiful.
Midan Ataba (Ataba Square)
This is actually one of the less touristic markets. This does not mean that it is less packed with people and noisy, but in the market of Midan Ataba you will get the real feeling of Cairo. This is a fresh food market, but not only that. As it is located in the place where old city and new meet, you can find several tents selling clothes and shops selling electronics, but most of all if you are interested in books, then you should definitely visit the northern side of the square. In the same area there is also a famous Paper Market (on al-Geish Street) with a big variety of paper, and art materials. Book lovers will love Midan Ataba. While being there do not forget to take a look at the Ezbekieh garden an attraction located close by.
You can spend hours in the dusty streets of Cairo. There is always something new to discover and the city is full of hidden treasures. If you get lost the friendly locals will help you find your way to enjoy Cairo.