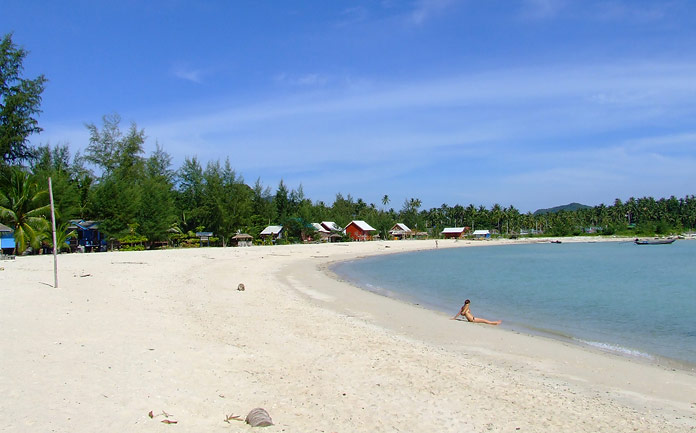 Srithanu is a beach on the tropical island of Koh Phangan. It is one of the least visited parts of the island and yet it has a lot to offer visitors to Thailand's fifth biggest island.
The most famous beaches in Koh Phangan are Haad Rin and Ban Tai in the South East and Thong Nai Pan Noi and Bottle Beach in the North. They are great beaches with year round swimming. They are also some of the most commercialized beaches in Koh Phangan. For a more genuine Thai experience the west coast of Koh Phangan has a lot to recommend it.
The main port town on Koh Phangan is Thong Sala and just north of this town there is a road heading up along the west coast of the island. It is a good road that passes by a number of small temples and villages. The area is not often frequented by tourists. There are long stretches of beach at Nai Wok and Hin Kong before Srithanu is reached. Whereas, the southerly beaches have a big tidal difference and don't get deep quickly, Srithanu has a better beach. The sea gets deeper quicker and so it is a much better beach for swimming. Just off the coast are corals that are great for snorkeling.
Long term rental accommodation is to be found along the west coast. There are however, a few resorts and bungalow operations on Srithanu. There are both basic bungalows on the beach as well as better air-con rooms available on Srithanu beach.
The best part of the beach is at the northern end of the bay. A small bridge is crossed and there's a virtually deserted white sandy beach to enjoy.
Nearby is the village of Ban Srithanu where you can find cheap noodle shops, a few bars and a local market. The village is the main center for the area and is a good place to soak up some traditional Thai culture. Also nearby is the biggest lake in Koh Phangan, Laem Son.
Srithanu is not the best beach in Koh Phangan but it is one of the quietest and it also has a strong traditional Thai feel that is lacking on many of the other beaches on the island.