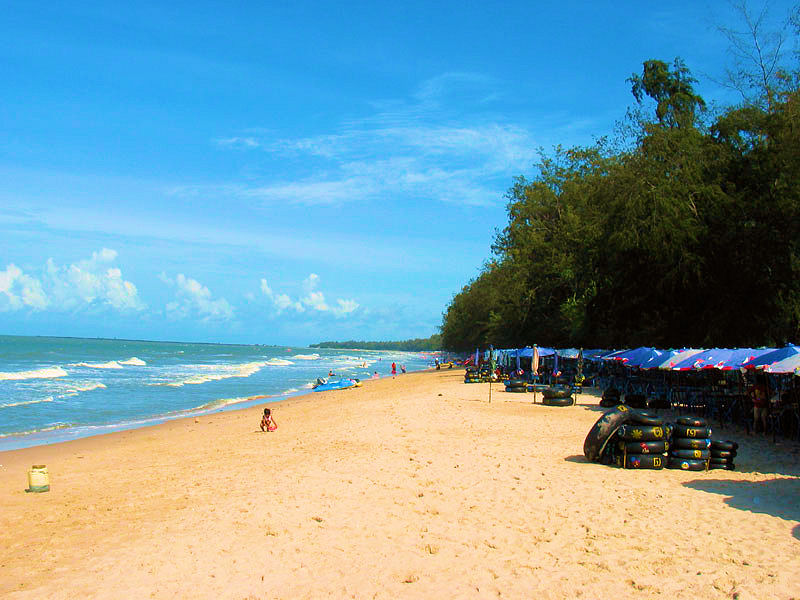 Since it is home to many beautiful beaches, Cha Am is one of the top destinations in Thailand for tourists who want to relax in the sun. Cha Am is also home to Thailand's only American university, which boasts a student population from all over the world. Cha Am is a desirable destination for tourists from any country. In addition to the beaches, there are a few important sights further inland to add to an itinerary.
Looking for cheap flights to Thailand?
Book flights to Thailand and you're in the land of lemon grass, floating markets, royal pomp and ceremony. But of course, those and other things like the scenery, temples, island hopping, hill tribes and elephants, are supporting cast to the main attraction; the Thai smile. It's no cliché. These people are friendly!
1. Mrigadayavan Palace
Construction for this palace began in 1923 and was completed in 1924. To become a holiday villa for Thai royalty, the project was commissioned by King Vajiravudh. The palace consists of 16 different buildings, which are made of teak and concrete pillars. Each of the buildings are connected to one another by several different walkways. Tourists are able to see the majority of the palace by taking guided tours.
2. Kaeng Krachan Dam
This sizable dam is great for fishing enthusiasts. There are also several trails nearby for hiking. Fishing enthusiasts may expect to catch a jungle perch, snakehead, catfish or carp while visiting there. However, carp and catfish usually require longer periods of waiting and pre-baiting in this reservoir. A small resort sits on the southern part of the dam, so it is best to find a boat rental there for serious fishing trips.
3. Kaeng Krachan National Park
It is not necessary to be an outdoor enthusiast to enjoy this tranquil park. There are several hiking trails, which are not too difficult to navigate. However, some visitors may find the paths near the waterfalls to be more difficult. Several agencies in Cha Am offer guided tours of the park. While it is possible to see some people swimming in the pools below the waterfalls, it is best to avoid the water due to a considerable leech population.
4. Market Shopping
Cha Am has several great markets. Two of the best markets are Damnuensaduek Floating Market and Railway Station Market. The floating market literally floats. It consists of many different goods, which are placed in floating boats along the river. The nearby Railway Station market is located along the train tracks. However, the market moves when the train comes in, so it moves several times each day.
5. Springfield Royal Country Club
For golf enthusiasts everywhere, this course is a treat to experience. Caddies are available for an affordable fee. In addition to a providing a tip, it is customary for golfers who hire caddies here to buy their caddies drinks. The course offers an overall enjoyable experience for all types of golfers.
Cha Am is an exceptional choice for a vacation. Visitors who choose this location must remember to respect the monarchy and religious views of the Thai people, who are very dedicated to their country's values. For those who are willing to learn, Cha Am offers endless educational opportunities in nearly every sightseeing location.
Photo credits: Thailand— Cha-Am by puuikibeach/flickr; Thailand— Cha-Am-2 by puuikibeach/flickr; Shell Vendors Cha-am by oladybug0/flickr
World traveler Sally Marsh also writes for thailandholidays.net, a site with special Thailand holidays such as extended holidays to Cha Am, with its fabulous beach resorts.