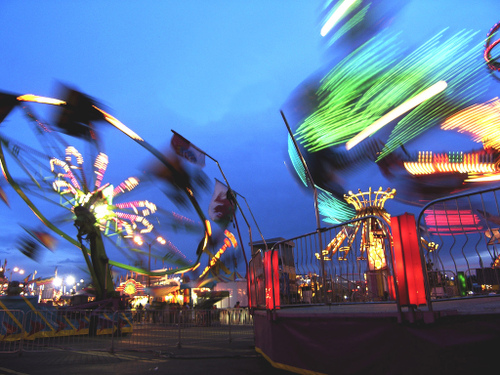 Though Americans love their rollercoasters and are known for their love of theme parks, the phenomenon of the theme park has spread all over the world. Many countries feature theme parks now, and they are especially prevalent in many parts of Europe. Every park has their own claim to fame, encouraging travel and visitation, and every park is looking to be distinct and bigger than those that came before them. Here is a list of ten of the best, most fun, or crazy theme park attractions around the globe.
1. Busch Gardens (Tampa, Florida)
The African animals on display are second to none, except for perhaps actually Africa. They have over 2,700 different animals and have the largest zoo in Florida.
2. Adventuredome (Las Vegas, Nevada)
This attraction that only Vegas could love or build features the largest indoor theme park. They don't just stop there; it is totally encased in a pink-trimmed dome.
3. The X-scream at the Stratosphere Hotel (Las Vegas, Nevada)
Though this isn't officially a theme park, the X-Scream is a marvel of frightening engineering on a Las Vegas scale. The X-scream is an amazing 87 stories. You can almost touch the sky on this ride that teeters at its peak to build suspense. Only the bravest people tread where even the angels second-guess the height.
4. Legoland! (Carlsbad, California)
Over 30 million Legos are on display here. The fruition of every Lego dream ever dreamed, and this place isn't just for kids. The part has a "mini-land" USA that is a 1:20 replica that features many great American landmarks.
5. The El Toro Six Flags Great Adventure (New Jersey)
The El Toro is the highest rated wooden roller coaster in the America according to themeparkcritic.com. Old fashioned coaster fun that features the steepest drop in the entire United States.
6. The Magic Kingdom (Orlando, Florida)
What else needs to be said about Disney? Mickey, Minnie, Donald and Goofy plus all of the fun and fantasy a dollar can buy. The sheer number of attractions and history equal one giant experience.
7. Ancient history and forgotten worlds at Parc Asterix (just north of Paris, France)
The variety of rides that include coasters, and water rides, as well as different regions are the best attractions here. Where else can you visit the land of the Gauls, see the Roman Empire, and go on a water ride? Parc Asterix is a must see for anyone in France.
8. Nemesis coaster, and the Dark Forest at Alton Towers (Staffordshire County, United Kingdom)
This theme park is a little out of the way, but you will not be sorry for visiting. Though the Nemesis roller coaster is what got this park on the list, the spooky and very well done Dark Forest attraction is another strong reason to visit. The Nemesis ride is an inverted roller coaster ride that is better visited before lunch and not after.
9. Huis Ten Bosch (Nagasaki, Japan)
The appeal of this Japanese park is an almost disturbingly accurate Dutch village that has been recreated. No one is quite sure why it was created, but it sure is impressive. The roads are even recreated and the streets line canals that are reminiscent of Venice. It might be strange to go to Japan to see Europe, but it is worth the visit.
10. Space Mountain, Disneyland (Anaheim, California)
It is so hard to put together a list of the 10 best attractions and leave out Disneyland. The Space Mountain attraction is the first of its kind in the world, and there are locations in Paris and Japan now. No one, bar none, puts on the kind of show and experience that you get while on Space Mountain. The visuals and enchantment are features you will never forget.