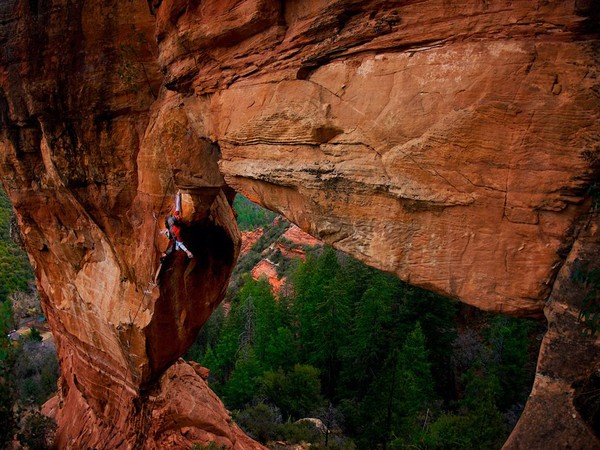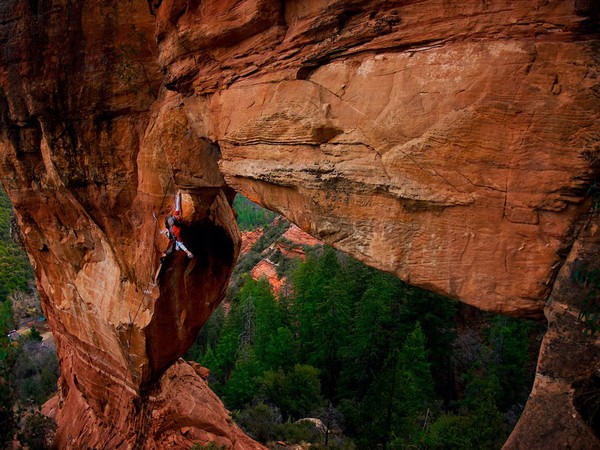 The state of Arizona located in the American Southwest is a popular tourist destination for those finding interest in the state's unique past and landscapes. Arizona's history is deeply rooted in the multitude of Native American communities that once lived and worked on the land. Oftentimes these natives left distinguishing marks in the landscape such as the ones seen at Montezuma Castle National Monument where the famous cave dwellings are found near Camp Verde, Arizona. However, many of the state's natural wonders have been altered only be the forces of nature. Destinations such as the world renowned Grand Canyon, and the Havasupai Native Reservation with its several waterfalls, are all places that should be considered by travelers who enjoy being closer to nature while in its unbridled state.
Visiting the Grand Canyon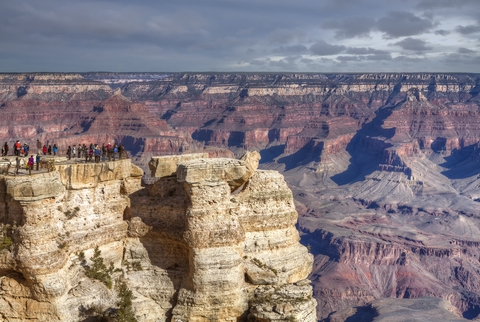 The Grand Canyon in Arizona is considered one the Seven Natural Wonders of the World. It is a landscape that has been continuously altered by the tributaries of the Colorado River as they have gradually cut deeper inside the massive canyon. The Grand Canyon's rugged landscape poses a challenging yet enjoyable hiking or camping experience. Replete with steep trails, almost unimaginable heat, lack of water, and rapidly changing weather, the canyon has its share of accidents and emergencies. Each year approximately 250 guests are evacuated due to medical emergencies. However, those possessing the experience and will to hike and camp within the canyon are treated with lasting memories never to be forgotten as one of life's rare opportunities to gaze in marvel at the natural beauty found only in the Grand Canyon's Inner Canyon.
The Grand Canyon National Park charges admission fees based on the number of cars in a travelling party or by the individual for those arriving via foot, bicycle, or motorcycle. For $25, a non-commercial vehicle including all its passengers is admitted into the park complete with a vehicle permit. Most of the park's 1.2 million acres are made primarily for foot traffic; therefore, cars have little use once they enter the park. The cost of an individual without a car is $12; those 15 years of age or younger are admitted free of charge.
Visiting the Havasupai Waterfalls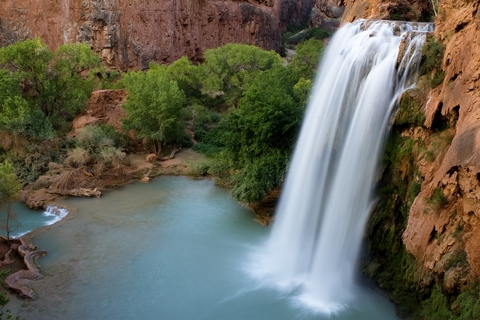 Not far from the Grand Canyon resides Havasu Canyon, home to five constantly changing waterfalls that are still flowing and one known as Navajo Falls which is currently dry. This waterfall shot the beautiful blue waters of the Havasu River out of its many spouts from a height of 75 feet. A massive flash flood occurring in 2008 diverted these waters away from Navajo Falls creating two other waterfalls (New Navajo Falls and Rock Falls) in the process.
New Navajo Falls has much in common with its predecessor in that its cliff is comparable in size to the 75' cliff found on the original's location. Furthermore, it shoots its waters out of several spouts. The other waterfall created by the demise of Navajo Falls is known as Rock Falls. This waterfall shares nothing in common with either Navajo Falls or New Navajo Falls as it spills its water from a wide curtain of roughly 100 feet while standing only 30 feet tall. The other waterfalls found within Havasu Canyon are known as Mooney Falls, Beaver Falls, and Havasu Falls.
Mooney Falls is famous for its marvelously high cliff, dropping vivid blue waters from a height of 190 feet. This waterfall's cliff makes for a challenging hiking experience due to its extremely steep angle. It gets its name from a miner who fell to his death in 1882. Beaver Falls is very unique in appearance. In fact, many people do not even consider it to be a waterfall at all. It is comprised of a series of cascading layers of limestone which the waters of Havasu River constantly flow down upon. This waterfall is near the bottom of the canyon and is therefore quite difficult to reach. Before the flood of 2008, Havasu Falls shot its water out of three spouts. However, currently it only does so out of one remaining spout. This flash flood caused a substantial shift in the creek bed that altered both the waters' flow and the landscape itself.
Gaining access to Havasu Canyon is achieved by either rafting from the Grand Canyon or entering through the small native town known as Supai. Here visitors are presented with the option of lodging in the town's only motel (about $80/night) before making the trek toward the canyon's interior. Entrance fees into the canyon are priced at $35 per person which does not include the separate camping fee of $17 per individual. There is an extra mandatory fee charged by the native Havasupai people of $5 that goes toward environmental care.
The Montezuma National Monument is an ideal example of a landscape altered by human means. Around the year 700, the Sinagua people were able to carve out their living quarters high inside the sides of the area's cliffs. Discovered by European Americans in 1867, these cave-dwellings were incorrectly named "castles" when in fact they were more like high-rise apartment complexes that are seen in modern times. Moreover, Montezuma wasn't born for another four hundred years after their completion. These dwellings are near the top of the Verde Valley cliff which was an ideal location for defensive purposes. However, due primarily to drought, the Sinagua were forced to abandon the area sometime in the early 12th century. Organized tours are arranged for only $5. The Montezuma Castle National Monument is an area that could be effectively hiked by beginners.
You are also welcome to read about Castillo de San Marcos