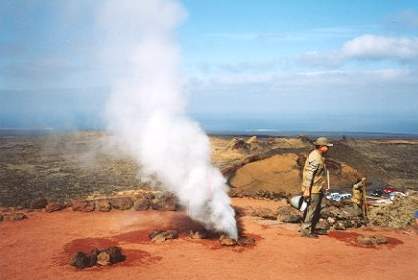 With around ninety beaches, Lanzarote certainly deserves its reputation as a beach holiday destination. But quite apart from numerous white and golden sandy bays, the island is also home to some stunning and quite unique scenery.
As one of the Canary Islands, Lanzarote's creation was caused by volcanic activity millions of years in the past. However, unlike the other islands in the archipelago, there has been considerable seismic movement in the more recent past as well.
The longest continuous eruption in the world was recorded on the island between 1730 and 1736, when much of Lanzarote's most fertile countryside was swallowed up by the eruption of Santa Catalina. Fortunately, despite the large number of fissures that opened up in the ground, nobody was killed.
Instead many families escaped the island altogether, seeking their fortunes in Cuba and Latin America and contributing to the cigar industry in the process. Those who remained lived through extreme hardship, learning to farm the land left untouched by using a volcanic mulch called picon.
These days, however, life on the island is largely centred around tourism, as the extraordinary climate Lanzarote enjoys makes it a hotspot with sun seekers all year round. Especially popular with many visitors nowadays are some of the best holiday villas in Lanzarote, which offer great accommodation and privacy.
Not too far from the epicentre of the eruptions in the Timanfaya National Park is the newest tourist resort of Playa Blanca. Positioned right at the southernmost tip of the island, this town enjoys the best micro climate on Lanzarote and also has some stunning beaches.
During the last ten years, as the resort has grown in size and popularity, there has been a similar rise in Playa Blanca villas available for rent. Most are ultra modern, with comfortable interiors and sun drenched terraces around the swimming pool.
And the volcanic past of the island is further harnessed through widespread use of the grey and black basalt stone in exterior decoration, with many wall and floor surfaces making use of this striking material. When contrasted with white plastered walls it creates a particularly Canarian aesthetic.
The volcanoes also act as the island's number one tourist attraction, with the park receiving hundreds of visitors every day. A tour around the lava flows reveals just how volatile the eruptions must have been whilst the park's restaurant uses the natural heat from one of the dormant craters to cook a delicious barbecue lunch.