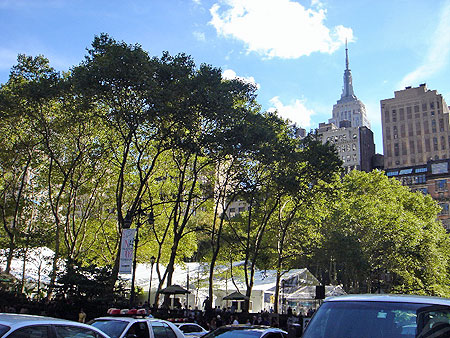 It's a great time of the year to check into one of the many cheap hotels New York offers. The spring temperatures make it warm enough to visit all the attractions and enjoy basking in the delights of Central Park.
And with Easter just around the corner, what better place to spend a family holiday and join in on all the fun!
New York residents do nothing by half measures, and each with each passing year the celebration is an opportunity to improve on the last. Bigger is better in the minds of the New York natives.
Starting with the Easter Parade, the centrepiece of the city's celebrations. The parade has been annual tradition since the days of the Civil War and promises some of the most elaborate and fanciful dress imaginable. Ladies bonnets take particular prominence at the all-day march.
The parade begins at Fifth Avenue between 47th Street and 57th Street on Easter Sunday. It is family-friendly for all, although the street is closed to traffic so use the subway to get there instead.
In preparation for the parade, consider taking your Saturday evening meal around the Central Park restaurants before going to the Eggstravaganza egg hunt. The city is a melting pot of cultures so you're sure to find something for everyone within minutes of the park.
Once that's done, then the hunt can commence! The little-ones are free to track down the Easter Bunny, take part in arts and crafts, pet animals at the temporary zoo, and of course hunt down as many chocolate eggs as possible!
There are plenty of New York churches who will be celebrating the religious side of the holiday too. Most are easily accessible off Fifth Avenue, including St Patrick's Cathedral on 50th Street, St Thomas Church on 53rd and 5th Avenue Presbyterian Church on 55th Street.
As always, New York has much more to offer in addition to these special events.
Ellis Island will be open for business allowing all those that have seen the Statue of Liberty through the TV to get up close and personal with the city's most iconic landmark.
The Empire State Building, equally epic in scale and vision, will be open for viewing the Big Apple at its best. It has welcomed visitors throughout the world since its completion in 1931.
And the city museums (available free or discounted with vouchers), are always welcoming families who are interested in the city's art, architecture, photography, natural history, television and technology.