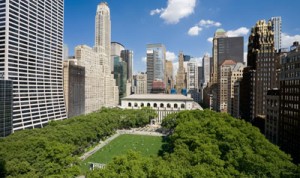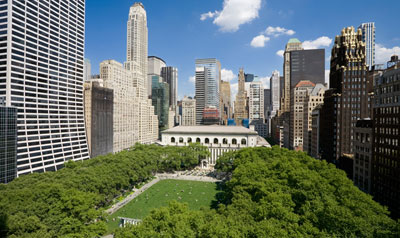 New York is generally considered to be a 'concrete jungle'. Although this might be true taking into account the numerous buildings and the malicious people, some parks will make you think otherwise. Such a big city requires big parks, such as Central Park, Bryant Park, Madison Square Park and many more. You will have the ideal place to relax and enjoy the peace and quiet that is so much needed in a city like New York. Bryant Park is a very beautiful recreational place that will allow you to sit on a bench or on the lawn and get lost in your thoughts.
Although it was created in 1842, it hasn't been a real place for relaxation and joy until recently. In the 1970s, the park was known among New Yorkers as a place where most muggings and drug deals took place and they tried to avoid it. After 10 years of efforts started in 1980, the park looked amazing. The Bryant Park Corporation takes great care of the gardens and lawns and they consider every detail for attracting New Yorkers here. Almost 7 million people come to this incredible green corner to relax and have fun.
The Gardens of the park are very well-maintained and each season, the BPC plants more than 100 species of woody shrubs and 20,000 bulbs, so that the park can be attractive every moment of the year. Bryant Park is also the ideal place for socializing, meeting new people and spending quality time with your family. The London plane trees, or Platanus acerifolia also used in Paris, have brought a great addition to the park. Hence, you will get the impression that you are in Paris without leaving the city.
Those who enjoy sitting on the green grass can simply bring a blanket with them and head over to the Bryant Park's Lawn. It is almost 300 feet long and 213 feet wide, similar to a football field. However, the lawn is not open all the time, and sometimes it's closed for fertilization, aeration and protection during wet weather. If you want to see live performances and entertainment, and also enjoy the fresh air, then you should go to the park during the Bryant Park Summer Film Festival. You will be able to see movies outdoors. If you like live musical performances, then you should go to the GMA Summer Concert Series, Broadway in Bryant Park and Music at 5.
Additionally, during winter you can ice skate on the Citi Pond without paying a cent. You will be able to do some holiday shopping at the Holiday Shops not very far from the Pond. It is a great place to spend time with your children and enjoy the time off. Bryant Park may not be as big as Central Park, yet it has its beautiful characteristics and some great amenities specially made to bring attract travelers. If you're seeking for a great place to relax in NYC, then Bryant Park is certainly a smart choice to take into consideration.
This article was written on behalf of Nycvacationrentalsonline.com, a short term vacation rental agency that specializes in holiday rentals NYC and apartments in New York.