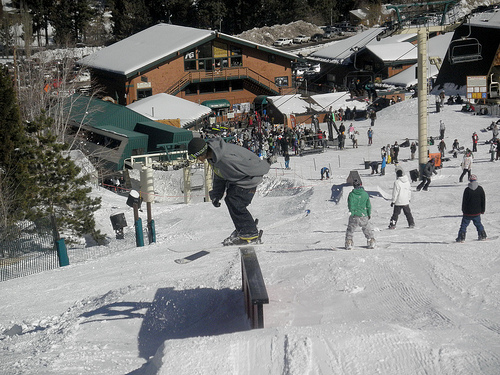 For many people, winter in Southern California offers a refuge from the extreme cold of many other parts of the country, but locals are often looking for a bit of a break from the sometimes rainy, sometimes smoggy pressure of Los Angeles during this season. Believe it or not, those locals are often also looking for snow. Happily, snow and winter sports are only a few hours' drive from Los Angeles. You simply need to head for Big Bear Mountain, California.
During winter, Big Bear will be sure to have snow, as it's elevated to almost 7000 feet in the Sierra Nevada Mountains. There are actually two mountains — Big Bear Mountain and Snow Summit — on the south side of Big Bear Lake (a popular summer travel destination, in its own right), each with its own system of ski trails, ski runs and chair lifts. Lift tickets for one or both mountains are available.
Sometimes you can combine the purchase of lodging and the lift ticket. If you look for Big Bear hotel ski packages, you can save some serious money. Be sure the lift ticket(s) cover the ski area(s) you care about, though; remember that there are two separate mountains. Another good tip is to look for hotels that are walking distance to the bottom of the chair lifts, as getting transportation to the mountain can be problematic and expensive. You might also want to consider cross country skiing, which is easily done on any of the lakeside or hillside trails or on the fire roads that surround the Big Bear area.
If you're traveling to Big Bear from out of state, another great idea for a California vacation winter-time side trip is Palm Springs. While the drive from Big Bear to Palm Springs takes less than two hours, they are worlds apart in both climate and culture. You can trade the Alpine Slide (luge run) at Big Bear for one of the championship golf courses in Palm Springs and trade 20 degree snow for 65 degree sunshine, all with just a two-hour drive!