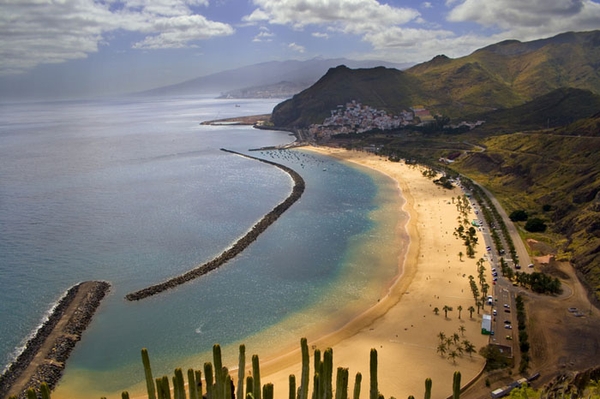 Sometimes the local beach just isn't quite enough to get you excited; don't fret, there is a great vacation destination just waiting for you. If you're not fortunate enough to live near the great beaches in Spainor Greecebut want to enjoy a couple of weeks of the finest sand on Earth, consider a flight to Tenerife. Finding cheap flights to the Canary Islands isn't difficult, and Tenerife sees over 3.5 million tourists a year – not even including weekend tourists who like to come fromSpain.
Tenerife is the largest of the Canary Islands and its capital, Santa Cruz de Tenerife, is the second largest city and co-capital of theCanary Islands. Flying into here is easy from the main continent, and right off the bat there are many areas worth visiting and checking out, whether it is your first time to the Canaries or your tenth time.
The flight time is approximately five hours fromLondon, and obviously less if you're inParisorMadrid, but more if you're further east like inBerlinorCopenhagen. A good book or even a decent nap both work as a great way to pass the time both on the way there, and also on the return.
Travel to Tenerife is a great alternative to a Caribbean or North American beach that would require a much longer (and more expensive) flight, but only offer the same sort of attraction that you can get on thisCanaryIslandjust off the coast ofMorocco.Tenerifeis one of the world's most popular travel destinations for a reason, and any place that has such a large number of returning tourists is obviously doing something right.
Tenerifeis just right for many travelers who want to see something a little different from their other European neighbors. The destination is close enough that there isn't major discomfort that comes from a 10, 20, or 30 hour flight that gobbles up the time, and yet the destination is close enough that you don't spend too much of your vacation traveling or recovering from the travel. You can fly in the morning and still have energy to enjoy the first night of your vacation that very night.
There are many reasons to travel toTenerife, and there are many different ways to entertain yourself. There are beaches, golf courses, world class resorts, or there are water parks and Ocean attractions. he 14 nations that send the most tourists to Tenerife are all fromEurope, and there are two separate airports on the island from which you can fly in and out. One is located on the north side of the island, and the other on the south section.
Tenerife remains one of the most popular getaways for Europeans of all nations, and with the quality of cheap hotels and service, that isn't likely to change anytime soon as travel toTenerife is stronger than ever!