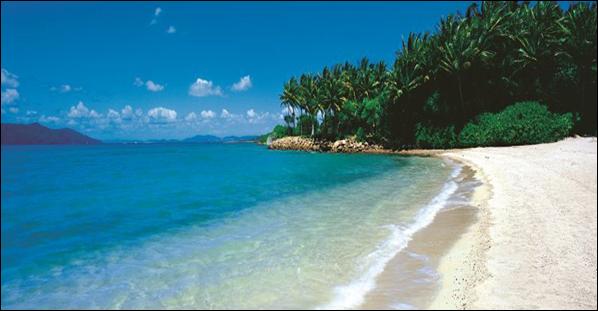 When you think of Australia what comes to mind? White sandy beaches, crystal clear waters, crashing waves….Yes this country is definitely the dream location for beach lovers, surfers and anyone who wants some fun in the sun.
Here are our picks of the top 6 beaches down under:
Hayman Island
Hayman Island Beach offers a completely unique hideaway and is the ultimate beachside Great Barrier Reef experience. Situated in the Whitsundays, it's famous for its warm crystal blue waters and white sand beaches. In fact, nearby Whitehaven Beach is recognised in the Guinness Book of World Records as having the whitest sand in the world. No wonder this is Australia's most awarded five-star resort.
Bondi
Bondi beach is probably the most famous beach in Australia and has several shows dedicated to it: Bondi Rescue and Bondi Vet. Not only is it a famous location, it's also a beach with history, as its Life Saving Club is the oldest in Australia born in 1906.
It's also a great place to have a drink with friends, go out for dinner and enjoy the buzzing nightlife on Campbell Parade.
If you do find yourself in Bondi make sure you take the scenic beach walk from Bondi to Bronte and even onto Coogee. These neighbouring beaches will give you a break from the crowds and also provide great surf conditions. Other activities include swimming at the Bondi Iceberg's pool, visiting the Marine Discovery Centre or heading up to the Bondi Junction Westfield.
Manly
Sydney is also home to the famous Manly beach located on the Northern Beaches of Sydney. You can get there by ferry from Circular Quay or by bus from the city. However, we would definitely recommend the ferry as you'll be able to take in the sights of Sydney Harbour.
The beach is a popular family area, with rock pools for the youngsters to explore, beach and rock fishing areas, waves that are easy to body board on and the opportunity to kayak around the beach. It's definitely a fun area!
Byron Bay
Once you're done enjoying the city/beach life, head north to where beaches stretch for miles, time seems to slow down and every worry drifts away.
Byron Bay is one of Australia's best loved beaches by both locals and visitors. And the great thing about the Bay is it has so much to offer to holiday goers:  yummy organic food, interesting arts and craft stores, and friendly locals with a relaxed vibe and big smile. While you are here you should definitely visit the iconic Cape Byron Lighthouse, go for a surf at the epic beach, or head to one of the lush surrounding rainforests. There are also fun events all year round, such as the Byron Bay Blues Festival, Byron Bay Writers Festival and Byron Bay Surf Festival.
Noosa Heads
Heading up north on the east coast of Australia, you'll find yourself at the beautiful Noosa Heads. A great beach for anyone with a sense of adventure, with activities that include sports kite surfing, bike riding around the area, whale watching, boat cruises, horse riding and fishing.
Monkey Mia
Jumping to the opposite side of Australia, you'll find some incredible beaches such as Monkey Mia 24km from Denham. The beach is famous for its dolphin who comes into the shore daily, which is a great sight for both adults and kids. But the beach has much more to offer with a jetty, public boat ramp and beautiful white sand and clear water. And you can opt for staying at a nearby resort, or go camping.
Australia is the ideal location for any jet-setter or holiday goer looking for a refreshing beach holiday. Grab your swimmers, surf board and sunscreen for an amazing Aussie holiday!
Author Bio: Hayman Island's Digital Marketing Executive, Lauren Esplin, loves nothing more than visiting new lands, meeting the people and learning different languages and customs. She also happens to work for one of the most beautiful islands in the world, and is fortunate enough to explore the Great Barrier Reef as part of her job.