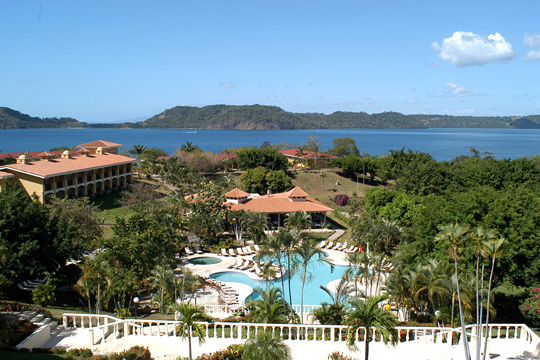 Costa Rica's location just north of the equator makes it the perfect year-round, tropical destination for families. The country is home to one of the world's few "Blue Zones", where people often live to over 100 years old – and it is easy to see why. Sunny skies and beautiful coast lines make Costa Rica a paradise to live in and visit alike. No matter what you are looking to in, in Costa Rica, you can!
Vacationing in Costa Rica is a logical choice if you like diversity. The country is small enough to make a few stops on your trip but offers a wide range of adventures.
Monteverde, or Green Mountain, is known for its wildlife sanctuaries and reserves. This area is home to a variety of specially designated eco-systems dedicated to the preservation of nature and animal life. It is a fantastic area to stay no matter your budget. There are plenty of moderately priced accommodations, like the Cabanas Monteverde, starting at around 60USD per night and luxury seekers will appreciate Hotel El Establo. While you are in the area, make sure to check out the Farmer's Market in nearby Santa Elena for a sampling of local fare and produce.
Families seeking an adventure during the day, and relaxation at night, will appreciate the natural wonders of the Arenal volcano area. Water rafting on the Sarapiqui river and a visit to the The Cano Negro National Wild Life Refuge will have you ready to be pampered at Tabacon Hot Springs – a resort with volcano-heated pools. Finish your area tour with a day-trip to the area's botanical gardens, where the kids can learn about butterflies, birds and local plants.
This area is the closest to San Jose, Costa Rica's capital and is home to some of the world's most beautiful beaches. Guanacaste offers one of the areas only all-inclusive hotels, the Grand Papagayo. This resort, by Occidental, features several full-service restaurants as well as a number of informal bars. Children have a swimming pool for themselves, and the family can get back-to-nature with kayaking and snorkeling on site. The resort even offers babysitting so parents can enjoy a spa day! No visit to the Northern Pacific coast would be complete without building sand castles on one of the unspoiled beaches: Flamingo Beach, Playa Azucar, El Ocotal and Hermosa are all known for their sparkling sands and ecological friendliness.
An area unreachable by car – and a perfect getaway for making memories that last a lifetime. This region is comprised mostly of inland waterways and create a habitat unlike any other. Tortuguero is an important nesting area for the Green Sea Turtle – here you can witness the natural habitat of these creatures. There are many hotels around, but for family time nothing beats the Laguna Lodge, situated among the beautiful tall trees of Costa Rica's Northern Caribbean Coast. This is eco-tourism facility is the perfect balance of activities, relaxation and environmental education. Children stay either free, or discounted based on age, and the resort boasts that it is "the most peaceful place in the rain forest."
Whatever you want – relaxation, adventure, nature or education – your family will enjoy Cost Rica's charm and hospitality.
Hector Mendoza writes for the Costa Rica blog and enjoys spending his weekends kayaking at the beach.