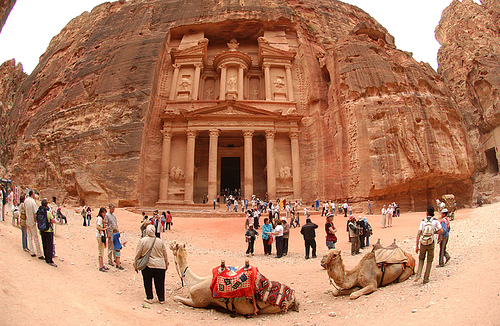 ---
Petra, Jordan's most visited city, is beloved by travellers who want to consume ancient history, find somewhere off the beaten track or channel their inner Indiana Jones ('The Last Crusade' was filmed there).
Even the journey to the extraordinarily well-preserved 6th Century BC trading city is romantic and "reached through a 90 metre deep canyon in the mountain." To know that the city lay undiscovered by the western world until 1812 just adds to it mystery.
Known as "a rose red city half as old as time", Petra's significance and beauty has been recognised not only by UNESCO but was named one of the modern Seven Wonders of the World in 2007. Additionally, the BBC hailed it one of the 40 places you have to see before you die.
Consequently, Petra has been brought to the greater public's attention, so steel yourself for droves of tourists when you visit. However, there are ways to discover the city's cultural majesty away from the crowds.
When booking holidays to Jordan and Petra, look for trips that offer you a private guide and a private driver to guarantee a very personal holiday. In some cases, you may be able to exert some influence on your itinerary, requesting to see particular sites.
Alternatively a local guide, who may have some connections, may allow you to commence your tour early – for the right price.
Unlike the big, time-restricted chartered tours, a bespoke tour of Petra will give you the freedom to arrive early or stay late, enabling you to see the Nabataean city without the hoards of other tourists. This is particularly great for keen photographers.
One of the delights which 'normal' tourists often miss, having been whisked back to their hotels, is exploring Petra by candlelight. This takes place on Mondays, Thursdays and Fridays from 8pm. With music provided by a lone flautist and silence encouraged, you will be left to wander the mile long Siq, guided by the 2,000 candles. It is pure magic.