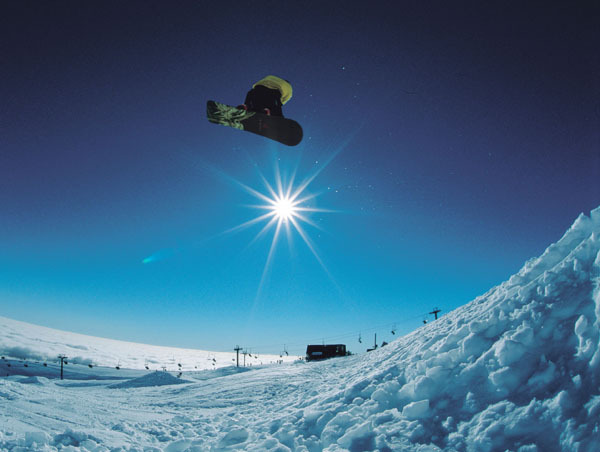 New Zealand is one of the world's great extreme sports destinations. There is more rock climbing, sea kayaking, bungee jumping, and white water rafting packed into NZ's two small islands than almost anywhere else in the world, and when it's sunny and snowless in the northern hemisphere the ski and snowboard season is just getting underway down there. Peak season runs from July to October.
Queenstown and Wanaka are the two most popular destinations for snowsports enthusiasts. The areas of choice are Coronet Peak and the aptly-named Remarkables, Treble Cone, and Cardrona. In general, New Zealand's slopes can be a little wilder than those found in the popular resorts of the US, Canada, and the European Alps. It's not all wilderness- you'll find plenty of modern lift systems and carefully groomed slopes in the places previously mentioned, but development is at a smaller scale than in some other places. If you like your mountain views untamed and wild, not jam-packed with people, shops, and cafes, you'll enjoy this part of the world.
Heli-snowboarding is huge in New Zealand, and you don't have to be a world-class boarder to try it. Small group trips with a guide are readily available and while they aren't cheap, they are more affordable than many might think. There are heli-ski and snowboard operators dotted all over the snowfields, but the best place to go is probably Mt Potts, where there is a full selection of chutes, mellow boarding, steep sections, and spectacular cliffs.
Even if you've never been snowboarding or skiing in New Zealand, you might have seen this area- it provided much of the spectacular mountain backdrop in the Lord of the Rings films. Mt Potts itself doubled as the location for Tolkein'sEdoras, and The Remarkables also made an appearance.
New Zealand is a popular haunt for professional snowboarders from North America and Europe- when the snow melts up there, they come down south to hone their skills for the next season. Naturally, wherever pro boarders gather they compete, and every winter there are first class fixtures. The Burton New Zealand Open, for example, attracts entrants from around the world. Time your visit right and you could see some incredible moves on rest days.
Staying in NZ also tends to be cheap compared with some of the northern hemisphere competition. The resorts of France, Italy, and Switzerland may be the most famous in the world but they're also the most famously expensive, and that goes for everything- food, accommodation, gear hire and lift passes. New Zealand has more options for budget travellers and budget snowboarders.
Jess Spate is an Australian outdoor sports enthusiast now living in Europe. She travels widely and writes for timeshare resales and Sell My Timeshare resources. Lately she has also developed her own extreme sports gear website.